Gone are the days when only your computer and smartphone could be connected to the Internet. With the dawn of IoT, almost everything can be interconnected and then connected to the internet. The Internet of Things has changed many of the ways we manage our life, from switching on the air conditioner before you reach home to being notified if an intruder is trying to enter your house. It isn't just about automation but also about global access, simplicity and convenience.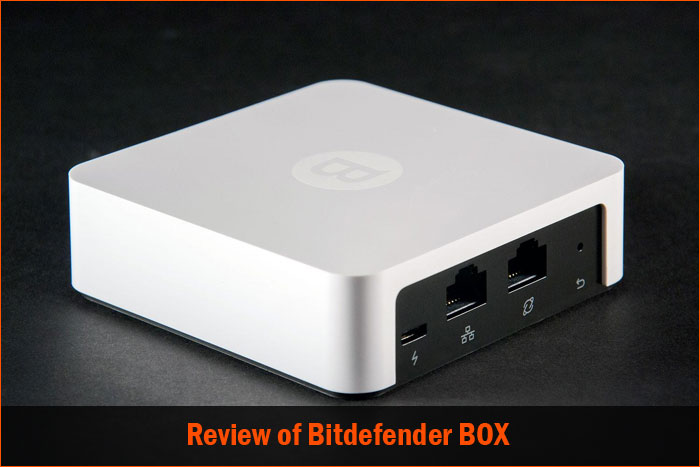 But when all of your devices are connected to the internet, you are exposing yourself to potential risks. What if someone attacks your network and gains access to the IoT devices you use? It sounds pretty embarrassing and dangerous, right? That's why Bitdefender Antivirus — a trusted long time security developer— has come up with their own hardware solution for IoT security, the Bitdefender BOX.
In this article, we will take a better look at Bitdefender BOX and how it can secure your home network.
What is the Bitdefender BOX?
At first glance, the Bitdefender Box is a simple, rectangular box that looks sexy! As we take a deeper look, its functionality becomes essential for the security of the Internet of Things. Once you have connected Bitdefender BOX to a wireless router, all the connected devices on your network will be protected from vulnerabilities, malware or any other threats.

There isn't much about the BOX hardware to talk about, everything is pretty straight-forward. It has a single-core 400MHz microprocessor, 64MB RAM, 16MB Flash Memory and connectivity options such as Ethernet and Wi-Fi. Right after you have powered up the BOX and dealt with its configuration, it becomes an awesome protective solution for your home network. Or, as the company puts it, Bitdefender BOX lets you to have an Internet of Good Things.
Configuring the BOX
The configuration process of Bitdefender BOX is very simple. It does not matter what devices you want to protect; you only have to set up Bitdefender BOX once and all of your devices will be protected afterwards. In other words, it's an install-and-forget scenario. You just need to plug in the power cable and then the Ethernet cable, which needs to be connected to your home router. For power, you can either use a more traditional power supply or USB power.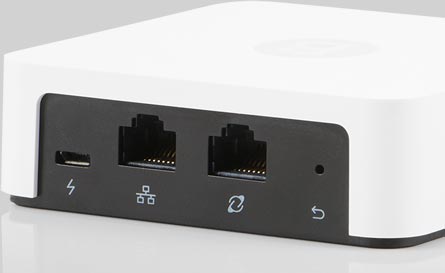 Bitdefender BOX has an Automatic Mode, a Manual Mode and a Bridge Mode. Depending on the wireless router you own, you'll need to select the appropriate setup mode. A list of unsupported router models is shown here. This means all the other wireless routers are compatible with your BOX. For the configuration process, you have to install either the iOS or Android app of Bitdefender BOX — available in the Google Play Store and the Apple App Store.
If your router supports Automatic Mode, configuration is very easy and, as you might have guessed, automatic. If you opt for the Manual Mode, you will have to deal with a couple of configuration steps. For all the modes, however, you need to create a Bitdefender account (unless you already have one). For some routers, such as Apple Airport Extreme, you may need to use the Bridge Mode too.
In short, the setup process of Bitdefender BOX is quite simple. Thanks to intuitive smartphone apps, setup is just a few taps away. In case if you are confused, you can seek Bitdefender's 24*7 support — anytime, anywhere.
Read: How to Secure Wireless Router from Hacking or Malicious Attacks
Compatibility with IoT Devices
As we've shown, Bitdefender BOX is meant to protect every IoT device from malware and other kinds of threats. If we are to talk about the 'every device' notion, we should point out that this choice of words is 100% correct. With Bitdefender BOX protecting the network, you can cover a variety of devices, like PCs, MACs, iPhones, iPads, Android smartphones, and other smart appliances like smart TVs, gaming consoles and thermostats such as Nest. Given that all these devices are connected to the internet via your home router, BOX is there to ensure top notch protection all around.
How does Bitdefender BOX protect your Network?
When BOX is running, all of your incoming internet traffic is analyzed for malware and threats. To achieve this, Bitdefender has relied on a cloud-based malware scanning algorithm. This algorithm is regularly updated based upon research done in the Bitdefender Labs as well as user-fed information. It means that even before the threat reaches your computer or other devices, Bitdefender BOX already has the information it needs to protect you. With the help of the Android and iOS apps, you get instant notifications about any threats. It has to be noted that Bitdefender BOX has an offline protection mode too. When enabled, this feature is useful for protecting your devices from offline threats like malware and viruses.
So this is how Bitdefender BOX works to bring top-notch security to your devices and network.
Other Features of Bitdefender BOX
Along with protection from threats, Bitdefender BOX offers some cool extra features too.
Thanks to the dedicated Android and iOS Apps, Bitdefender BOX allows you to manage connected devices. If you're done with the setup, you can open the app to see the list of protected devices. Each device can be named and included in a particular category — family or friends, for instance.  In the case of guest devices, you can know if it is away or still connected.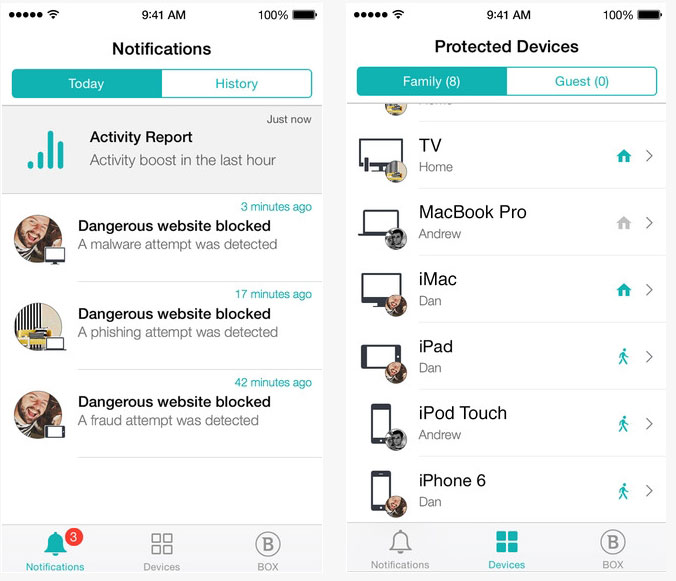 In addition to device management, there is also a remote access feature. Right from the app, you will be able to do a set of tasks. For instance, you can deal with OS updates and performance tune-ups. So this is a good thing for productive protection.
Private Line is a smartphone-oriented feature that is included in the Bitdefender BOX subscription. With this feature enabled on your device, you can surf the web anonymously. Not only that, but you can remain safe while connecting to public Wi-Fi hotspots too.
Usability and Performance Impact
Bitdefender BOX is truly one of the most easy-to-use network devices we've ever come across. The smart device can be used out of the box, its setup process is extremely simple, and the Android and iOS apps are intuitive. With no prior knowledge or experience, anyone can set up and start using Bitdefender BOX at home.
Speaking of performance impact, Bitdefender BOX does not really affect your overall internet speed. Obviously, there will be a slight difference of speed, because of the ongoing scanning, but that's pretty negligible. Altogether, we can say that Bitdefender BOX is a cool device for your network and IoT devices.
Pricing
Unfortunately, Bitdefender BOX is currently available in the United States only. You will need to spend $199.00 to buy the BOX. For the first year, the entire protection service is free of charge. Then, you will have to pay a yearly fee of $99. We think the pricing is quite convenient and reasonable for the features you get. In case if it is not satisfying to you, you have a 30-day money-back guarantee of the service.
The Final Word on Bitdefender BOX
In this Bitdefender BOX review, we have seen different aspects of the device and service. In short, we'd say that BOX is an essential service for every active Internet user. It becomes especially relevant if you have many IoT devices that are connected to internet. The product is way too easy to set up and the smartphone apps really do make management a lot easier. For the price you pay, Bitdefender BOX is worth the deal. Check our other Bitdefender coupon deals with 50% discount.