We happen to come across various kinds of internet threats and frauds every day, causing the loss of money and lots of other assets too. The way evil hands work is quite strategic that we don't know about the pits until we're fallen into one. It is for protecting your privacy from such crimes that Bitdefender introduced Bitdefender Safepay, which is a secure-enough solution to deal with online payments, bank transactions and other stuff of confidentiality. Indeed, its features allow you to deal with the financial stuff in a quite confident manner. In spite of all these, you might want to disable Bitdefender Safepay in some situations.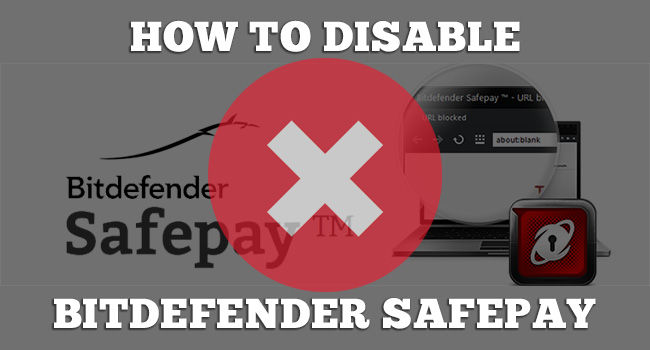 Uses of Bitdefender Safepay
That doesn't mean that Bitdefender Safepay is a bad solution. On the other hand, the tool is quite capable of giving a confidential and uninterrupted environment to deal with financial stuff. It is to be noted that Bitdefender has added several productive features into the package, such as Bitdefender Wallet, Wi-Fi Hotspot protection and the strongest algorithm to prevent other apps or stuff from intervening to your browsing session. It's quite necessary when you're using a public Wi-Fi connection or something, to deal with confidential data.
Why Disable Bitdefender Safepay?
We completely agree with the fact that Bitdefender Safepay is an excellent solution that you can use for dealing with confidential stuff such as bank transactions or other online payments. Nevertheless, at some point, the tool can be a quite annoying factor in your computer. For instance, the regular pop-ups of Bitdefender Safepay are quite annoying from the user point of view. The tool also has an option to start automatically when a sensitive connection (probably a banking website or something like that) has been detected. Some people find it a good reason to remove Safepay from their computer. By the way, you might be interested in getting rid of Bitdefender Safepay just because you do not like it.
So, if you have decided that you no longer need Bitdefender Safepay on your computer, you can follow this tutorial to get it removed.
How to Disable Bitdefender Safepay?
Well, there are several methods available to get rid of Bitdefender Safepay and you can choose one according to the need of yours.
Method 1
This method can be used to disable the recommendations and pop-ups made by Bitdefender Safepay. And, it is not a complete removal process, as you can guess.
First of all, open Bitdefender Safepay from: Home Window => Modules => Privacy => Open Safeay, whereupon you can see the full-screen window of the tool.
In the middle part, there will be a browser interface.
On the top right part of it, you can find a 'Settings' icon.
Clicking on the icon will bring you to the 'Settings' page.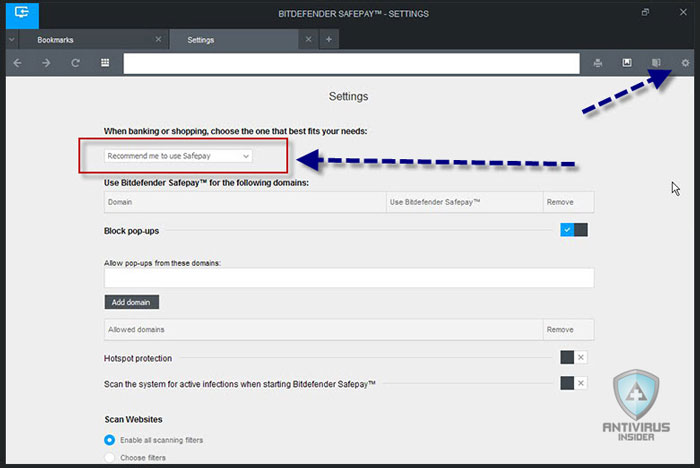 From the drop-down menu, choose 'Do not recommend to use Bitdefender Safepay'
Once you have closed the window, you are saved from the pop-ups of Bitdefender Safepay. It is to be noted that the tool will still be on your computer.
Method 2 (Applicable if you have installed it separately )
This method is to completely remove Bitdefender Safepay, by uninstalling it. To do that, you can follow the common method of uninstalling a program. Please note that this method is only applicable if you have installed it manually from the site and not a bundle with existing Bitdefender version.
Go to Control Panel
Click on 'Uninstall a Program'
Find 'Bitdefender Safepay'
Complete the un-installation process.
So, you have successfully uninstalled Bitdefender Safepay from your computer.
To Conclude
So, you have seen the tutorial to uninstall Bitdefender Safepay or disable it for temporary purposes. In both cases, its interventions would be blocked, for sure. Out of the two methods listed here, we do really prefer disabling the tool instead of completely removing it. It's so because Bitdefender Safepay is quite relevant and significant as we take the case of confidential data transfers and all. After all, it's up to your choice to disable it or uninstall it.