Unlike the old days, a web browser isn't a mere website-loading software nowadays. On the other hand, it's more or less the gateway to Internet, from reading articles to watching videos and testing your codes and buying the desired stuff online! Because of these various trends, particularly dealing with eCommerce, we have been seeing a number of cyber crimes and frauds recently, and most of such frauds are done by exploiting the vulnerabilities the web browser of yours. You may not be concerned about the dangerous situation if you are just into reading articles and the basic things of entertainment.
Nevertheless, if you are a person who engages in various kinds of online payments and confidential data transfer, it's high-time that you should have an effective solution to protect yourself from these frauds. If you don't do that, you'll have to regret this ignorance, when your data has been tracked and many things have been lost. Of course, there are many solutions that offer ultimate security and related stuff. But it is clear that Bitdefender Safepay — product from the widely-popular security software developer — has an upper hand when it comes to safer online payments and a non-tracked browsing experience.
What is Bitdefender Safepay?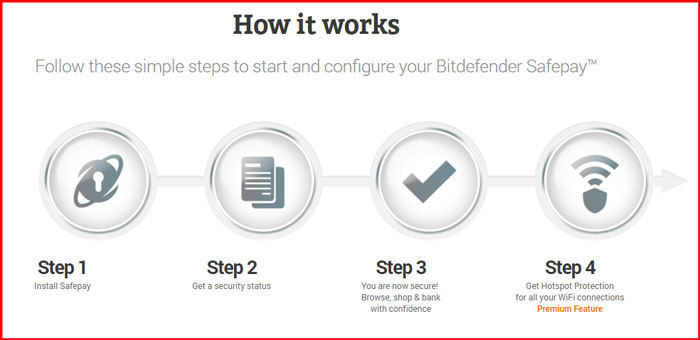 First of all, Bitdefender Safepay is the solution for performing safe online payments, leaving nothing to be tracked. It is actually a well-built web browser, with the emphasis given to the prevention of evil hand intervention. That is, this browser has been designed in such a way that frauds and other threats will have access to neither your browser nor the data you handle. In short, if you use Bitdefender Safepay, you get an ultra-safe environment, in which you can share the important data, confidently — it doesn't matter whether you are doing something professional or using your internet banking to pay for something you bought.
Now, we shall have a look on how to use Bitdefender Safepay, to ensure security.
How to Use Bitdefender Safepay?
Step One
Bitdefender Safepay is an official solution from Bitdefender, which is available free of cost! Although it's a premium, feature-rich version, the free version is just right for the purpose of online safety. So, first, you have to download the setup file of Safepay from the official website.
Step Two
Bitdefender is offering an online installer for Bitdefender Safepay, which consumes internet resources to download its related files. In the installation window, you have options for customization such as Proxy settings and all. If you've finished the basic stuff, you can move on to the real installation process, which may take a few minutes, depending upon speed of your internet connection.
Step Three
Once the installation has been finished, you can click the 'Close' button and see the Bitdefender Safepay shortcut on your desktop. Click on that shortcut to use Bitdefender Safepay.
Step Four
In the coming window, you would be asked to create a My Bitdefender account or log into the existing account. You can use Facebook or Google to create an account, along with the traditional method. Enter the credentials and click the Login button.
Step Five
Now that you have logged in successfully, you can see the fully-fledged interface of Bitdefender Safepay, with a web browser interface in the middle section. Just after the introduction stuff, you can start using Bitdefender Safepay for a variety of confidential purposes, ranging from payments to encrypted stuff.
It has to be noted that the interface of Bitdefender Safepay is protected from all kinds of interventions from your PC or any other external agents. The interface consumes entire screen of yours, and you have to get out of the interface when you want to do something else.
Summing Up
While summing up, the entire process of installing and using Bitdefender Safepay is quite quicker! By dedicating only a few resources, you can have an impressively secure environment for processing your online payments and all other kinds of confidential stuff. And, the best part is that Bitdefender Safepay is combined with some additional features, such as Wi-Fi Hotspot protection and Bitdefender Wallet.