As far as Home Users are concerned, choosing the best Kaspersky security suite is an easy task! We mean, it has already become known to you that Kaspersky is one of the best names to trust in matters of security and digital privacy. Now, according to your requirements and purposes, you just have to make the pick.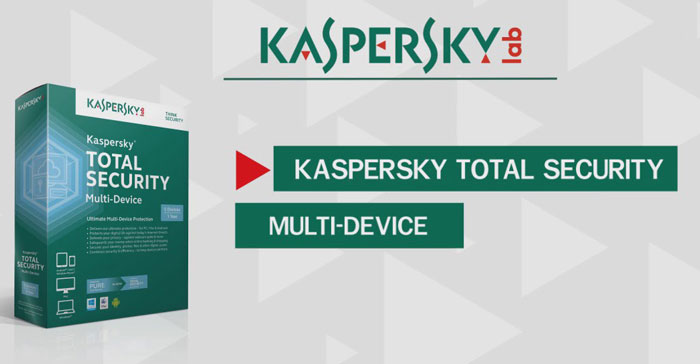 If you ask us for recommendation, we'd tell you to go for Kaspersky Total Security, which is the best option. We have seen people going for lower options, but they became unsatisfied at some point or another. Well, you might be a bit confused about choosing Kaspersky Total Security as your protection suite.
Read More:
There is nothing wrong with the doubt. In this article, however, we are going to have an in-depth Kaspersky Total Security review. Here, we will discuss the different aspects of the security program, such as the major features, usability and protection abilities.
About Kaspersky Total Security
Here, our focus is on Kaspersky Total Security 2017, which is the latest version from Kaspersky Labs. In case if you did not know, Total Security is one of the three antivirus protection suites you can get from Kaspersky — the others being Anti-Virus and Internet Security. As the most advanced and expensive choice, it manages to offer an all-in-one protection layer for offline and online world. While Anti-Virus and Internet Security are for offline protection and online protection respectively, Kaspersky Total Security 2017 is the combination of both.
Now, however, let's keep the claims aside and take a hands-on approach to Kaspersky Total Security. We'll start the review with an overview of Kaspersky Total Security installation and set-up process. Obviously, that is what you do first after you have purchased the security suite, right?
Installation and Getting Started
Installation procedure of Kaspersky Total Security 2017 does not require more than a few minutes. If you've a decent-speed internet connection, you can simply download and install the package. It needs to be noted that you have an option to install a dedicated VPN from Kaspersky, along with what you paid for. The total Installation interface is simple enough for all users. No matter what your previous experience is; you can get started with Kaspersky Total Security 2017 in no time. This is great, especially when considering the amount of protection features included in the package. We'd say Kaspersky Total Security has one of the simple yet effective methods of installation. Right after installation, all modules will be active.
User Interface
What Kaspersky has managed to do in the past few years is to re-invent the Product UI. So, with Kaspersky Total Security, you are getting an awesome User Interface, which requires no time to learn. In fact, it offers a bunch of multi-device features as well. All of these are accessible and can be set up using simple wizards. So, talking from the perspective of UI, we were pretty impressed with the program. For commons, it's like a heaven that needs no introduction. But the aspect of performance is something else.
Performance Impact
We know this is another point of concern, for most people. Antivirus programs have always been accused of eating up resources and slowing down your computer. But, at the same time, developers have been enough careful about fixing those issues. In the case of Kaspersky Total Security 2017, they have succeeded.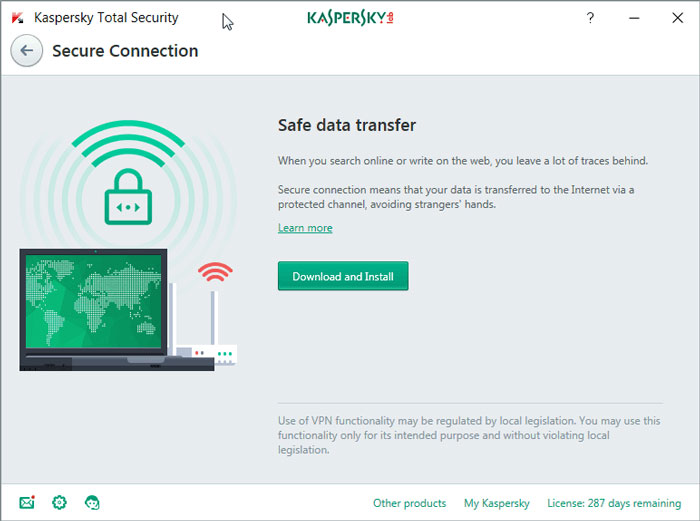 We will never say that Kaspersky Total Security does not slow down your PC – because it slows things down. What we mean is that the slowing down is reasonable when compared to the offered features. You're protecting your online and offline worlds with a single package, and things may become a bit slower.
Check Kaspersky Discount Deals
The Take on Kaspersky Total Security Android
If you did not notice, there's this thing: Kaspersky Total Security is a multi-platform package. By paying single subscription, you can protect various devices such as your PC, Mac, Android and iOS devices. To understand its functioning in Android devices, we took a look at Kaspersky Total Security Android. It offers plenty of cool features, not just limited to anti-malware protection. Some notable benefits include Anti-Theft, Remote Data Wipe, Locking etc. All these are useful when you need digital and physical protection for your Android. Same useful features are available in iOS versions as well. So, that's a thumbs up for multi-device support of 2017 Kaspersky Total Security.
Features comparison with other versions:
Noticeable Features
We told you that Kaspersky Total Security was meant to protect you from online and offline threats. Here, we have listed down the most useful and important features from Kaspersky Total Security 2017. We have used all these features and they had proven themselves quite useful.
Kaspersky Kids is a really useful utility for providing a safe web for kids. All the features are optimized for kids, giving you complete confidence. The apps are available for PC, Android and Mac.
Kaspersky Total Security 2017 comes with an in-built Password Manager. It will store the credentials for you, giving you instant access. You have all the benefits offered by any other password manager, such as multi-device access.
Using Kaspersky Total Security 2017, you can encrypt important files as well. This is great when you have some official documents to keep safe. From the security point of view, these are just blessings.
Kaspersky Safe Money is meant to protect you from financial transaction threats. By creating a safe and effective environment for doing online transactions, you can save yourself from phishing as well as other attacks.
Along with all these, Kaspersky Total Security 2017 has one of the strongest protection algorithms in town. It is definitely going to take care of potential threats ahead.
Pricing and Final Verdict
Last but not least, Kaspersky Total Security 2017 is available for $59.99 with our special coupon you can save even more and you can protect up to 5 devices, based on Windows, Mac, Android or iOS. Considering the availability of multi-device support, we believe the pricing is reasonable.
In light of the sections we have covered, Kaspersky Total Security 2017 seems to be a necessity for most of users out there. If you involve in various web-based activities, especially official ones, you surely need a third layer of protection from Kaspersky Total Security. The features are purpose oriented and the software — as such — does not put much weight on system performance and speed. So, altogether, we find plenty of valid reasons to recommend Kaspersky Total Security for our readers.