There was a time when a nominal antivirus protection suite was preventing almost every digital threat you'd come across. Obviously, we are talking about a period that is decades old. Now that things have changed in a drastic manner, especially after the IT revolution, it's high time that we think about PC Security from quite a serious perspective. We believe you can figure out the differences between malware and viruses, and our focus here should be on malware, and not just some common viruses. At the same time, it's not really a nice idea to compromise system speed and performance for the sake of security and privacy. It would have been such thought that made IObit develop an all-new anti-malware suite for Windows – Malware Fighter 5 PRO.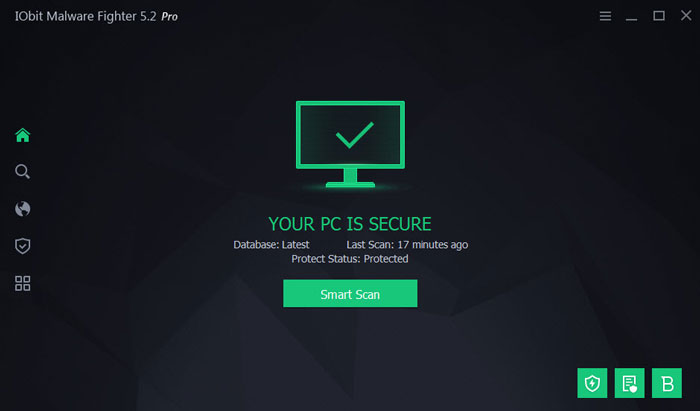 We have decided to come up with a comprehensive review of Malware Fighter 5 PRO, in light of our weeks of experience with the security suite. Before that, however, we have another question to answer. You might be wondering why you need something like Malware Fighter 5 PRO even when there are dedicated antivirus protection packages. To clear this common doubt, we will have a brief introduction to Malware Fighter 5 as well as its unique characteristics. So, shall we start with our Malware Fighter 5 PRO review?
About Malware Fighter 5 PRO and Why You Need It
In technical terms, Malware Fighter 5 PRO is a hybrid security suite for Windows PCs out there. It works as a combined solution for protecting your system from all sorts of threats and for ensuring the best performance throughout your experience. That is, you essentially remove the claim that antivirus programs will be slowing down your PC using experience. As we said earlier, Malware Fighter 5 PRO is developed and maintained by IObit, a developer known for its variety of PC utilities. There are a few innovative features that make it one of the superb choices for your digital security and privacy, and we'll cover them later.
Malware Fighter 5 PRO
IObit Malware Fighter 5 PRO 2017.
Verified 2 Hours Ago. $0 for 30 Days
As to the question why you need something like Malware Fighter 5 PRO, the answer is simple enough. There has been an extensive growth in the number and impact of malware in the past decade. We can't talk about the phenomenon without taking into account the WannaCry attacks. It was when people started conceiving the idea of using an even powerful antivirus suite that protects the different aspects of digital security. That should be done without dedicating your performance too, right? IObit Malware Fighter 5 PRO differs from a noticeable majority of antivirus programs in this aspect. And, that's why we need it.
Also Read:
Installation and Getting Started
IObit has managed to keep the footprint of Malware Fighter 5 PRO very low. Therefore, you don't need more than a few minutes to set up the security system in your computer. Here, just keep in mind that now Malware Fighter 5 PRO comes with dual protection engines — IObit Anti-Malware Engine and Bitdefender Anti-Virus Engine. Yes, you heard that right. In this single suite, you have dedicated protection from viruses & malware at the same.
Everything is super-quick as far as installation is concerned. Once you have purchased a Malware Fighter 5 PRO license, you can download the ~40MB installation file from the website. Finish the installation, register your products and the PRO features would be unlocked in no time. Right then, Malware Fighter 5 PRO will become an active part of your system security, offering all the proclaimed features. To be frank, this is the easiest and simplest installation process we've seen among security protection packages.
The Aspect of Protection
Apart from the dual anti-malicious-stuff engines, Malware Fighter 5 PRO has another feature too. So, in fact, you get three levels of protection via Malware Fighter 5 PRO — from Malware, Viruses and Ransomware. In the current scenario, each of these section require a dedicated review.
Antivirus Protection offered Malware Fighter 5 PRO is nothing more than the standard ones. You cannot find anything innovative or praiseworthy here. Because it's using the Bitdefender engine, you can get rid of many common viruses and malware out there. However, some users say that the scanning speeds are lower.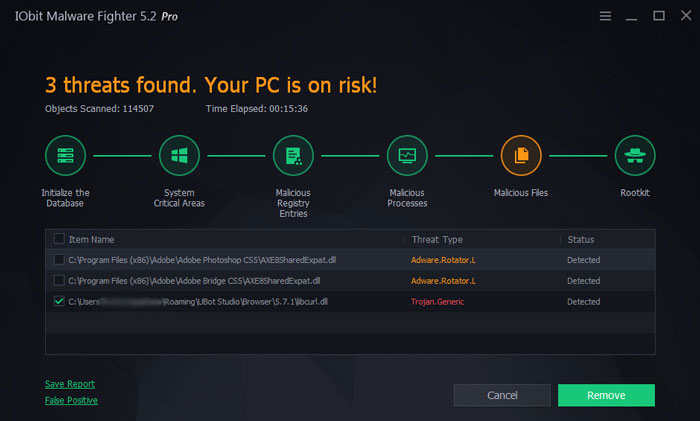 The case is same for Anti-Malware Protection as well. Here, the native engine of IObit is being used. Even if you manage to check out the features after the comparatively-longer scanning process, there isn't a lot of things to amaze you. It offers just the standard features, in a well-presented manner, that's it.
Ransomware Protection seems to the spotlight feature of IObit Malware Fighter 5 PRO. According to some tests and user testimonials, the tool is powerful enough to prevent almost every ransomware from attacking your PC. It manages to notify you when a ransomware tries to encrypt your files, so that necessary action is to be taken.
Malware Fighter 5 PRO
IObit Malware Fighter 5 PRO 2017.
Verified 2 Hours Ago. $0 for 30 Days
Despite its low level in antivirus and antimalware protection, the overall security performance of the security suite is just right. We cannot give any assurances about the future, but there is enough capacity for the program to make major threats back off.
Just the UI Things
If you have used some other products from IObit, you know about their UIs. In Malware Fighter 5 PRO also, you can spot the values of an intuitive User Interface. Right from the installation wizard, everything in it will work without any external help. However, we noticed the fact that you need to turn off and turn on the dual engines according to your requirements. There is not much of an automated system to boast about. Even if that's the case, we find it amazing that Malware Fighter 5 PRO has kept its major areas user-friendly.
Features comparison with free version: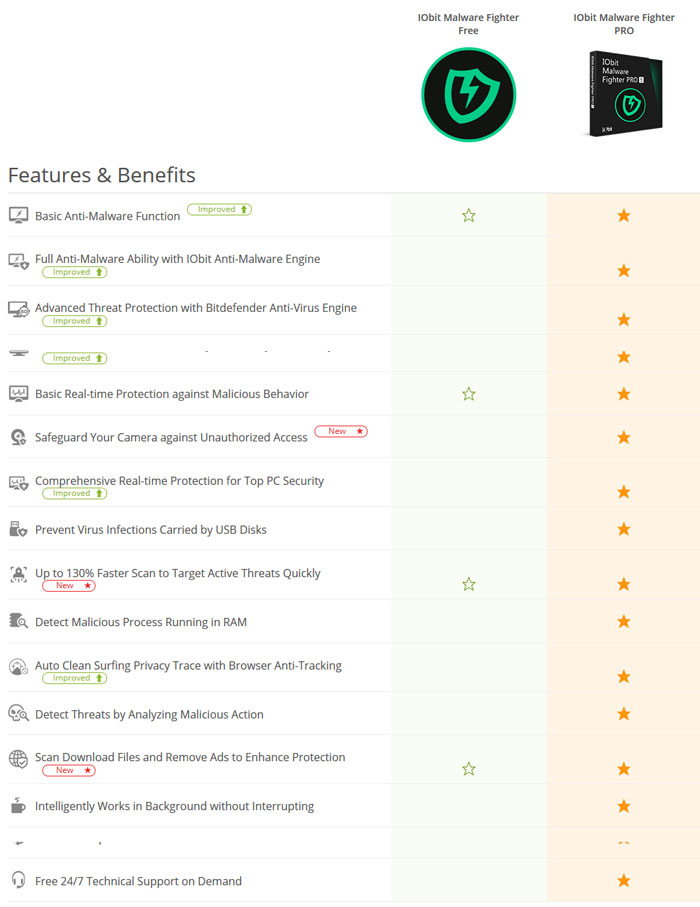 Some Praiseworthy Features
As we said, Malware Fighter 5 PRO offers some more innovative features when compared to a usual antivirus app. Some of the noticeable picks from those features are:
Camera Protection makes sure that your webcam isn't being used by malicious apps or websites.
Dedicated security module for preventing threats that are spread via USB Devices.
Auto-Clean Feature for protecting your privacy and for preventing browser-based tracking devices.
Automated Updates and 24*7 dedicated customer support.
Get IObit Malware Fighter PRO free for 30 days
The Bottom Line
In light of our experience, we'd definitely say that IObit Malware Fighter 5 PRO is a different kind of solution for your security and privacy. Nevertheless, it's an entirely different question whether it will be an all-round alternative for your antivirus and anti-malware protection. In any case, however, Malware Fighter 5 PRO will perform awesome as an anti-ransomware program, there's no denying that. Also, we can count in its simple UI and performance-friendly functioning and footprint. In other words, at the end, you receive a simple kind of security program that offers all-round protection from most of the common threats, but not all. Feel free to check out our IObit coupon section for exciting offers.