Do you think your computer will never be attacked by any kind of virus or malware? Well, if you think so, you are absolutely wrong. It's pretty hard to secure your computer with viruses and malware and that's the reason, antivirus is a must for privacy and security of every computer. Bitdefender is one such antivirus that can protect your computer from any kind of viruses or malwares that operating system's default protection software fails to.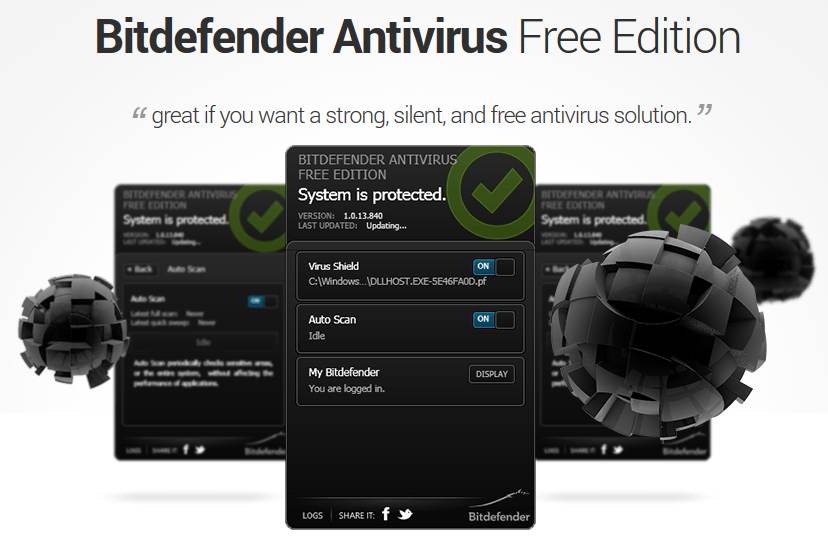 But do you know what the main reason behind virus attack is? It's pretty simple; virus attacks mainly occur when you download a particular file in which viruses are present. Free anti-viruses allow its users to protect and secure their devices from un-wanted viruses. Bitdefender antivirus free edition is a perfect option if you want a strong and silent antivirus solution.
Free Bitdefender Antivirus Program Really Works?
Bitdefender antivirus free edition have been top ranked in PC MAG review as compared to its competitors Avast and Avira. Masses mostly prefer free antivirus editions over paid antivirus programs but one cannot neglect a fact that there are a couple of extra advantages like more data coverage and better firewall offered by paid antivirus programs over the free ones.
One cannot ignore a fact that paid antivirus program edition provide better privacy and protection as paid anti-viruses uses advanced detection technology over the free ones.
Most of free antivirus programs may fail to detect malwares and viruses which can harm our computers. Free antivirus software ensures that our system don't contain any extra harmful contents that can spoil your system. Without any doubt, one can say that free ones are more effective than paid ones when this feature is taken under consideration but there are several other additional protection and security options offered by the paid ones which are more reliable than the free antivirus programs.
Internet usage is the most important factor for which you need the security obviously. If you want to save some bucks, you can go for the best free antivirus program, Bitdefender. Bitdefender is one of the free antivirus programs which can provide you with number of features that a paid one provides.
When it comes to detecting the malwares, the free versions are fine. But, when you want to forcefully block or remove the malware from your system, you might be in need of a paid version. This puts you in a dilemma whether to go for a free or paid version. Well, this decision must be taken based on your system usage. If you are using internet quite often and downloading several files at regular intervals, then it's better to go for a paid version. Else, you must be happy with the free version. If you are still not clear, you can check our review on free Bitdefender antivirus program. This will give you a better idea about the features included in free version.
Final Verdict
Bitdefender free antivirus software is totally a worth as it is the most accurate antivirus program in the market providing its services for free that even paid antivirus software fails to. And moreover, it is updated on regular periods. So you can ensure that your system is protected with latest technology. If you want to go with premium or paid version, feel free to use our discount coupons for Bitdefender products in deals section.