As you know, Bitdefender is supposed to provide you the safest Internet experience all the time. Every Bitdefender product comes with a bunch of features, such as Anti-Ransomware Protection and Search Advisor. And, if you purchase a high-end version, chances are high that you get some truly useful ones such as Privacy Protection.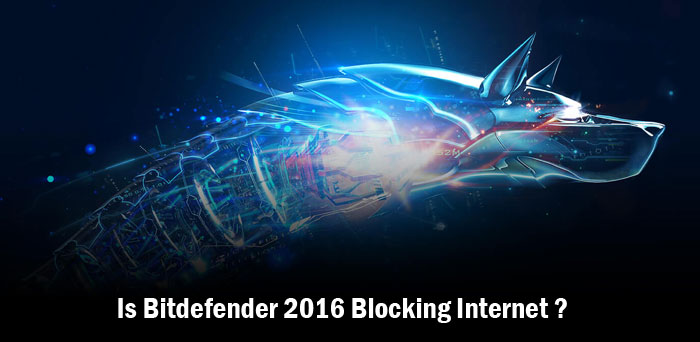 In addition to these, there is the power of Bitdefender Real-Time Scanning and Protection. For active web geeks and advanced users, these features are no less than essential. That's makes Bitdefender best security product and that comes with discount coupons too. Despite all the good stuff, Bitdefender  may be Blocking Internet due to several reasons. Here, in this article, we will tell you the reasons as well as an effective solution to get rid of the issue.
Finding the Issue
Before we move on, you should confirm that Bitdefender is causing the issue. For instance, if you have been running fine but found yourself not able to connect after the installation of Bitdefender, you can doubt Bitdefender. However, it makes sense to try some steps before proceeding. For instance, you can restart the network device that you're using. Or, see if there are some issues with your ISP. If none of these work, you can use this tutorial to fix the Bitdefender 2016 is Blocking Internet error.
How to Fix the Issue?
Note: In most cases, the Firewall feature of Bitdefender 2016 will be causing this issue. As you know, a firewall is supposed to protect your PC from malicious connections and inappropriate activity. Chances are high that your web browser is listed by Firewall as something malicious. If that's the case, the following steps will surely help you.
Step 1:
Open the Dashboard of Bitdefender Total Security 2016 or other version that you are using. There, you will see a link that leads you to Modules. Click on that icon.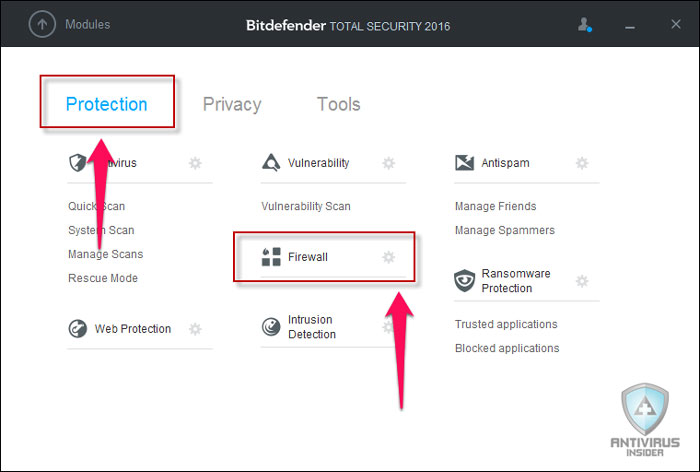 In the Modules page, you can see three tabs. Under the 'Protection' tab, there are a bunch of options available. From that list, you need to click on the Settings button next to 'Firewall'.
Step 2:
In the coming window, you can see three tabs in whole. This is where you can manage the different aspects of Bitdefender 2016 Firewall. Make sure that the Module Status is ON.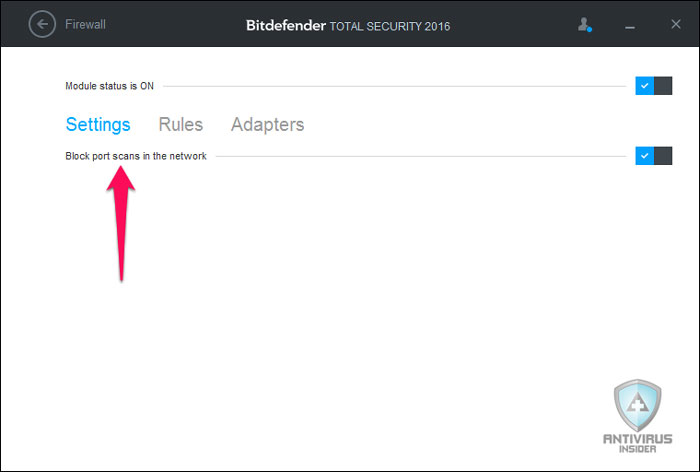 Step 3:
Now, lead to the 'Rules' tab of the Firewall Module.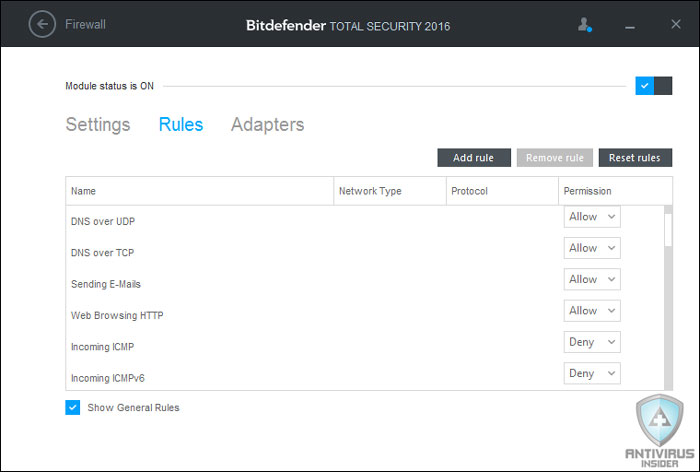 You should be seeing the list of available rules of the Bitdefender Firewall module. As you can see, a few ports have been Allowed while others are NOT.
Step 4:
Now, try to find the Web Browser in the list. For instance, if you are using Google Chrome for browsing, you can see a list named 'Chrome.exe' there.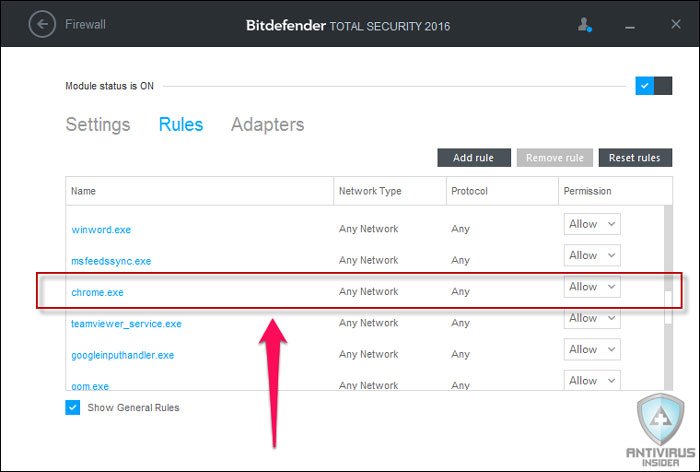 Confirm that the app has Permissions to the network. If it has been disabled, turn it back to 'Allow'.
Step 5:
If you don't find your web browser program there, don't worry. There will be a link named 'Add Rule'
In the coming window, you can choose the Program path, Network Type and the Permission type. So, if you want to add Chrome, browse that folder. Once you have given these details, you can hit the 'Ok' button.
Step 6:
There is another option for Advanced Customization as well. For instance, you can set a specific range of IP for access. You can select the Local Address, Remote Address, Direction and Protocol. All these can be found in the 'Advanced' tab of the same window.
Once you have selected all these, click on 'Ok'.
Conclusion
By following these steps, you should be able to fix the issue of Bitdefender blocking the Internet connection. But the condition is that your browser should be disallowed by Bitdefender. If that's the case, you can simply add the browser to the Whitelist of Bitdefender Firewall and move on. The case is same when you have to allow a particular application like Skype or Messenger to access the internet, even while having Firewall protection. Hopefully, this guide will fix your issue of not being able to connect to the Internet.