The priorities of kids of the current age are really different from others. Today's kids are very much addicted to the internet, games and other social networking sites. Nowadays, parenting on children's is becoming very difficult for parents. Parents face problems, especially when it comes to the teenager security from harmful things on the Internet.  It is really important to monitor the usage of internet by your teenage child and prevent if he/she is accessing any explicit content.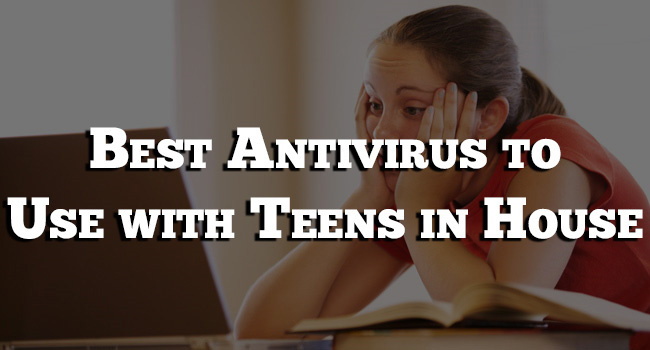 To monitor the usage of internet by your child and to protect your system from virus attacks, you need to install a powerful internet security solution, which will monitor both fronts easily. So you must be wondering, which antivirus to use with teens? We have collected a list of the list of features, which should be included in the antivirus to use with teens.
Features of Best Antivirus to Use with Teens:
Restriction on Usage
The ideal time for a teen to sit on the computer using the internet is almost 2 hours. At this time, he/she should use the computer and the Internet for the education purpose. More than 2 hours of internet usage of any teenager will make him addicted to the internet. This is not at all good as per his age. That's why, you should use any antivirus program which can restrict the usage of computer per session.
Downloading Content from The Internet
The best way of hackers to destroy your PC and steal information is to send viruses to your computer. That can only happen if you download anything. That's why, you should restrict downloading certain items. The downloading need of any teenage is just some educational videos and some songs. So, you can monitor the download and restrict the unnecessary file formats from antivirus.
Social Networking Protection
Teenagers often spend time on social networking sites. But, there are many threats spread on social networking sites. It is always better to take precautions while clicking on any unknown link on social networking sites because they may take you to the malicious sites and your PC will be infected by Virus. Enabling the "Social Networking Protection" will help you to check if the links shared on social sites are safe to click or not.
Privacy Protection
The Privacy protection is really important to avoid frustration caused by Identity Theft. That's why, you need to take care about submitting information on the internet. If you use Trend Micro Internet security software, then you can easily monitor the private information shared on the Internet. The privacy protection feature in this software will help you to monitor the information shared on social networking sites. If it finds out that the sensitive information can be the reason of your headache, it will alert on that matter.
Block Adult Websites
Blocking websites with adult content like pornographic videos can be very useful if you have a teenage child. Kids usually stumble on such sites by accident, but it can be a harmful addiction if not controlled in time. That's why, you should use an Antivirus software which have a feature to block harmful, adult and casino websites.
Verdict
Nowadays, parents have to take extra care while parenting their teenage children. It is always better to instruct and monitor your child's internet usage to make sure they are following good things on the internet. You can use Trend Micro Internet Security software to enable Parental Control on your PC to make sure your teenage child doesn't get involved in harmless things on the internet.