Having an antivirus program installed is the best way for protection against common and new threats. Then, there are some instances when you need quick results. We do know that there are lightweight antivirus tools in market, but most of them are tough to install. Sometimes, you may have to scan a single file only. In that case, it does not make much sense to install a fully-fledged antivirus program from a popular developer. That is why we decided to recommend you the 10 best Online Virus Scanners for daily use.
Before we move on, we will have an introduction to online virus scanners and their notable advantages.
Online Virus Scanners & When to Use Them
Online Virus Scanners are pretty much like antivirus programs, in the sense that they scan files for finding a variety of malicious threats inside them. However, these scanners are different in many aspects. The best of all those advantages, you don't have to install anything to scan a particular file or your system. You'll have to give certain permissions or upload the specific file to the server. Then, in a few minutes – or more if that file is something big —, you can have the virus-scanning results.
You can find online virus scanners from different developers, including those who are popular in the antivirus software industry. In this article, however, we have created a list of the 6 best online virus scanners, which you can use for completely free. All these are widely used and trusted for their authenticity. So, you will not have to worry about privacy or the effectiveness of the virus-detection results. In fact, you are going to have better detection, because online virus scanners are cloud-based. It means that the services will be using web or cloud-based virus definitions.
6 Best and Free Online Virus Scanners
Now, let's move onto the collection of online scanners.

Obviously, you are familiar with Bitdefender, which is one of the most trusted names in the world of security suites. The same developer is offering a completely free online tool for scanning your PC for threats. It takes just 60 seconds for Bitdefender Quick Scan to get the job done. During these 60 seconds, Bitdefender will be scanning your computer for prominent and newer threats, using the Cloud-based virus database. It means that you can have the best detection rates in the long run. What's more, you can even use Quick Scan as a browser extension. In short, it's a name you can trust for online virus scanning.
When compared to the first choice, VirusTotal is a bit different. It's because you cannot scan your entire PC using this service. On the other hand, it has been dedicated for scanning particular files or URLs — and, then, finding the possible threats in them. You can upload any file to VirusTotal if the total size is lower than 120 MB, which is cool. You will be able to deal with executable files or the smaller suspicious files that you might have come across. VirusTotal also lets you scan a particular URL for threats like worms, Trojans or spyware. Altogether, it's a complete service suite for file-specific scanning.
Trend Micro HouseCall is another popular online virus scanner for your security needs, especially if you need an all-round scanning of PC. The difference here is that you will have to download a small-sized file for the installation purpose. When you land on the home page of HouseCall Online Virus Scanner, you have to select the Operating System and architecture and download the suite. It's just 2MB for Windows PCs, which is very low. Once that utility has been installed, it will talk to Trend Micro HouseCall servers to find different types of digital threats. You also have options for Custom Scan.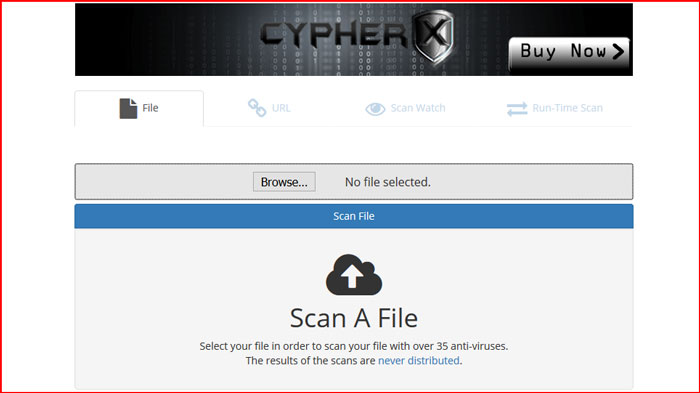 Ever come across a file that looks damn malicious? Well, in that case, you might be interested in having the file scanned with different antivirus engines. So, even if one engine misses it out, you can still be secured at the end of the day. NoDistribute is an effective online virus scanner, which offers 10 free scans. It's easy for you to upload the file and it will be scanned by 35 Antivirus Engines, all in the cloud. You can watch the scan results and progress if you want to. Once you have exhausted the 10-Scans limit, however, you will have to purchase the premium service for further scanning.
ESET is another trusted developer in the world of threats and security. So, we are confident to recommend the official online scanning tool of ESET as one of the best online virus scanners. All you have to do is to land yourself on the home page and hit the 'Scan' button. You have the benefits of instant scanning, up to date use of virus database, in-depth scanning and a lot of other features. The best part is that you can even find threats that are present in Auto start and Boot Sector. It means that you are offered the best protection and detection rates at the end of the day.

Here, we have an online virus scanner with a noteworthy difference. We have seen online scanners that let you scan a particular file of up to 120MB size. However, Jotti's Malware Scan lets you scan up to 5 different files at a single time. Each of the file needs to be less than 50MB, though. All the five files will be subjected to various antivirus engines such as Avast, AVG, Bitdefender, F-Secure, Sophos, ESET, Kaspersky etc. Because all the trusted engines are used for scanning, you won't have to worry about the authenticity of results — at any case. It's pretty simple to use, too.
So, these are the best free online virus scanning tools you can use. But, wait, there is an alternative option.
An Alternative Option and Solution
Have you ever come across a bunch of files that, you think, need expert analysis? In those cases, it's good to send those files over to a trusted lab environment. Because the developers knew about this possible case, they have opened us an option as well. That is, you can simply email a suspicious file if you want it checked for different sorts of malware. However, you have to decided where you want to mail it to. Some of trusted options are as follows.
VirusTotal accepts files that are less than 32MB. Send an email to

[email protected]

and put SCAN as the subject line.
Avira too will scan certain files for potential malware threats. You can send mail to

[email protected]

, with the password mentioned in message body.
Another option is McAfee. Here, you need to create a compressed file of infected items and name it 'Infected'. Just send them over to

[email protected]

and wait for the results.
Other email addresses are [email protected], [email protected] and [email protected]. All these developers have dedicated team for dealing with these stuff. So, you can get the results quicker.
Summing Up
Well, the above mentioned options are good for all-the-round scanning of your PC and specific-file scanning, in some instances. That having said, you are not going to have the real benefits of a fully-fledged antivirus in these service. If you are looking for that, we recommend going for professional-quality antivirus programs like Bitdefender, Kaspersky or up to your requirement.