Keeping your devices free from malware — which includes viruses, spyware, adware etc — is a significant thing! You may lose your data, privacy and security if you don't do that. In our previous articles, we had told you how malwares such as ransomware and adware can cost your money and resources. So, there is no doubt about the need of having a virus-free PC. Nevertheless, we cannot always depend upon complete antivirus suites for security. Sometimes, you need a portable solution for scanning your computers.
And, fortunately enough, Bitdefender has a completely free solution like Bitdefender free antivirus, that allows you to scan your computer using an internet connection and a web browser. It's like running a speed test. Here, however, you are going to test the actual security of the computer you're using. In this article, we shall have a look on Bitdefender Online Scanner, its features and procedure.
Bitdefender Online Scanner
As the name says, Bitdefender Online Scanner is an online tool that scans your computer for viruses and malware. It means that you can find out present viruses and threats without actually installing an antivirus suite. What you need is an internet connection and a compatible web browser. The tool should work fine with Mozilla Firefox, Chrome and most of the other popular web browsers around. It is not meant to be an alternative to the actual antivirus suite. On the other hand, when you need a quicker alternative that gives basic protection, you can count on the Bitdefender's Online Scanner.
Using this Online Scanner
It's quite easy to use Bitdefender Online Scanner, due to its web-based nature and simple user interface. Now, we'll go step by step into the process of using the tool.
First of all, you need to launch the official link of Bitdefender Online Scanner. There, on the right side, you can see a button named 'Start Scan'. Click on the button to continue.

In the coming page, you can see the antivirus scanning interface. It will have a huge button too. Now, to start with its online scanning process, click on the button.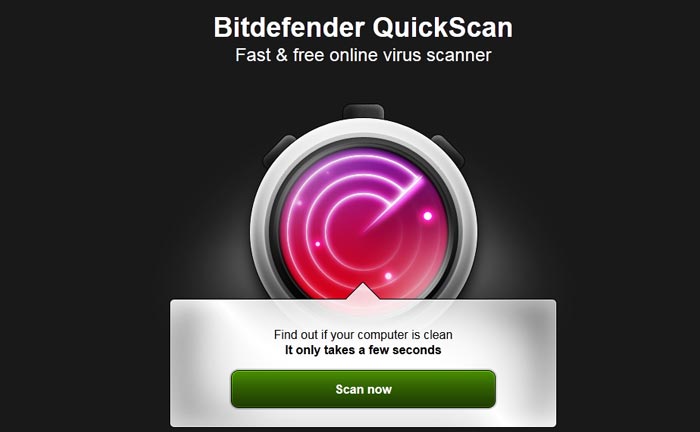 Depending on the web browser you are using, you need to install an add-on in your browser. As in our case, we use Mozilla Firefox. So, as soon as you click the scanning button, you will be prompted to install the add-on.

After the plug-in has been installed, you will see a dialogue box that installs Bitdefender QuickScan in your PC. it will not take more than a few seconds, don't worry. Once you are done with the installation, you will be lead back.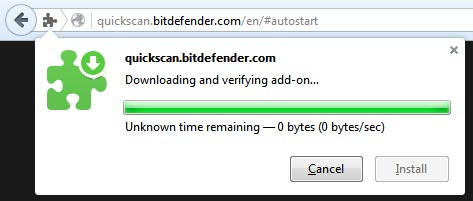 In the page, Bitdefender Online Scanner will start analyzing your computer for viruses and common e-threats. It may take a few seconds or minutes depending on the configuration of your computer.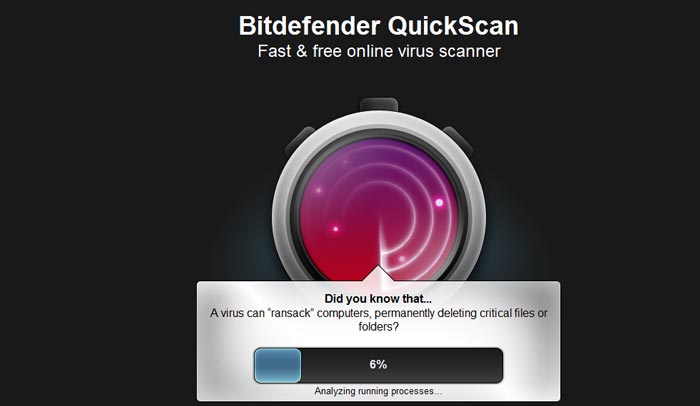 After the scanning, you can see the results of antivirus scanning. In our case, no threats were found. However, if you found some threats in your computer, you should take proper measures to remove viruses or malware.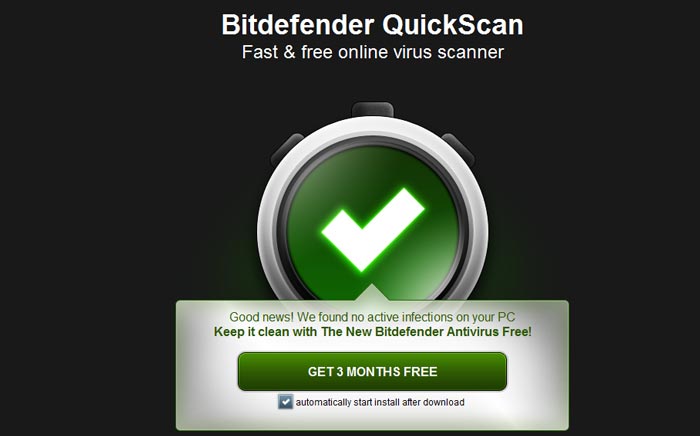 Notable Features of Bitdefender Online Scanner
Now that you've an idea about the working procedure of Bitdefender Online Scanner, we will check out the notable features of the tool.
When compared to the so-called dedicated scanners and alternatives, Bitdefender Online Scanner is very quick. It is capable of scanning the system's prone areas in no time. It means that you can have a secure PC without having to spend hours for scanning.
Virus definitions are not stored in your computer. On the other hand, the huge database is in Cloud and it is updated on a regular basis. This way, Bitdefender makes sure that the scanner can deal with newer threats too. So, when you are searching for common adware, ransomware, spyware etc, the in-cloud nature is quite useful. If there's a spyware or adware active in your system memory, it will be recognized.
Apart from being quick and cloud-based, Bitdefender Online Scanner is easy to use. With no prior experience, you'll be able to use this online scanner. You can also get assisted help if you have some doubts about the tool.
Summing Up
Considering all these, Bitdefender Online Scanner makes sense for quick needs. Obviously, it is not an alternative to a fully-fledged antivirus. On the other hand, you can use this easy-to-use scanner for finding common e-threats. It is to be noted that the tool does not scan your entire computer. On the other hand, only the core areas are stored. In spite of all these, Bitdefender Online Scanner seems effective in worst-case scenarios. As you know Bitdefender provides premium antivirus solutions too. Like Bitdefender Total Security is the great option for your computer and more importantly it come with huge coupon deals.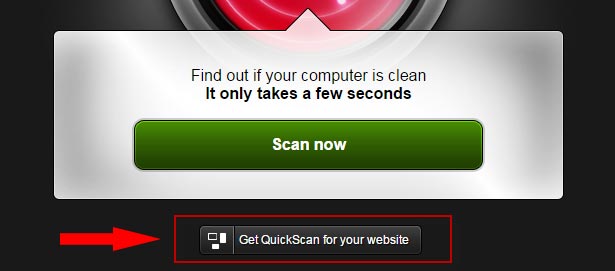 By the way, do you want to allow your visitors to use this stunning security feature? As a website owner, you can get an official Bitdefender Online Scanner widget to be placed in the site. It's a good thing to offer your visitors safety — don't you think?