You know how dangerous a Trojan Horse malware can be if infected to the core of your Windows PC. In fact, Trojan is one of the most common and used modes of malware infection. Some of our previous articles were regarding Trojan Horse as well as how this threat can affect the well-functioning of your computer.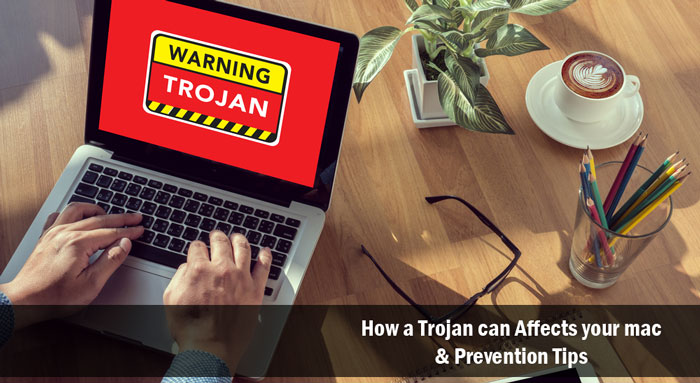 If you were thinking that Windows PCs were the only prey of Trojans, you've been wrong all the time. Mac devices are also vulnerable to Trojan horse attacks and thus the loss of data and efforts. So, you need to be aware about the working process of Trojan Horse in your Mac if you need one Trojan-free Mac device.
In this article, we will tell you how a Trojan can affect your Mac device. This is applicable for your MacBook, iMac or Mac Pro. We will also share some tips to prevent your Mac from Trojan attacks. So, you can lead a safe digital life without the fear of falling into the pits of Trojan Horse malware.
What's the Impact of Trojan on Your Mac?
We are not talking about the ways that Trojans use to affect your computers. On the other hand, these are the after effects of Trojan Horse malware infection in your Mac device. Although there are minor issues, common impacts of Trojan are:
The major function of a Trojan Horse malware is to create a backdoor in your Mac device. It may create some vulnerable areas or exploit the non-safe areas. Either way, the hacker gets an opportunity for trespassing into your computer. Your data and other resources may be compromised through the unauthorized access by hacker. At the worst case, your device may be used for illegal activities, which puts you in the trouble in the long run. For instance, your Mac — along with other infected devices — can be used for DDoS attacks and other massive attacks.
It Steals your Information
Trojan infection is not about the hacker accessing your computer. We are now living in a data-centric world and everything you own has a digital version. For instance, you use a username-password combination for banking transactions and your money is also stored digitally. One of its major impact is the stealing of confidential information. Confidential data includes your banking details, passwords, account details and almost everything that can be used for hackers' profit.
There is a particular type of Trojan Horse malware named Trojan Ransom. This type of Trojan horse is supposed to steal money from you, by locking up your information. It works just like ransomware, and may download additional malicious stuff for proper working. In short, a Trojan horse can be used to encrypt your information and then to ask you money for unlocking the information. This works than almost all other malware methods, you know.
Yes, Trojan horse viruses keep your computer and activities under strict surveillance. It means that many things — keys you press and the webpages you visit — will be seen by someone else. If you care for your digital privacy, this is indeed a serious issue, we suppose.
Now that you have an overall idea about the impacts of Trojan Horse malware attack, we will see how you can prevent a Mac from such attacks.
How to Prevent Mac from Trojan Attacks?
Of course, there are many minor and major methods you can follow. Some of the prominent ones are:
Always, make sure that you are running up-to-date versions of software and macOS. Nowadays, Macs are being targeted by hackers and other evil hands. Quite notably, Apple comes with on-time updates and patches to cover all these issues. This is the same when it comes to trusted software too. So, it is your duty to run the latest version only if possible. And, you should stop getting old, outdated ones for your use.
There are a bunch of antivirus solutions you can grab for Mac devices. It makes enough sense to get one for your Mac too, because it's like having an additional layer. If you are purchasing the products from trusted developers such as Bitdefender, Norton or Kaspersky, chances are, you will get stunning features. From basic link scanning to thorough scanning, these tools are packed with many anti-Trojan horse features. These will help you prevent Mac from Trojan attacks, in the least time possible.
This is something simple, but really useful in Trojan horse prevention. You need to disable the option named 'Open safe files after downloading'. It's a fact that the mentioned file types are commonly safe. However, there are lots of times when you can find Trojan horse viruses in these files. So, you can disable these options. The next time you download something, do a double-check before opening it.
You should never install random software you stumble upon while browsing web or so. As you might know, Trojan viruses are often disguised as useful tools and then leaves the payload. So, before installing, you have to confirm the authenticity of the software. This is a well-working way of Trojan Horse prevention.
Summing Up
So, we have seen the impacts of Trojan Horse attacks as well as some effective methods to protect your Mac from it. By taking a look at the impacts, it's clear that Trojan Horse is a possible issue. It's no simple thing if you are losing your data and your Mac being used for criminal activities. So, at the least, you should take the easiest method for Trojan prevention — which is the use of an antivirus software for Mac.