Kaspersky and Malwarebytes! These are two names you'd have heard associated with security — for home and your business needs as well. Kaspersky was noted for the state-of-the-art laboratory and innovative findings in the several aspects of security. At the same time, Malwarebytes stood as an awesome alternative to competitors. Due of these factors, you will be in confusion as it comes to making a selection from the duo. In this article, we have a comparison of Malwarebytes vs Kaspersky.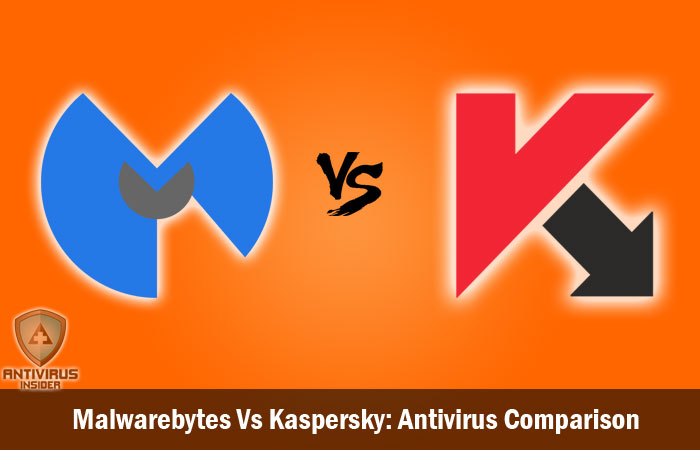 We can go through different sectors such as pricing, performance etc to reach a clear conclusion.
About Kaspersky and Malwarebytes
Kaspersky needs a little introduction when associated with computer security. Kaspersky — often known as Kaspersky Lab — is a multinational company that focuses on software security. Headquartered in Moscow, Russia, the firm has been in the industry for more than 19 years. All these time, Kaspersky Lab has been active in finding and fixing lots of security errors. As of now, Kaspersky serves different products such as Kaspersky Anti-Virus, Internet Security etc. In addition to home users, Kaspersky Lab offers its products for large enterprises and medium businesses.
More Reading:
Malwarebytes started quite lately in 2008! The internet security company is headquartered in San Jose, California! In the shorter period, however, Malwarebytes has been able to attract both users' and experts' attention. Its products claim to be much effective than combined suites. For instance, Malwarebytes Anti-Malware is said to be the optimal malware-removal tool that can work alongside with other antivirus suites. As per the claims, Malwarebytes has fixed more than 250 Million devices in the path it has come through. It too offers business-oriented versions of products.
Kaspersky vs Malwarebytes — Products & Pricing
As we said, Kaspersky has a satisfactory range of anti-virus security suites for home users. For basic protection, you'd get Kaspersky Anti-Virus that costs you $39.95 per year. With this package, you can have protection from all kinds of malware and other threats. In the second package, namely Kaspersky Internet Security, you are going to have superb protection from web-based threats and privacy issues. For this package, you need to pay $59.95 per year. This pack is also having an option to ensure your online banking and other transactions. Kaspersky Total Security is the third of the home security range. This package, which needs you to pay $79.95 per year, combines the capabilities of 2 tools we just mentioned. That is, you can have top-notch protection for your identity, privacy, financial stuff and photos. If you go for the multi-device package, you can extend the protection to Mac and Android devices. We have listed many coupon codes for Kaspersky products, which you can check below.
Check Kaspersky Discount Deals NOW!
Talking of Malwarebytes' products, there is only one — Malwarebytes Anti-Malware. It needs to be noted that they are offering an anti-malware suite, and not an anti-virus suite. In other words, Malwarebytes has the major focus on removal of malware. Malwarebytes Anti-Malware is currently available for both PC and Macintosh devices, with free and paid versions. For one-year subscription of Malwarebytes Anti-Malware Premium, you need to pay $24.95. But, you can reduce the amount if you extend the subscription to two years. So, this is the only anti-malware product you can get for home security range. However, for protecting your device from exploits, you can get Malwarebytes Anti-Exploit that extends protection to a newer level. In another field, Malwarebytes offers technical tools and business tools. We have listed many coupon codes for Malwarebytes products, which you can check below.
Check Malwarebytes Discount Deals NOW!
Mobile Device Support
There's a tie in the Malwarebytes vs Kaspersky duo in terms of mobile device. Both the companies offer top, quality-rich versions for Android Smartphones. iOS users will not have the versions, but the Android versions have been one awesome set of security suites. If we are to do a comparison between the Android security suites, Malwarebytes has an upper hand. Malwarebytes Anti-Malware can do the job with minimal resources.
Performance and Resource Consumption
Kaspersky is one of the oldest and trusted antivirus suites out there, we agree. It may be able to provide nice security too. However, once installed, Kaspersky products can affect the performance of your PC in a pathetic manner. There may be a situation you may stop doing resource-consuming tasks. The performance section of Kaspersky is way too pathetic and we cannot depend on that. Not only that, many other apps may become sluggish following the install of Kaspersky antivirus products.
On the other hand, as we come to the case of Malwarebytes Anti-Malware tool, it's an epitome of simplicity. We said the tool can work alongside with other antivirus suites you have installed. So, you can expect how low its consumption of resources will be. Not only that, the software weighs too low and the performance is up to the mark. In short, we can see the upper hand of Malwarebytes Anti-Malware here.
Level of Protection and Features — Malwarebytes vs Kaspersky
Malwarebytes Anti-Malware is supposed to give you complete protection from different kinds of malware. It can do the job very well, but don't expect many other features from the products. In case if you didn't know, Malwarebytes Anti-Malware is a tool that is used for expert removal of malware. In the experiments, even when established anti-virus suites failed, Malwarebytes Anti-Malware was able to get the job done. So, there is no question about the level of protection in Malwarebytes. Other notable features of the tool include infection cleaning, faster scanning and one option to hide your PC from malware.
In case of Kaspersky, we can say that the company offer awesome protection. Since it has a fully-fledged lab, it has made use of stunning algorithms for dealing with malware removal. However, due to the resource consumption and all, the performance isn't that impressive if your PC is old or with low configuration. Same is the case with features of Kaspersky. The company says the tool is feature-rich. Those features are really good and can be useful for basic to advance users. If you are looking for dedicated protection, you may have an inclination towards it. Personal experience is that Kaspersky stop almost all possible virus and online thread you can ever get.
The Bottom Line
As we come to the end of Malwarebytes vs Kaspersky duo, there are different decisions to be taken. It's so because both the software are suited for two different scenarios. You can go with Malwarebytes if you want a special tool for removal of malware. It needs to be noted that Malwarebytes Anti-Malware works fine with other antivirus. So, it is a type of extra-layer protection. On the other hand, if you need a fully-fledged antivirus suite, Kaspersky is the best to go for. Although not many, you will have decent features at your disposal. We hope that's all clear.