Kaspersky Labs needs no sort of introduction when we talk about security, privacy and protection. The case isn't a bit different when it comes to Norton, either. Both names have been able to become popular among both the common and advanced users, since their security products were available for more than a decade!
That having said, when you are a newbie and you want to pick the best antivirus suite, you'd be stuck between two — and the chance is highest. If you are in that dilemma of Kaspersky vs Norton, our article will surely help you. Here, we are going to have a brief yet comprehensive comparison of both Kaspersky and Norton antivirus solutions. We already have compared Bitdefender and Norton antivirus programs that you can check.
About Kaspersky and Norton
Kaspersky:
Kaspersky has built a stronger reputation among users in the course of time, and it's surely one of the best anti-virus developers in the industry. Headquartered in Moscow, Russia, Kaspersky Labs had started its journey before 19 years and that's an ample amount of experience. Since then, the developers have been building different kinds of security solutions for both home and business needs, along with some dedicated security tools too. Needless to say, all these years, Kaspersky has stayed as a stronger competitor for almost all other antivirus tools out there. Thanks to the high qualified and always-updated labs and people, you can count on Kaspersky's algorithms when it comes to security.
Norton:
The history of Norton Antivirus goes back to 1991, which is like 25 years old! From then, Norton has been building an impressive set of protection solutions — for platforms such as Windows, Mac and Linux. Owned by Symantec, it has all the technological backing to provide top-notch security for your devices. It's often called Norton by Symantec and the name too has become popular. Talking more about Symantec Corporation, it's headquartered in California, the United States. This security developer isn't actually limited to home security. Its products cover different sectors like home, business and enterprise needs. Considering all these, Norton Antivirus is worth counting on.
Now that you have a clear idea about Kaspersky and Norton as companies, we would now compare home security range of both the firms. Shall we start?
About the Features
Kaspersky:
Let's make this quick. Kaspersky will really disappoint you if you expect more features. Even in its highest plan, you'd get only the basic antivirus protection features. Of course, you will get somewhat-great protection, but the case isn't that good when you need advanced options. By the way, you can also read an article about the advantages of this antivirus on the Fixthephoto website, in their review, I also use other antivirus programs.
Norton: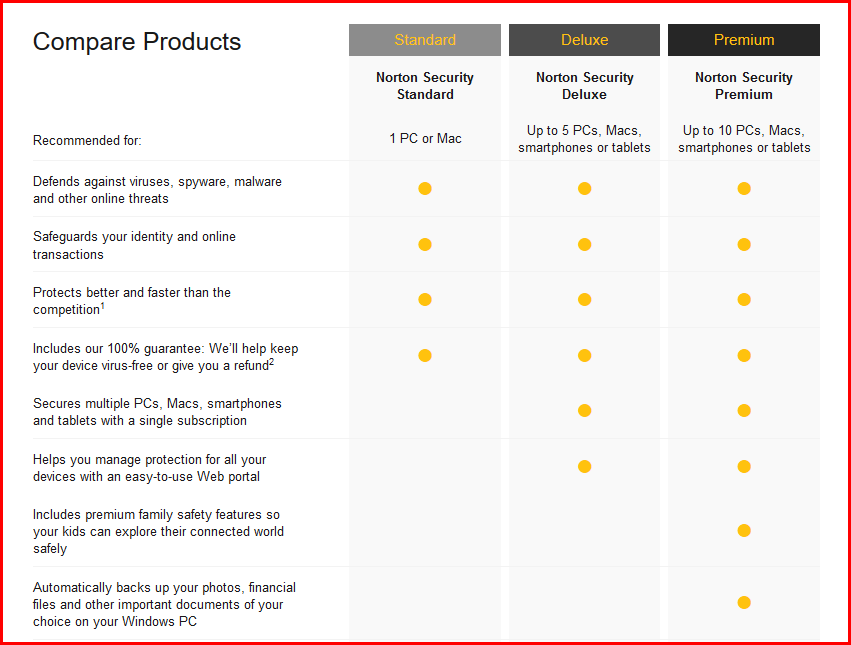 In Norton, however, you get a lot of features, ranging from notifications to complete backup of device. So, here too, you've a take.
Pricing and Plans — Kaspersky vs Norton
As it goes with the standard, Kaspersky offer three different security suites for home security needs — like Kaspersky Antivirus, Kaspersky Internet Security and Kaspersky Total Security Multi-device. You can guess the availability of the options in the given order. Kaspersky Antivirus, which offers basic yet comprehensive protection from threats, costs you $39.95 when you purchase the 1-PC license for one year. Kaspersky Internet Security is meant for those who use web heavily, offering extra security layers for online shopping, parental controls and all. This package will cost you an amount of $59.95 if you are going for one-PC license. Kaspersky Total Security Multi-Device is the best when you like to have multi-device protection, with stunning features such as online & offline protection, password manager, child control etc. One-year license of this package costs you $79.95. You can get $50 OFF using Kaspersky promo codes. This is how the pricing of Kaspersky works.
Click Here to Check Kaspersky Deals NOW!
In Norton too, you have a trio of home security solutions to pick from — Norton Standard, Deluxe and Premium. The tools are offering best-in-class protection features for your PC, Mac and many other platforms. Norton Standard will cost you an amount of $39.99 for one year and gives you standard protection from viruses, malware, spyware etc. In the second option namely Norton Deluxe, you get protection for web identity and online transactions. This package is priced at $49.99 and offers superb features in other platforms like Android. Priced at $59.99, Norton Premium is a steal deal. You can get $30 OFF using Norton promo codes. With single subscription, you can protect up to ten devices, with options of offline and online protection. It also gives you 25GB of backup storage and security alerts.
Click Here to Check Norton Deals NOW!
Support for Other Platforms
This is where Kaspersky literally fails and Norton wins the war! As you've seen Kaspersky products are available only for Windows, and only some supplementary counterparts are available for Mac. And, apart from Windows Mac duo, it is only supporting Android. However, when we come to the case of Norton, it's an effective set of products for all products — Windows, Mac, Android and iOS. That is, when you purchase a package — Norton Deluxe for instance —, you can get the tool for a PC or a Mac. Also, the fully-fledged protection has been extended to Android and iOS also and it's a good thing when you want same protection everywhere. In short, Norton has stolen the show.
Performance and Security — Norton vs Kaspersky
According to the tests conducted by AV-Test, both Norton and Kaspersky have an effective timeline of protecting PC, Mac and other devices against zero-day threats. However, when we consider the case of widespread cases, there's a slight lowering in the side of Kaspersky, which may not be a matter for many people. Despite the equality in terms of standards, Norton has taken a step forward. It's offering 100% refund if the Norton security solutions fail to protect your computer from threats, and the expert support is always with you. Therefore, obviously, we have many reasons to prefer Norton to Kaspersky.
Read:
Usability and Resource Consumption
Despite leaving the freedom of choice, Norton and Kaspersky offer, more or less, an equal level protection against all these threats. That having said, you can simply pick one if you think about the usability of antivirus software and the resources required for running. It's a matter of fact that Kaspersky requires a lot of resources to run. Thus, after you have installed it for a while, your system may start lagging, but we have solutions for that. Nevertheless, Norton keeps resource consumption way too low, even when ensuring best protection in class. So, you are going to have a clean and quick user experience with Norton, once installed.
The Final Verdict
Now that you have seen pricing, features and all, let's get that decision. When compared to Kaspersky, Norton is way too affordable, feature-rich and usable. Talking of affordability, the high-end plan of Norton allows you to protect up to 10 devices, which is quite reasonably priced at $59.99. Altogether, it makes enough sense to avoid Kaspersky and to go with Norton antivirus products.