Kaspersky Security 2017 came to the stage with many innovative features. Despite all those additional ones, what we loved most was the quicker malware-detection speeds. When compared to the older versions, 2017 Kaspersky suite will scan your computer in a better way, without consuming much resources. And, if you do not want full-system scan, you can scan specific files as well. This becomes helpful when you are suspicious about specific files or folders in your computer. Alternatively, there is External Device Scan for being safe in the case of USB drives and other storage devices.
Are you confused about scanning your files using Kaspersky 2017? Don't worry — in this article, we will tell you how you can scan locally-stored files using Kaspersky for Windows, Mac and Android. We hope you will find these tutorials helpful.
Scanning Files using Kaspersky Total Security 2017 for Windows
We are showing how to use Kaspersky Total Security 2017 for specific-file scanning. It has to be noted that you can use the same steps if you are using Kaspersky Internet Security or Kaspersky Anti-Virus.
Step 1: You have to open the main interface of Kaspersky Total Security 2017 — or, any other version you're using from Kaspersky.
Step 2: From the main menu, click on the 'Scan' button to proceed.
Step 3: In the upcoming page, you will see a few options for scanning. Four types of scanning are available, which are: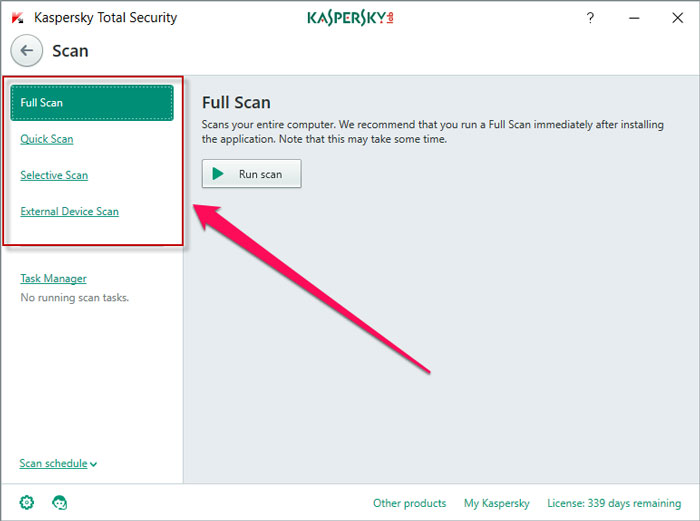 Full Scan
Quick Scan
Selective Scan
External Device Scan
Depending on the requirement, you can choose the appropriate Scanning Mode. In our case, we've chosen the Full Scan Mode.
Now, you can press the 'Run Scan' button. In seconds, Kaspersky 2017 will start scanning your computer or the selected drive. If you are using External Device Scan, you will have to select the to-be-scanned drive from available list. After scanning, you will see information about detected malware. If you don't see any major malware, you can also go for Advanced Details link.
Scanning Files using Kaspersky 2017 in Mac
In Mac devices, it's quite easy to run the Kaspersky product. You can just follow the simple steps to get that done. Just like the Windows scenario, scanning process for Mac is same in Total Security, Internet Security and other programs. So, it's easy to use. Also, there are different ways to access the Scanning utility of this security suite. We are mentioning the major one only.
You can start the main interface of Kaspersky Total Security for Mac
In the interface, you will see a link to the 'Scan' module of the program.
In the coming page, you have to select the mode of scan — Full Scan, Quick Scan and Virus Scan are available. Just select the appropriate mode.
In seconds, the scanning process will start.
After the scan has been completed, you will receive statistics on the same. As we said earlier, you can run a scan directly from the macOS bar as well. But, this method works perfectly fine even when you are using an old version of Kaspersky Security for Mac.
Scanning Files using Kaspersky Internet Security for Android
The following steps will help you to perform different types of scans in your Android device. It works well in Total Security and Internet Security variants alike.
Step 1: You have to open the Kaspersky Internet Security for Android app.
Step 2: Click on the 'Scan' button to move forward.
Step 3: In the page, you will have to choose from the three Scanning modes. Quick Scan does the job in fast manner, but Full Scan will consider each aspect of your Android phone. If you need specific protection assurance, you can go for the Folder Scan option.
Step 4: The scanning will be started in a few seconds and you can see the progress on the screen.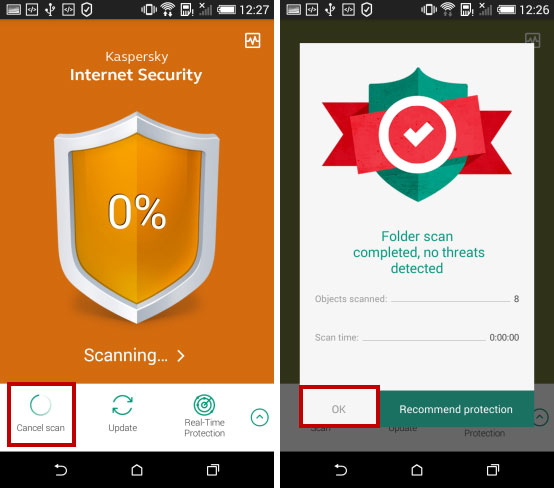 Depending on the scanning format and size of your storage, it may take a few seconds or minutes. Once it's done, Kaspersky Internet Security for Android will show you the results — along with the number of objects scanned and detected results.
As you just saw, the process is super-easy for all people.
Wrapping Up
This is how you can scan files using Kaspersky 2017 in Windows, Mac and Android devices. In all devices, you have to choose the right type of scanning mode, from Quick Scan, Full Scan, Dedicated File Scan and External Device scan. The results will be according to the mode of selection. Regardless your choice, all of them will help you to stay secure from digital threats around.