Once you have made that commendable decision to get rid of the half-baked or limited free antivirus and thus to get an awesome alternative instead, Bitdefender can be the centralized place for all your needs. Regardless the platform you are from, Bitdefender has some awesome security solutions for you. And, indeed, in this era of serious threats to be posed against privacy and security, you really need to have an effective antivirus in your PC installed. That having said, at least, some of you would be concerned about a confusion you'd stumble upon; once you have decided to go premium protection, there's a duo — Bitdefender Antivirus Plus Vs Bitdefender Internet Security — to be fixed.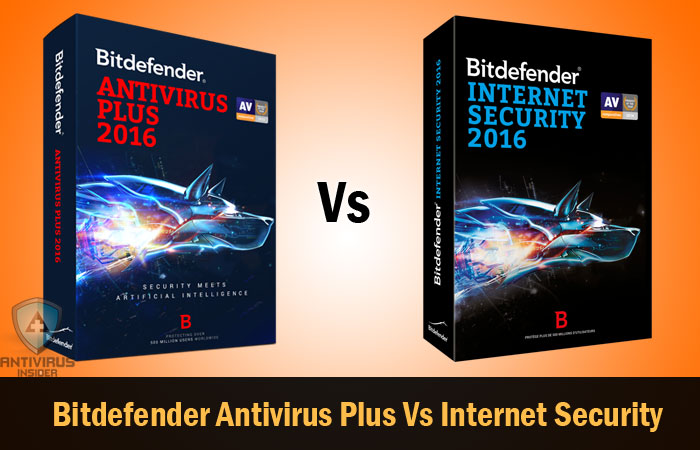 It is to be noted that, even while the protection from threats is offered, there are a few changes that matter in the long run. While we run through this comparison, if you are confused in choosing between other versions of Bitdefender, here's our comparison of Bitdefender Internet Security vs Bitdefender Total Security.
This post is, however, meant to clear your doubts about both the solutions. And, we hope that you'd be able to choose the right one, in accordance with your requirements. Before that, we shall get an idea of both the solutions and what they are supposed to do.
Bitdefender Antivirus Plus Vs Bitdefender Internet Security — Let's Break Them Down
So, as you know, Bitdefender Antivirus Plus is the first product in the premium security range of Bitdefender, offering the basic stuff you would expect from a premium antivirus solution. Of course, from a technical point of view, Plus is offering access to all the flagship features of Bitdefender, such as the Photon technology and all.
Bitdefender Internet Security, as the name says, is meant for people who are a bit more into the web. Well, of course, its protection covers various kinds of offline threats too. In short, Bitdefender Internet Security can do anything that the other version can do, but it can do a lot more things as well.
Now, as you have the basic knowledge about Bitdefender versions, we shall have an overview on Pricing.
Antivirus Plus and Internet Security — The Pricing
Bitdefender Antivirus Plus, being the basic option in the premium range of Bitdefender, is priced at $38.97. At such a rate, you are going to have three licenses (to be used in three PCs) and each license is valid for one year. By the way, if you can find some superb Bitdefender coupons, you can cut it down up to 75%.
Check Bitdefender Discount Deals NOW
On the other hand, Bitdefender Internet Security has been priced at $51.97, a quite reasonable price according to its features offered. The license structure is all the same: you can use it on up to three computers for one whole year. Of course, the benefit of coupon code is here too.
The Differences & Similarities that Matter
Talking of similarities between Internet Security and Antivirus Plus, there are some to be mentioned. For instance, its top features don't have a change. While the machine learning technologies and automated protection lets you move out of the bullshit slow-down issues, Bitdefender Safepay and Password manager are simply the best from a point of productivity. Also, you have access to features such as different antivirus profiles, anti-fraud as well as social media protection, for that matter. In short, when combined with complete compatibility with Windows 10, Antivirus Plus & Internet Security offer more or less the same protection.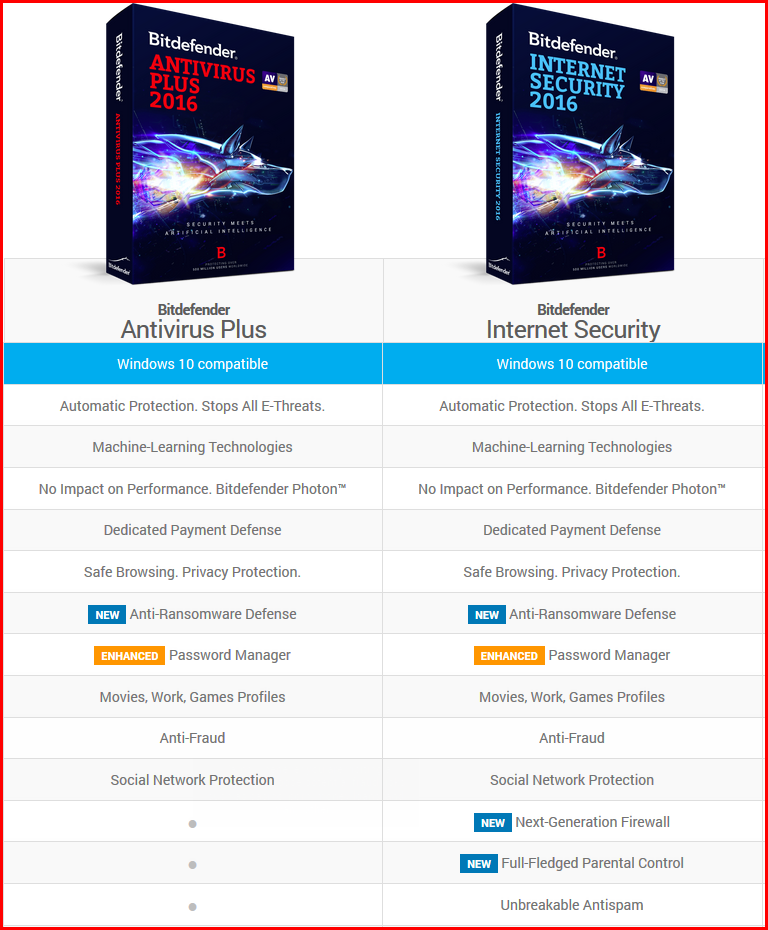 Nevertheless, when you have decided to pay a few more dollars and get the Bitdefender Internet Security, you get a few notable additional features. For instance, there's a New Generation Firewall that you will get. This firewall has been built with an intention to get rid of the relatively newer web-based and network-based threats. Similarly, there is a fully-fledged option of parental control, using which you restrict your children from attending the 'bad' stuff. Apart from all these, you get an Unbreakable Anti-spam, which makes enough sense in this spam-rich era of Internet.
We'd say the differences between Bitdefender Internet Security and Antivirus Plus are worth mentioning & praising.
The Bottom Line
So, it's time for the decision between both the versions. Indeed, as we have pointed out earlier, there isn't a notable difference between the pricing plan of both the versions — just a few dollars. And, if we are to pay attention to the features offered, the price is way too reasonable. Not only that, the features prove to be quite useful when you're an active internet user, facing a lot of direct and indirect threats to privacy and security. So, it's your choice, at the end, but we really want you to go with Bitdefender Internet Security by spending a few dollars more.