It's somewhat easier to pick Bitdefender as your desired protection suite from the big list — because Bitdefender has enough features and exclusive options to be the star of show! For instance, there are power-packed algorithms, a lot of options to minimize resource consumption even while serving the best performance and there are several others, such as autopilot mode, Safepay and web-based control. Despite all these, you may be confused when it comes to choosing a product from a duo of Bitdefender protection suites.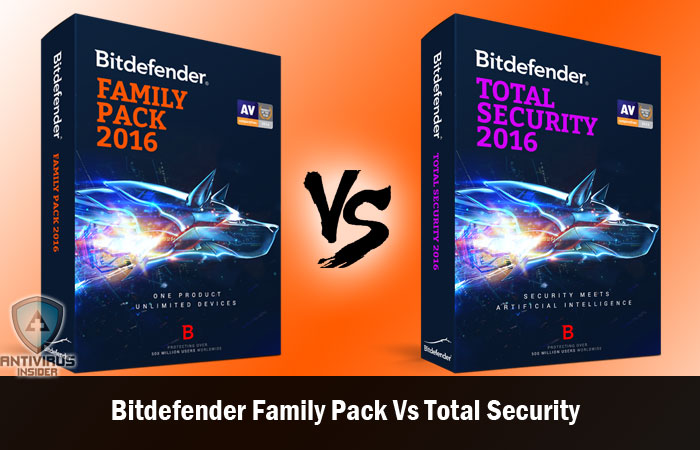 Bitdefender Family Pack and Bitdefender Total Security are two of such confusing products. In this article, we are going to have a detailed comparison of Bitdefender Family Pack vs Total Security, to help you choose well. We will be discussing the different aspects such as the pricing, availability of features and the intended purpose. We are ready to roll, right?
About Bitdefender Antivirus Products
We've already told you that Bitdefender is a trusted name when it comes to antivirus solutions. With an experience of more than 15 years, Bitdefender has developed very effective algorithms and technologies to ensure best-in-class protection for different computing platforms and device architectures. We have reached a particular scenario so that we won't even know that an antivirus solution is running in background, even when your devices are protected from every piece of malicious stuff. As we said, there are different technologies that make Bitdefender products different, such as the Bitdefender Photon technology, Bitdefender Autopilot mode, Machine Learning Capabilities and practical options such as parental control. Of course, the two products we are going to compare are the best in list.
Pricing — Bitdefender Family Pack vs Total Security
We shall get a glimpse on the pricing structure of Bitdefender Family Pack and Bitdefender Total Security.
In case if you didn't know, Bitdefender Family Pack is a bundled package. The price of the software package depends on the validity of your license. If you are going to purchase it for one year, you have to pay just $59.98. It needs to be noted that the price has been lowered due to a promotional package. On the other hand, if you want the software to be available for two years, you will have to pay $199.95 and if you increase the validity to three years, the amount to be paid will be $249.95. This is how the pricing structure of Bitdefender Family Pack 2016 works.
Get discount Coupon for Bitdefender Family Pack here.
As we come to Bitdefender Total Security, it's the most advanced home security suite that is available for Windows. It is meant to offer both online and offline protection features along with speed boosting techniques. Let's have one quick look at the pricing plan of Bitdefender Total Security. If you want to purchase the tool for one year, the one-PC license costs you $69.95. Quite surprisingly, if you want to have a 3-PC license, you can lower the amount to $58.47. As we go to the higher plans of Bitdefender Total Security — that offer increased validity and number of available installations —, the prices will increase. For instance, if you want the 10-PC installation for 3 years, you have to pay $499.95, which is quite huge but you can get almost 60-75% off on Bitdefender products depending on the offers.
Check Bitdefender 70% OFF Coupons here.
Bitdefender Total Security vs Family Pack — What They Offer
As we mentioned earlier, Bitdefender Total Security is the most advanced version of home security range that you'd get from Bitdefender. So, it consists of all the features professed by the antivirus developer. You get top-notch level of protection from viruses, malware, spyware and lots of malicious stuff. As we get to the web-based sector, there is protection available from phishing, privacy stealth and surveillance. In addition to both these protection options, you get several options to enhance system performance and security. For instance, there's the power of file encryption and options of one-click System Tune-Up to get the maximum speed. There are several other features too such as its parental control, anti-spam and Bitdefender Photon.
Read: Bitdefender Antivirus Plus Vs Internet Security Vs Total Security 
Bitdefender Family Pack, as the name says, is a package of antivirus solutions that do cover different devices. As of the package, Bitdefender Family Pack consists of three products — which are Bitdefender Total Security, Bitdefender Antivirus for Mac and Bitdefender Mobile Security. It means that along with the powerful Total Security, you will be able to protect your Macintosh and Android devices. Obviously, the availability of features changes depending upon the device you're going to install it on. For instance, the Mac Antivirus does not have parental controls or extra level firewall. But it just keeps the protection part ready.
| | |
| --- | --- |
| Bitdefender Family Pack | Bitdefender Total Security |
| Supports all devices in one purchase | Need to buy for 1/3/5/10 Devices |
| All Windows, Mac, Android and iPhone Supported | Only Windows Based PC Supported |
| Cost-effective solution for all devices | Cheaper if you want only 1-3 devices protection |
What's more in Bitdefender Family Pack?
This is a question you'd expect from most of the visitors. To make things brief, let's point out the notable differences in the duo. Bitdefender Family Pack 2016 consists of the following stuff
Bitdefender Total Security, which is the high-end internet security and system optimization suite for PCs.
Bitdefender Antivirus for Mac, which ensures best-level security for devices running on Macintosh
Bitdefender Mobile Security, which is available for Android and provides features such as anti-malware, anti-theft etc.
Bitdefender Central, which is the all-in-one web-based platform to keep track of multi-device security.
And, the most important thing in Bitdefender Family Pack is — you can install Bitdefender suites on as many devices as you want. It does not matter whether you have five Android Smartphones and three Macintosh devices to protect from threats, Bitdefender Family Pack is just enough for the purpose. In short, regardless the platform, you can serve protection to all the devices, with no kinds of limitations or in-bound restrictions. From the affordability point, this is a good thing.
Talking practically, if there are total of 10 devices in your family, it's best to go for Bitdefender Family Pack. It will be a huge savings. This way, you will be able to serve streamlined protection to all the devices and control all of them using a web-based portal — Bitdefender Central.
Bitdefender Total Security vs Family Pack — Which One to Choose?
So, we come to the end of this comparison between Bitdefender Total Security and Bitdefender Family Pack. If you'd take a closer look into the pricing, it's clear that Bitdefender Family Pack is quite affordable. Even when you choose a validity of three years, the amount to be paid is $249.95 and you can do unlimited installations. In the other case, for just 10 devices, you have to pay $499.95. Moreover, in Family Pack, you get protection suites for different platforms like Android and Mac, along with the web-based control. So, when you need an unlimited usage of Bitdefender suite, you best go with Bitdefender Family Pack 2016.