Most of the times, common PC users get confused in identifying the difference between Antivirus and Internet Security programs. They think that both have same usage, but it's not correct. There is a difference between these two types of software programs.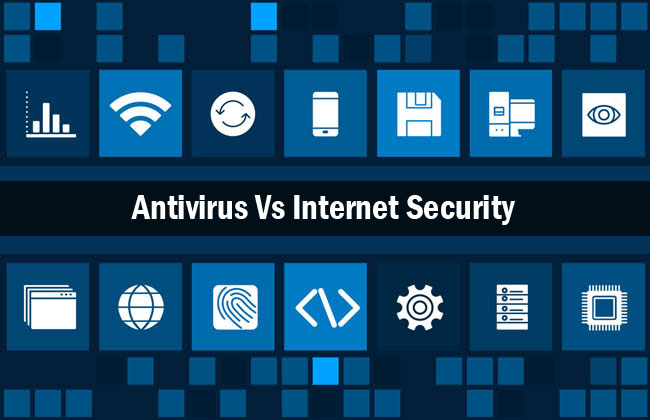 Due to confusion between anti-virus and internet security software programs, users install software, which is not able to serve their security needs. That's why, it is important to know the difference between Antivirus and internet security.
Antivirus and Internet Security Programs
In this post, I am going to explain the difference between these two types of software programs. So, it would remove the confusion between them and you can choose the right program to protect your computer from external harmful virus, malware and spyware.
Antivirus Programs
The Antivirus is a standalone software program which protects your PC from external harmful programs also known as computer virus. The Antivirus keeps scanning your entire PC from harmful Virus, Malware, and Spywares. This program can also scans, find and clean viruses from External Storage devices like External Hard Disks, Pen drives and Micro SD Cards.
The antivirus programs are capable to update its database and find the latest threats and removes them from your System. Additionally, some antivirus software can take the complete backup of your data. Most of the time, antivirus software program works in the background, and keeps a wide eye on any harmful program and immediately remove them.
The Antivirus programs are capable of repairing highly infected PC's by removing viruses and malware, to make them usable and secure.
Internet Security Programs
The Internet Security programs, are slightly different from Antivirus programs. They can do all the work of antivirus programs, but have the additional capability to protect you from online threats. The Internet Security programs can protect your PC from any online virus attacks. It can warn you if you are downloading any potentially harmful software, protects you from visiting harmful websites and save you from Adwares too.
Also, this software has firewall feature, which protects your PC from external harmful threats to enter. In short, Internet Security program is a perfect protection if you are a business organization or individual, who spends most of his time on the internet.
The Antivirus software programs are mostly developed to keep an eye on viruses and malware present on the PC and external storage devices. But, the internet security software keeps on viruses present in PC and also protects you from online threats, helps you to use the internet securely. That's the main difference which makes this software differ from each other.
Also Read: Difference: Antivirus and Antimalware Programs
Verdict
Antivirus programs are useful for those, who don't use their PC to browse the internet for long. Most of the times, Antivirus software are used in Home PC's. And the Internet security programs are useful for those, who always keeps browsing the internet and Business organizations, who need to keep their sensitive data secure. There are many Antivirus software programs available for free and many programs are paid. But, most of the Internet Security programs are paid. We have a list of best premium programs including Kaspersky, Bitdefender and a lot more with huge discount deals. So, decide your needs and choose the antivirus program or Internet security program to protect your system and data.