Without any doubt, we can say that Bitdefender is currently one of the most-trusted and widely-used antivirus tools in the marketplace! Noted for the powerful algorithms, the technological advancements to back the processes and a quite promising User Interface, Bitdefender antivirus has been able to attract more and more customers into it from different sectors.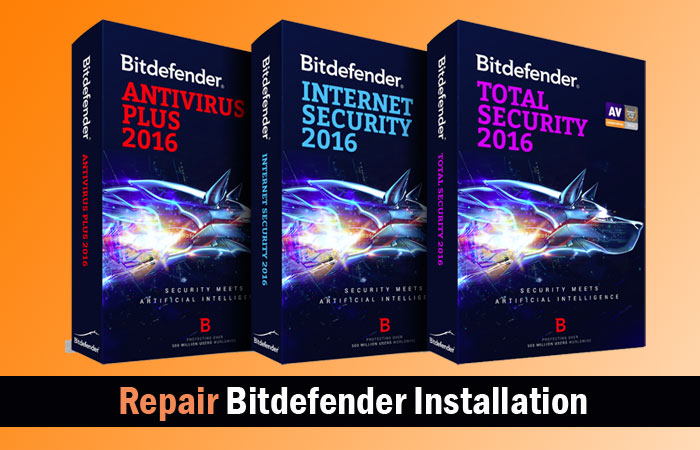 It's so because Bitdefender is offering its solutions for home, business and enterprise solutions, at a relatively lower rate. They always been running many promotional sales where you can get huge discount on Bitdefender products. Also, when compared to other antivirus solutions out there, Bitdefender brings an easier mode of installation and functioning too. However, have you ever thought how to repair Bitdefender installation?
Check: Bitdefender Vs Kaspersky: Which One is More Efficient?
Why Repair Bitdefender Installation?
There are several instances why you will need to repair an installation of Bitdefender antivirus. It might be the basic Antivirus or Internet Security package you may be using, but the requirement is more or less the same.
Case #1
If the installation did not go well, you need to repair the installation. You know our tutorial on installation of Bitdefender offline. That is, during the installation, the PC may come across some errors or issues, upon which it is not possible to successfully install Bitdefender in a device. For instance, if there was a system failure amidst installation, that won't be complete and the antivirus wouldn't be functioning in the expected way. In such situations, you can repair the installation and bring Bitdefender back to action. When we'd compare the repair process with that of complete reinstallation, you can save a lot of time and effort, and thanks to the development team, Bitdefender has an official repair feature too.
Case #2
In the course of time, due to the interference of some other tools, your antivirus MIGHT slow down! In that case, for knowing whether there are some issues with the installation, you can try repairing the Bitdefender installation. Using this way, you can fix if there are some trouble with the installing part.
If you come across any of these issues, the best thing is to repair your Bitdefender installation.
How to Repair Bitdefender Installation?
Now, we will take a step-by-step guide to the repairing of Bitdefender installation.
Step One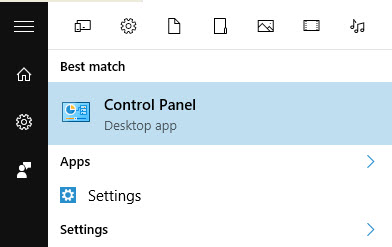 First, you have to open the Control Panel. To do that, you can either use the Windows Search feature (if you're using Microsoft Windows 8 or later) or the Start Menu à Control Panel.
Step Two
From the different options available, choose 'Uninstall a Program'
Step Three
You can see the entire list of programs you have installed in your computer. From the list, select Bitdefender install. It has to be noted that the name would be different depending on the package you have purchased. If you've got the Total Security, the name will be 'Bitdefender Total Security 2021'.
Step Four
Right click on the installation and choose 'Uninstall'. A new window will be loaded in a few seconds.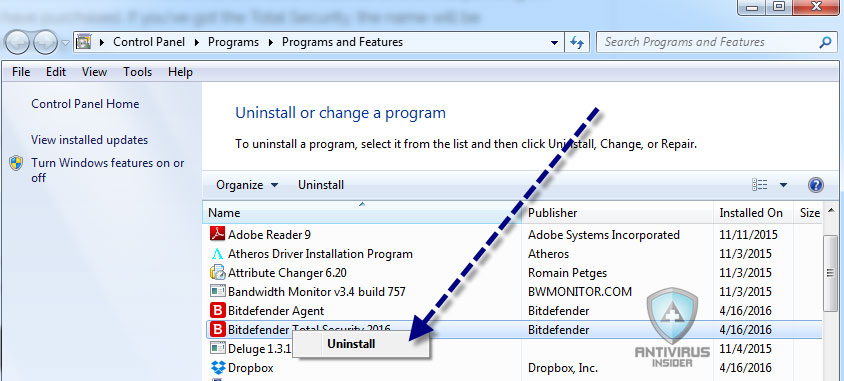 Step Five
In the upcoming window, you can find two options available. On the right side, we can find 'Remove' operation.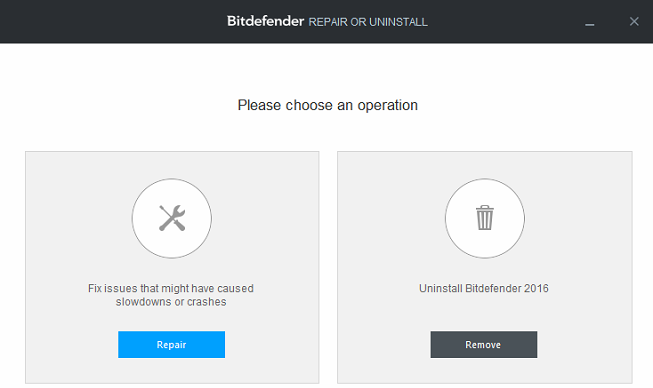 This option is meant to completely remove Bitdefender Antivirus from your computer. However, if you choose 'Repair' option, only the issues will be caused. So, you can click on the Repair option.
Final Step
Depending on several factors — such as the speed of your PC, amount of issues you have with the installation etc —, the repair process will be completed in a few minutes or so. In the end, you are going to have a clean, fresh and fully functional installation of your favorite antivirus tool.
An Alternative Case — Fixing 'Bitdefender Installation has Failed' Issue
As we said earlier, if you are facing issues after the installation, you can follow the Repair option. However, as users and experts say, there's another issue you'd come across while installing Bitdefender. It's known as the 'Bitdefender Installation has Failed' error. To fix this error, however, you have to follow another guide.
Make sure that your system has enough configurations to meet up with the requirement set of Bitdefender.
You can get a Bitdefender Uninstall tool from the official website. Use that tool to completely remove all the previous installation files.
Now, you have to download the full installation kits of Bitdefender 2021.
Once you have extracted the downloaded file, right click on the installation setup file
In the Security section, you have to click on the 'Unblock' button
Click 'OK' to close the menu
Now, you have to run the setup file with Administrator privileges. You will be able to deal with the installation quite smoothly.
To Conclude
So, we have given you a systematic tutorial to repair Bitdefender installation in your PC and get a refreshed antivirus experience. This is a good feature if your installation has been suffering from slowdowns and lags in the passage of time. We have also told you how to fix the Installation has Failed error, which is common. Do you have any doubts on this topic? Free feel to ask us.