There is no scarcity for fully-fledged antivirus solutions. Even if you pick two randomly, one of the duo will be good enough to go. However, at times, we need something else — more of a toolkit that can fix the various issues in your computer.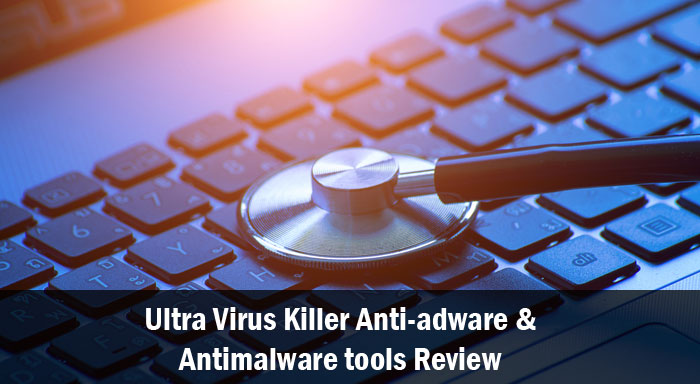 It may be about removing an unwanted program, cleaning registry or getting rid of adware. In most cases, the so-called full antivirus suites aren't good for this. Ultra Virus Killer and Ultra Adware Killer, though, are something that you can count on. The first one is a compilation of useful features while Adware Killer is for getting rid of nasty adware. In this article, we shall have an overview on both Ultra Virus Killer and Ultra Adware Killer, so that you can have a clear idea.
As we said, Ultra Virus Killer is a toolbox of various utilities. These utilities can be used for various purposes, including anti-malware protection and virus removal. Apparently, the major function of Ultra Virus Killer is to kill viruses from your PC. This tool follows a modular structure, so that you can choose the modules as per the need. For instance, system booster module is meant to increase the system speed through different methods. The tool may get rid of junk files and clean up remnant files to make use of maximum system resources. In addition, Ultra Virus Killer has some other modules too. Some of them are:
System Immunizer for better protection
Process Manager
Memory Manager
System Info
Registry Seeker for advanced control
System Repair
Ultra Adware Killer
Service Manager
All these sections are useful when you need the best results from your computer. For instance, the System Repair system will thoroughly examine your PC for possible threats and configuration issues. In short, you can make sure that your PC is using the maximum amount of resources available and that nothing is wasted. The non-mentioned module of Ultra Virus Killer are Geek Tools, Misc Tools, Scan & Create log, Alternate Streams Manager etc. Ultra Virus is more than satisfactory if you need a tool that goes deep into your computer and gives insights. As a whole, we can say that the UVK package is essential for almost all advanced PC users.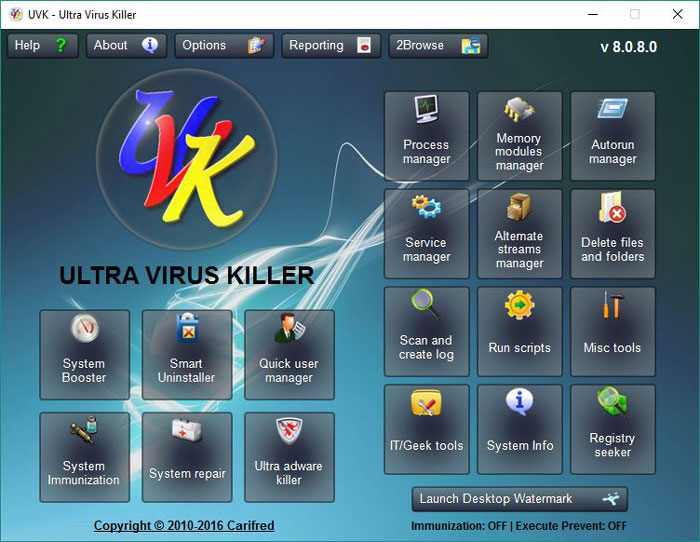 That having said, you need to be a bit more careful while exploring some sections of UVK. As you know, you can even get to manage drivers and essential components through the Ultra Virus Killer interface. If you disable any of required ones, chances are, you are in trouble. You can download Ultra Virus Killer from the official website and it's available for free. It needs to be noted that the tool is available in traditional and portable versions. If you are a professional who needs to fix computers often, you should prefer the Portable version.
P.S. Before you do something geeky, make sure you have a proper backup of your data.
Ultra Adware Killer is actually one of the modules included in the Ultra Virus Killer package. However, judging by features, we need to give a special section for that. As you know, adware is one of the bigger digital threats we come across. Ultra Adware Killer has all the options to get rid of adware stuff from your computer. Though it is a lightweight program, there are a bunch of awesome features included. Some of them are:
As we said, Ultra Adware Killer is a lightweight software that is portable too. It means that you can use this Ultra Adware Killer without the problems of installations.
Restore Points are created before scanning; if something goes wrong, Ultra Adware Killer will take you to previous state in no time.
It comes from a trusted developer and on-time support is available from the website.
This tool comes with a basic-looking interface, but does the job very well. When it comes to removing adware, you have 2 options. First, you can remove all the adware stuff from the device. Alternatively, there is an option to select the areas of scan and then do the removal part. It does not matter the method you prefer, the scanning algorithms and detection rates are something awesome in this tool. It's a free-to-use tool with enough control over how it works.
Summing Up
In short, Ultra Virus Killer and Ultra Adware Killer are two must-have tools for every pro computer user. Also, if you are a professional with system-cleaning sections, these will be useful. You always need to be conscious enough to take backups before you proceed. It's because both these tools come with in-depth controls on your computer. Apart from precaution of backups, it's pretty easy to use these tools and get rid of malware and adware.