Startup Time is one of the factors that decide the practical speed of your computer. What is the point if you get best-in-class performance inside but the system takes minutes to boot up? The situation is more or less like a nightmare if you are in some urgency. In short, having a better startup time is essential for your computer and your work. Indeed, there are many manual methods that can be used to improve the speed of your computer.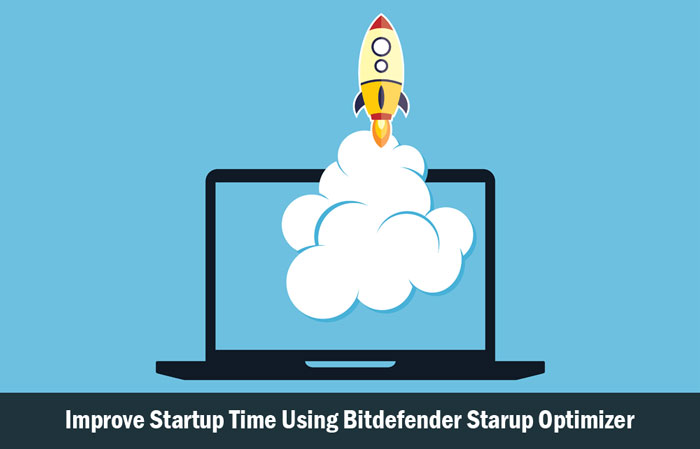 Quite unfortunately, there is not much control over the sector in Microsoft Windows. So, with the manual methods, you are not going to bring a noticeable change. However, thanks to Bitdefender, it has included a Startup Optimizer in its Antivirus Suites.
What is Bitdefender Startup Optimizer?
As we mentioned above, Startup Optimizer is an in-built utility of Bitdefender Antivirus Suites. Currently, the utility is available in Bitdefender Total Security, which is the most advanced version of Bitdefender Home Security. Using this tool, you will be able to effectively improve the startup time of your system. The best part is that you do not have to use the typical method you used to follow in Microsoft Windows. Instead of that, Bitdefender has brought an all-new interface that allows you to manage the factors that influence startup time.
Check ==> Bitdefender Review and Great Discount Deals.
How Does Startup Optimizer Works?
Before we know the working process of Bitdefender Startup Optimizer, we need to know something else. There are a few factors that cause the startup time of your computer. Indeed, the primary importance is hardware and software configuration of the device. For instance, if you are running Windows 10 on Pentium or some old microprocessors, it may take more than usual time to start up your computer. That said, even with higher configurations, the systems can be lagging. If that is the case, you need to blame the apps you have installed in device.
Recommended Readings:
Therefore, clean management of apps that load during startup is the best way to improve startup time. And, exactly, that is what Startup Optimizer utility of Bitdefender Total Security does. It helps you to find out the applications that do run during startup. Once you have found the culprits of boot-time lagging, you have the complete freedom and a set of options to optimize the speed. Instead of completely blocking the apps, this utility allows you to delay the start as well. This way, you can have the application running in background without affecting the startup time.
Now, we will tell you how you can improve the startup time — step by step.
How to Use Startup Optimizer?
Step 1:
First, you need to open the Bitdefender Total Security dashboard, which is quite intuitive.
In somewhat the middle portion of the interface, you can see an icon named Startup Optimizer. Click on that icon for launching the dedicated Startup Optimizer utility.
Step 2:
In the coming window, you can see what affects the startup time of your computer. Its best part is that there will be distinction between the time consumed by system and time consumed by apps. So, you can know the difference. It is also showing the current boot time of your computer.
In this case, startup time is not affected by the startup time. However, yours may be different.
Step 3:
If you find that an app is increasing the startup time of your computer, you can control that specific app. To do that, you need to select the app first. In the right portion, you can see different actions that can be done.
You can enable, disable or delay the application during the startup. As we said, if you need the app right after you've started the PC, you should better Delay the app. Otherwise, for useless stuff, it's directly the 'Disable' button.
So, you have successfully found out the affecting apps and have controlled them for better startup time of your PC.
Concluding
So, in light of what we have seen, Bitdefender Startup Optimizer is a superb solution for those who prefer one better startup time with their device. It's a good thing that the utility allows the 'Delaying' of apps instead of getting rid of them completely. Therefore, it's possible to have a quick but functional system startup with the tool. This feature is included by default in Bitdefender Total Security.