When it comes to a PC, most people don't really give attention to Device Drivers. In fact, a PC cannot function well without the proper set of drivers — because, they are what create right connection between software and hardware parts of your system. The idea is to make sure that your drivers are regularly updated and are free from security threats. Yeah, you heard that right. If there are some serious vulnerabilities in the system drivers, those vulnerabilities can cause privacy and safety issues in the course of time. So, in this digital world of threats, it's somewhat necessary to keep your system drivers updated and safe.
You may not always have enough time to keep an eye on these drivers. As far as a common PC is concerned, there will be tens of hundreds of drivers installed. It also depends on the additional hardware you use, such as Graphics Cards and Connectivity options. For those who are struggling with this scenario, however, IObit has created an innovative utility called IObit Driver Booster 4 PRO. This tool has been made to take care of everything related to device drivers. The developers say that, through the regular use, anyone can enhance the overall performance of a Windows PC.
Starting with an introduction, we will have an in-depth review of IObit Driver Booster 4 PRO 2017. Our review is based on different factors such as our own experience, user-reviews and opinion from our friends who've been using it for a while. So, in the end, you can clearly know whether you need this utility for your PC.
About IObit Driver Booster 4 PRO – the Basics
In the basic terms, we can IObit Driver Booster 4 PRO a utility for updating and fixing your system drivers. It works by finding the right set of drivers required by your system and updating them for enhancing the overall performance of your PC. It's available for devices running Microsoft Windows and has support for Windows XP to Windows 10. Coming with an installation size of 17MB, setting up IObit Driver Booster 4 PRO in the PC won't take much time. Once installed, however, you can stop worrying about the driver-based issues.
As a user, you have two choices regarding IObit Driver Booster 4. There is a free version with basic bunch of functionality, such as finding and updating faulty drivers in the device. However, if you are looking for 200% or nearly its performance impact, you have to check out the premium features too. We will go through those features in detail, but, before that, we must have a look on the Installation and Getting Started aspect of this IObit Driver Booster 4 PRO 2017.
>>Get IObit Driver Booster with $20 discount from Official Website<<
Getting Started with IObit Driver Booster 4 PRO
Just like we said earlier, it takes just a few seconds to install IObit Driver Booster 4 PRO in your PC. It works fine with Windows XP, Vista, 7, 8 and Windows 10. Thanks to the offline installer, you don't need an internet connection while setting up the program. In a minute or so, you can download the 17MB installation set-up and get it installed.
The working process is also simpler than you expect. Once you have dealt with the installation process, you can move forward to the first step towards fixing drivers – a thorough Scan.
In a single click, you can make the tool to scan your whole system for potentially faulty and outdated drivers. The interface is pretty simple. Even if your best previous experience is with antivirus apps for smartphones, it's going to be fine.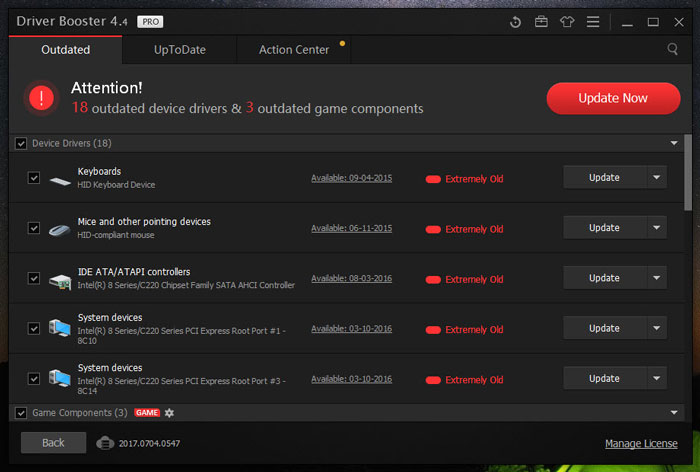 Talking about the main interface, there is only one button, namely Scan. Once the scan is complete, you can see a complete list of detailed results. There, you can spot different details such as the list of Outdated and Up-To-Date drivers. It also has an Action Center, where you can have the essential details about Drivers that are installed in your PC. Then, it's your choice to Update them — in a single click.
Updating the Faulty or Outdated Drivers
Now that you have scanned and found the outdated drivers and components in your PC, it's time to update all. In IObit Driver Booster 4 PRO, there is a single Update button that takes care of everything.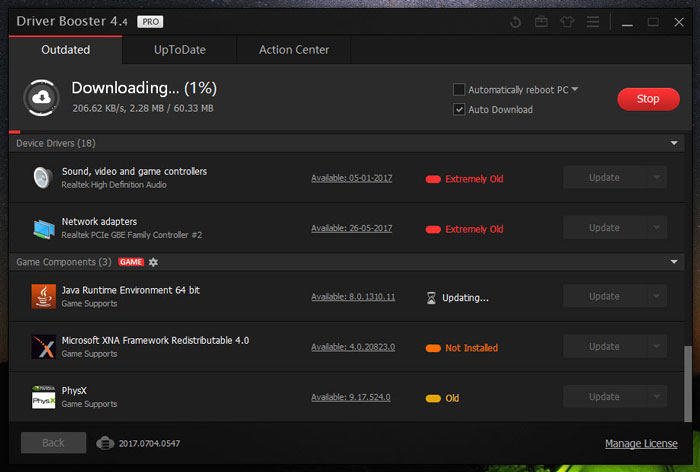 You can also update drivers, one by one, but the former method is preferable. The pro version of IObit Driver Booster 4 comes with an awesome collection of driver-detail database. So, it won't have trouble in finding the right driver, however rare it can be. Earlier, we used to spend hours for finding the compatible drivers for the Graphics Cards and even the basic hardware in the PC. With this utility at our disposal, everything is quite automated. IObit Driver Booster 4 PRO knows how to choose the most compatible driver, for best-in-class performance.
Noteworthy Features of IObit Driver Booster 4 PRO
Now, we should have a quick-look on the superb features of IObit Driver Booster 4 PRO. Most of them aren't available in the free counterpart, and you're getting a lot for what you actually pay. Shall we check them?
IObit Driver Booster 4 PRO uses an all-new algorithm for reducing the file size. You have to download the least-possible size of driver files, but they should work so seamlessly while installing and working.
Auto Download function in the program also has a Download Enhancer. You can download the same drivers at a better download rate. It should be noted that, when compared to the free version, you'd have a better downlink too.
Game Component Updating is a crucial feature in IObit Driver Booster 4 PRO 2017. It gives advanced priority to the important gaming components. At the end of the day, you can have the best gaming experience — no matter how your hardware specifications are.
Upgrading your PC or something? IObit Driver Booster 4 PRO lets you back up every system driver to a secure storage, for restoring later. This is quite a lot better than storing those driver CDs. Even if you lost those discs, there is no need to worry, either.
The program is quite intelligent as to download drivers during idle time only. Thus, you can save your resources while using some power-hungry apps.
Extra Toolkit with the Driver Booster:
As you can see you can fix some basic Windows issue and also check your system information in details.
Pros and Cons of IObit Driver Booster 4 PRO
Pros
Full automated
Affordable Pricing
Minimal Footprint and Resource Consumption
One-Click Operation
Cons
Ads may disturb some of you
Check Driver Booster Discount Deal
The Final Verdict
IObit Driver Booster 4 PRO is one of the best Windows-based utilities we've recently used. It was able to do some magic in increasing the total performance and stability of our PC. Despite the fact that our hardware specs were fine, IObit Driver Booster 4 PRO also managed to enhance the gaming experience, thanks to the impressive collection of gaming components. What we really liked in the tool is the option of automation. In literal terms, you don't have to worry about anything. Just click the button and the program will find, install and set up the respective drivers for optimizing system performance and speed. Also check out other coupon codes from IObit including Advance System Care.