In the world of Personal Computer OSs, Mac OS is something special. It's supposed to be an ultra-powerful, optimized and productive OS that you can enjoy in Apple-made devices only. For a long period of time, Mac OS devices were considered completely secure from all the threats. In fact, consumers used to boast about how their Mac computers wouldn't be infected by malware, even in worst instances. Then we saw the stories of how attackers managed to infect thousands of Mac devices and thus cause incorrigible damages as well.
Currently, we are pretty aware that Mac devices also are vulnerable to the various types of malware and lag issues in the course of time. This is exactly why we need software like IObit MacBooster 5. Just as you would have guessed, IObit MacBooster 5 is supposed to clear the issues of malware infection as well as gradual loss of speed and performance. In this article, we will have a brief review of IObit MacBooster 5, discussing the different aspects of your possible concerns.
At the end of this review, you will know whether you need this booster software for your Mac. Shall we begin with an introduction to IObit and MacBooster, then?
An Introduction to IObit MacBooster 5
IObit MacBooster 5 is a two-in-one solution that protects your Mac from malware and enhances total speed as well as performance. In addition to the basic features, you can have some extra utilities too. We will cover those additional features in the upcoming section, though. For now, keep in mind that IObit MacBooster 5 is supposed to enhance the security, privacy and performance of your MacBook or iMac. We already talked why you should get something like this. Including the latest ones, we have witnessed a wide variety of digital attacks towards Mac devices. Also, for those who have a lot of apps installed and use them, lagging problems are quite common.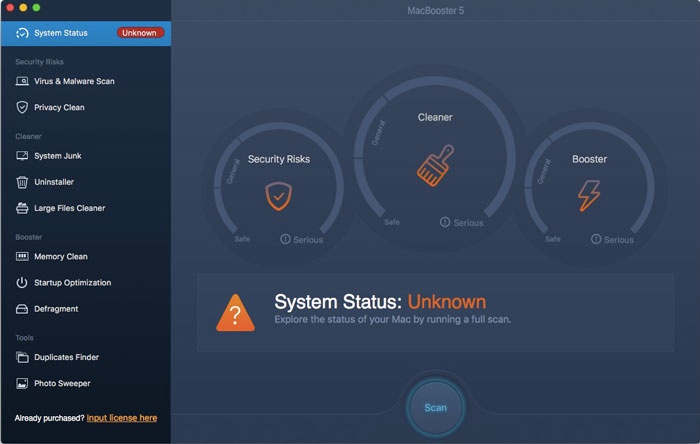 Now that you have an idea about the basic objective and functionalities of IObit MacBooster 5, shall we just move on? First, we will have a quick-look at the major capabilities of this program.
Major Features Offered by IObit MacBooster 5
If you are planning to get MacBooster 5 for your Mac, you will surely have the following benefits. It needs to be noted that we are talking about major areas and not individual features.
Malware Scanning, Removal and Protection
As the basic level of protection, MacBooster 5 can scan your Mac for potential viruses and most other types of malware, including adware and spyware. It can also take care of your Mac from ransomware attacks. Put in simple terms, you will be protected from most of Mac-based attacks.
Privacy Cleaning Utilities for Better Care
Even in a Mac device, there are some privacy-oriented folders and areas. The apps you use may leave some important data in those places. For instance, in case of Safari or Chrome, there will be cookies, cache and a few other things. MacBooster 5 clears all these, and everything happens in a single click.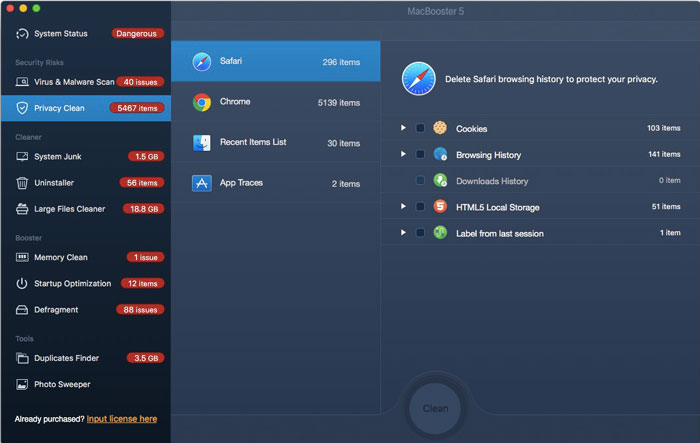 This is one area that MacBooster 5 excels: this program can remove 17 types of junk files from a Mac device. The list includes app junk files, system cache files, language files, trash cleanup, iTunes backups, Leftovers as well as others. It's way better than the typical storage management system of macOS.
Startup and Memory Optimizer
These might seem basic functions, but they are really effective in MacBooster 5. In a single click, you will be able to release unused RAM in the Mac, thus enhancing performance elsewhere. Also, if you think any apps are lagging the startup process, there's an optimization utility for that too.
You can use IObit MacBooster 5 for finding duplicate files — you heard that right. Do you know that a lot of your Mac's storage is consumed by duplicate files? So, MacBooster 5 lets you find and remove the duplicate files with ease. There are some intelligent, organization-oriented features too.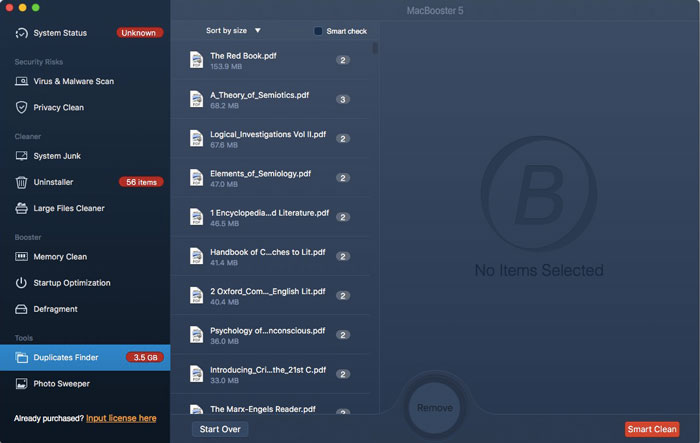 While these are the main features, IObit has included some miscellaneous features too. For instance, there is something named Photo Sweeper, a quite intelligent feature. This module will scan your photos and delete extra copies while keeping the best ones. When you want to save some space without losing anything important, these features make enough sense.
Getting Started and Usability
As a matter of fact, the installation setup file of MacBooster 5 is just below 30MB. Likewise, the installation process doesn't take more than a few seconds. That is, right after downloading the setup file, you can have it installed on your Mac. Even without much prior experience with these kinds of apps, MacBooster 5 offers an intuitive User Interface. It's one of the major perks as far as usability is concerned.
The same UI makes everything easier to access. Just as you open the main window, you can see the main UI of MacBooster 5, with a fully-fledged sidebar. All the additional features are available from the sidebar and MacBooster 5 even provides a dashboard to know the current status of your Mac. Altogether, it feels superb to use the program for enhancing performance, security and privacy of yours.
Security and Performance
We should take a look at MacBooster 5's impact on security and performance aspects. So, before you install the program, you can estimate the basic expectations.
In our tests, MacBooster 5 came up with impressive results. It was able to recognize the different variants of threats we had used. The included ones are adware, spyware, ransomware etc. It also managed to detect a few system-level security issues. Given that you're in the premium version, you can start fix all these issues in a single tap.
Even though MacBooster 5 doesn't have any negative impact on system performance as a software, almost all the features we covered above are quite useful. For instance, there were some noticeable enhancement of performance after the use of options like Memory Cleaner and System Junk Remover. For a common user of Mac, all these are just superb.
Pricing
This is something complicated, per se. You are free to download MacBooster 5 from the official website of IObit, but there's a catch. As we said earlier, you can install the program and use the features for scanning for possible threats, enhancement options etc. However, to enable those features, you need the premium subscription of the software.
That is, if you want to fix the security issues you came across, you must have MacBooster 5 premium version with you. We believe that's fine: you can first understand what can be done with the help of the utility. For instance, MacBooster 5 will give an estimate about how much space can be cleaned or how many security threats can be fixed.
So, that's all the pricing things to know. The premium version is available for just $59.95 or $39.95.
The Bottom Line
In light of all the above-mentioned sections, MacBooster 5 is indeed an awesome solution for almost all Mac users out there. Its integration with macOS is so cool that maximum performance boost is assured. We also loved the security and privacy features, especially the malware-detection engines. Last but not least, there is a whole new bunch of useful utilities in the package, including Photo Sweeper, Duplicate Finder and many more. For an affordable pricing of $59.95, this package is surely a steal-deal for Mac owners. Also check our discount coupon for IObit Advance System Care here.