As you know, Scanning is the essential function of an antivirus program. All your computer – we mean, all the possible parts of your computer – should be scanned thoroughly if you want to find out possible threats and other malicious stuff. People do understand this fact too. Even then, people are not really into scanning their computer on a regular basis, which causes a lot of problems. The reason is simple: it does not matter which antivirus you are using, the scanning process requires a lot of resources and time. Chances are, you'd not be able to run any other heavy-resource program if an antivirus is scanning your computer. Things get worse if you are going for Full System Scans instead of those Quick ones.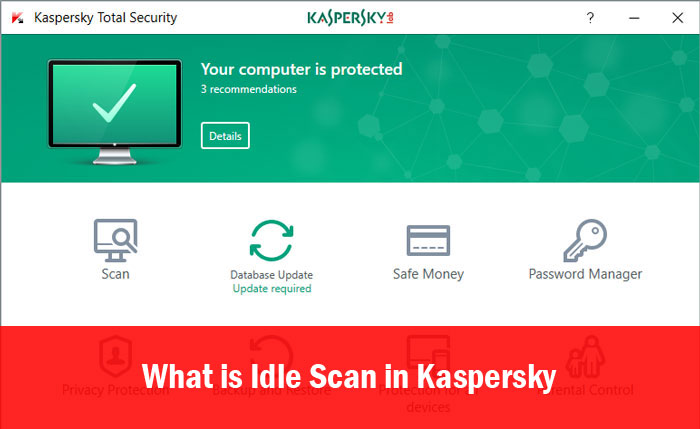 Despite all these, we cannot simply stop from scanning our PCs. As an alternative, however, Kaspersky took some effort and brought the concept of Idle Scan. In this article, we will talk about Idle Scan and how you're going to enable it in Kaspersky 2017. Before that, we will have a general introduction to the whole concept of Idle Scan.
Extra Readings:
What is an Idle Scan?
Idle Scan isn't all about bringing the scan into an idle state. On the other hand, it works the other way round. If you have enabled this feature, your computer will be scanned by the antivirus during idle times. Just think of this scenario. You used to put your computer on standby, right? What do you think about using computer resources for scanning during that period? Well, that's exactly what Idle Scan is doing. If you resume what you were doing, the scan will be stopped and complete resources will be released for what you're doing.
This way, Antivirus Programs are able to add an extra step of usability and performance-friendliness. It's like having all the perks of a complete system scan but not having to compromise system resources for that. The logic here is even better if we take a deeper look. For instance, there are some tasks that are labelled to be consuming more resources. You can take Database Updates and Startup Objects into that list. These would be activated and running only when you are not using the computer.
Most antivirus programs let you customize the features of Idle Scan, which is an awesome feature. If you do not want the program to clean your computer when you are gone for a small tea break, you can set that up too.
Idle Scan in Kaspersky – a Way to Improve System Performance
As we mentioned earlier, Kaspersky has included this feature in its security programs. If you are using one of premium products from Kaspersky – such as Internet Security, Total Security or Anti-Virus —, you can get this. Its working process is way too logical for most people.
Suppose you have left the computer in standby mode and the screensaver has been playing for more than 5 minutes. At this point, Kaspersky Antivirus Suite can understand the idleness of your computer. The tool is then set to the Idle Scan mode. That means your files and other components will be scanned for possible set of digital threats. For instance, you can spot the presence of viruses, spyware and others.
In addition, at the very same time, some core updates will also be taken care of. Database Updates as well as Executable Modules are on the list. In case if you did not know, these tasks are very strict when it comes to resource consumption. They can even make your PC unusable while running. So, it's a good decision to enable Idle Scan and increase system performance.
How to Enable Idle Scan in Kaspersky 2017?
Now, we will move onto the enabling process of Kaspersky Idle Scan. The steps are easy and on-to-the point. You won't have trouble in getting things ready, no matter if you are using Internet Security or Total Security.
Open the main interface of Kaspersky Total Security 2017.
2. Navigate to the 'Settings' window
3. From the sidebar, choose the one named 'Performance'
4. In the upcoming page, you will list a few options. From the list, tick on 'Perform Idle Scan'.
This will enable Idle Scan in your computer. So, the next time your computer goes into idle mode, the scans will be activated and running. Don't worry; everything is going to be fine when you get back.
Let's Wrap Up
This is how you can find and enable Idle Scan in Kaspersky Security 2017. As we mentioned earlier, this one will work fine in Internet Security and Total Security variants alike. Just follow the step and you will be able to release a lot of resources when you are really working. At the same time, you don't have to worry about keeping your files un-scanned either. We believe that's one of the coolest features from Kaspersky for all of us.