Have you ever wondered what makes your computers infected? Or from where a malicious program intrude into your machine? If this is your concern, you will find a solution by reading this article.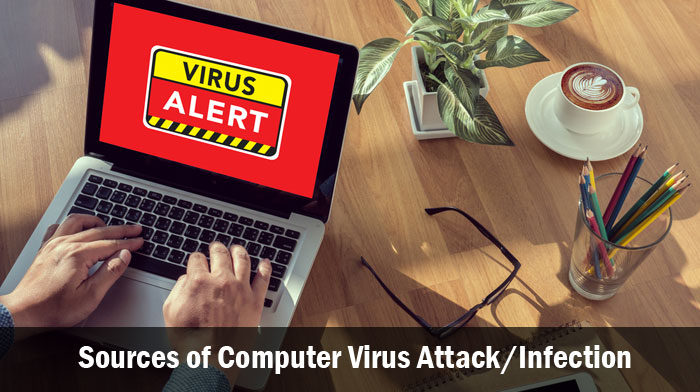 It is impossible to limit the sources to a certain number as the hackers are trying out new ways to inject malicious programs into new ones. We have seems few ways to prevent it by protecting your internet router. But in this post, you are going to find out the common sources through which the malicious software finds a way to get into your computer.
Are you ready to find out them? Here you go!

Sources of Computer Virus Attack/Infection
As I said earlier, you are going to find only six of them. But that doesn't mean they are all, and the list is complete. But we tried to include every common source here.
#1. Software Cracks
You must have known cracked software, don't you? Whenever you try to open a crack, your antivirus might have flagged it as malware. It is because of most of the cracks contain malicious scripts in it. That's why you should say NO to cracks. Chances are you would have turned off the real-time protection to make the crack work. NEVER ever do that. Within that short time, it can inject even a dangerous script into your computer.
#2. Email Attachments
That's why experienced computer users and experts say not to open email attachments from unknown contacts. Anyone can send you a malware file as an email attachment if they have your email address. And, it is up to you whether to open it or not. Apparently, your decision can risk the safety of your sensitive data as well. Famous email providers like Gmail has inbound virus scanner for attachments. So, don't try your luck opening the email attachments from strangers. Even if it's from someone you know, ensure the file type is not .exe. EXE files are way too dangerous than you think. Hence, keep avoiding those.
Moreover, you shouldn't click on links in an email from a stranger unless you are sure it's not a security threat. Better to use any Internet security program in your system that you will warn you whenever you open any malicious web link.
#3. Removable Storage Devices
Floppies are already out of the league. And, CDs started making their way out as well. Now, the pointer goes to flash drives (often referred to as pen drives or thumb drives) and to external hard disks. You know it is possible to run a program automatically at the time you plug a removable storage device into a PC (called as autoplay), don't you? What if that program is a malware?? There you see yourself at risk. So, always scan your removable media soon after you plug it into the computer. Also, don't forget to turn off auto play feature.  Be sure to install any antivirus program to protect yourself from such auto-run. We recommend to use Bitdefender Total Security or Kaspersky Internet Security but you can choose your own antivirus program. If you don't want to pay for it, you can go with free antivirus or at least default Windows Defender if you are on Windows- We have recently posted a full review of Windows Defender that you can read.
Extra Readings:
#4. Bluetooth
Yeah, it's true! A Bluetooth transfer can make the future of your computer at stake. So, you should know what is sent to your computer whenever a transfer takes place. Or else, anyone can send anything and, turn your system into a weird one. The best armor to blow off such an attack is to have the perfect antivirus. You know the premium security software works the best, right?
#5. Malicious Websites
We can always visit a secure website as there are plenty of snares on the internet with loads of malicious codes and programs. I bet you are distracted a lot by popup and popover ads many times. Some websites even install an adware (with other software) that you keep seeing unnecessary ads right from the moment you turn the network on. Well, the solution here is a combination of an Ad-blocker along with an antivirus. An ad blocker prevents displaying unwanted advertisements and at the same time, antivirus drives away malicious software installations. For banking transactions you can use features like Bitdefender Safe Pay or Kaspersky Safe Money.
#6. Freeware
Why should a developer make his product available for free? There are three possibilities to become a program to be free; free trial, GNU (open source) or malware. Yes. If you are sure that the software you are using is not a trial version or open source, then most probably, it is a malicious program. Human eyes are unable to sense the malware nature just by looking at the setup file. So, don't wait to install a reliable antivirus NOW. Even some free antivirus can put virus in your computer.
Wrapping Up
Now you know six sources of computer virus attack. But whenever you have to transfer data in or out of the system, you must ensure the traffic is secured. Or else, there would be a chance to end up making your system infected.
Stay safe.