It's quite hard to live without an effective antivirus in your computer! It's equally hard to pick an appropriate antivirus to protect your computer. And, you can expect the scene if the competition is between two established brands, with a big-enough user base. That's what happens when you want to pick one from the duo of Bitdefender vs AVG. Both are trusted security software developers, who have been in industry since around the actual inception. Although the naked-eye way of comparison doesn't tell you anything, there are some deeper aspects.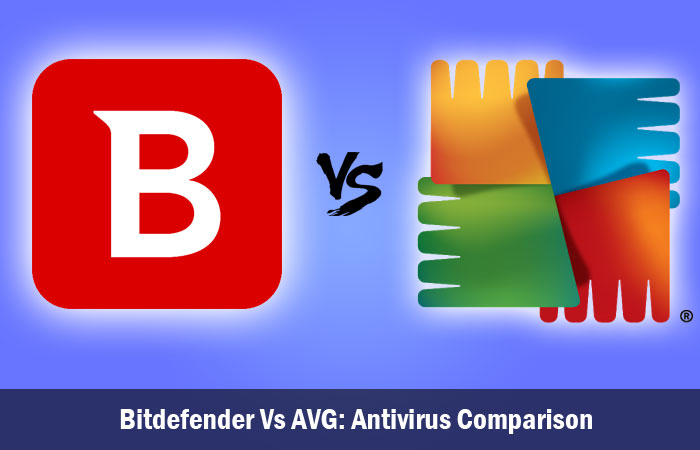 In this article, we are going to compare the major aspects of Bitdefender and AVG Antivirus products. So, in the end, we will have a clear idea about the security suite you should go for. We can discuss the pricing, available packages and other areas like protection effectiveness and feature availability. Should we start, then?
An Introduction to Bitdefender and AVG
Bitdefender is a Romania-based private company that focuses on computer security and internet security. It was founded back in 2001. Since then, Bitdefender has been one of the most-used antivirus developer of the industry. What's more, as per the 2014 statistics say, more than 500 million devices are secured using Bitdefender products. It develops products to protect Windows, Mac and Android devices in the home range. In the Enterprise level, Bitdefender has gone beyond the several limits. Bitdefender is noted for the exceptional performance and features, despite the affordable pricing.
AVG Antivirus is developed and distributed by AVG Technologies, which happens to be a publicly-traded Czech firm. AVG Technologies started its functioning back in 1991, and it's pretty huge too. According to the statistics of 2015, products of AVG are protecting more than 200 million individuals and their devices. In addition to common antivirus software, AVG is also offering extra tools like HideMyAss VPN and Web TuneUp. Everywhere, though, the company has been able to keep up with the industry demands and user-requirements. It too is offering enterprise-level products.
In this AVG vs Bitdefender comparison, we will be focusing on home security products. As both companies are developing solutions for multiple platforms, we will check out the products available for Microsoft Windows mainly.
Antivirus Packages and Pricing of Bitdefender and AVG
Bitdefender has perhaps the best pricing structure for antivirus products. That's one of the reasons why people prefer this to many other antivirus developers in the industry. If we take the case of PC protection, Bitdefender is offering three packs as of now.
On the first level, we have Bitdefender Antivirus Plus, which gives you Bitdefender-exclusive features, a quite powerful scanning environment and a bunch of features. It's currently priced at $34.95, thanks to an available discount.
Up next, there is Bitdefender Internet Security, which needs you to pay $44.95. In this second package, you will have one better set of features for web-based protection. For instance, you get password manager, extra firewall and the parental advisor etc.
Bitdefender Total Security Multi-Device is the most advanced package in Bitdefender's inventory. It offers an impressive protection from threats, web threats and gives you performance enhancements as well. The best part is that you can protect three platforms with this package. You need to pay just $49.95 to protect up to 5 devices.
Similarly, AVG has three options to offer — AVG AntiVirus, AVG Internet Security and AVG Protection Pro.
AVG AntiVirus, which offers you virus and privacy protection, is available for a yearly rate of $49.99. Here, you'd get Link Protection along with basic antivirus protection. You can protect only one device with this pack.
AVG Internet Security is priced at $64.99 per year. Along with antivirus protection, you will have an extra firewall, anti-spam protection. You also get shopping protection, which is useful.
AVG Antivirus Protection Pro is a multi-device package, priced at $69.99. With this plan, you can protect as many devices you want, regardless whether they are running on Windows, Mac or Android.
AVG is also offering another tool named AVG TuneUp to bring the best performance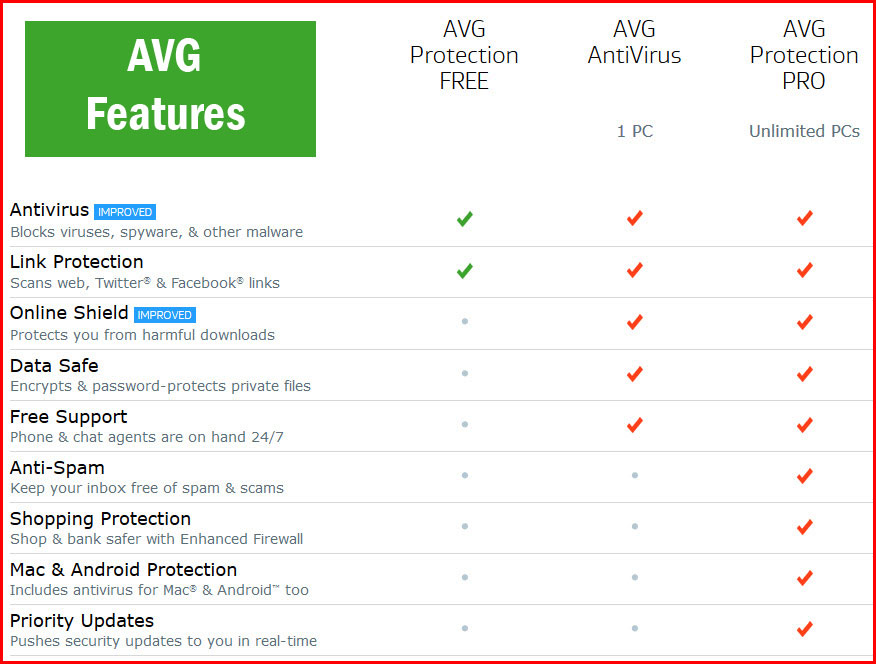 So, these are the pricing structures of Bitdefender and AVG for home security needs. And, you can see which is pricier.
Performance and Resource Consumption of Bitdefender & AVG
Bitdefender does the job very well when it comes to antivirus performance. Thanks to several technologies in use — from Bitdefender Photon to SmartScan —, scanning and detection of viruses is an easy task for Bitdefender. Not only that, you get protection according to the configuration of your device. Bitdefender has implemented some Machine Learning tools too in the package. Because of these reasons, Bitdefender Antivirus Suites' protection is just awesome. Quite amazingly, it has a smaller footprint on your device. And, due to same technological advancements, resource consumption is way too slow in Bitdefender products. You won't even know that there's an antivirus product running.
There isn't anything great about AVG's performance. We don't mean to say that AVG Antivirus or Internet Security won't detect the viruses in your device. It's just that, in comparison, the performance isn't that impressive. And, we do regularly see complaints that AVG products are creating heavy workload and lagging in several devices. So, we'd say the performing aspect of AVG Is somewhat pathetic.
How Well Does it Protect?
When it comes to protection level, there's other tie between Bitdefender vs AVG. According to AV-Test results, both are doing well when tested against common malware. However, the tests do magnify the fact that performance of AVG isn't that good either. So, we were saying, you are going to have equal protection from AVG and Bitdefender. The results are based on Bitdefender Internet Security 2016 and AVG Internet Security 2016, to be noted.
How Good Are the Features?
In this Bitdefender vs AVG comparison, Bitdefender leads heavily in this aspect. It's a fact that AVG has also stuffed some features in its various plans. However, most of them are not fully useful. However, in case of Bitdefender, the company is making sure that all features are user-friendly and as per demand. For instance, there's Ransomware protection and one dedicated browser named Bitdefender Safepay. As we go to the higher plans, Bitdefender also adds features such as the Bitdefender OneClick Optimizer.
Decision Time
The above-given areas of comparison clear show that Bitdefender is impressively better than AVG Antivirus. On top of all, Bitdefender products are extremely affordable, even when you don't use promotion. For what you pay for AVG Internet Security, you can get Bitdefender Total Security Multi-Device 2016, which is a good advantage. In addition, even though both are offering same level of protection, Bitdefender has better performance and lower resource consumption. It's an awesome deal for those who don't want their PC to be lagging. In short, Bitdefender is the prime choice from this duo of trusted antivirus suites.