As you know, there are many types of malwares and other threats you'd come across! Trojan is a kind of such threats that are quite familiar for common users. In one of our previous article, we had talked about Trojan horse malware and some ways to remove it from an infected Windows PC. Now, we are into one specific kind of Trojan — Remote Access Trojan. It is also known as RAT and considered one of the most-used ways of PC hijacking and malicious activities. As we said in our previous post. Trojans are used to create backdoors in your computers and thus give access to hacker/developer behind a Trojan. In the case or Remote Access Trojan, the main purpose is to have remote access to your computer, data and all you do.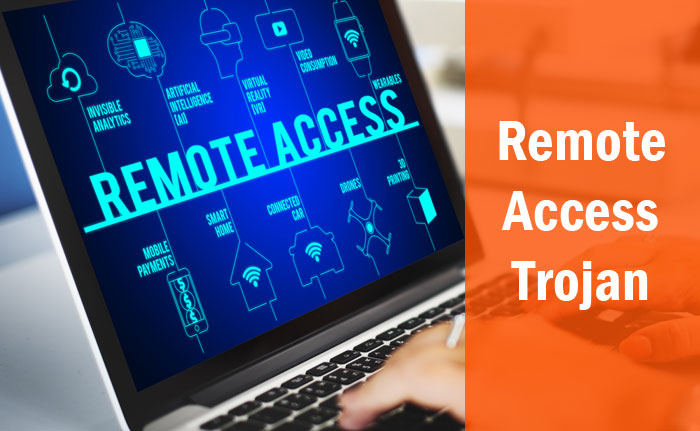 In this article, we can have an overview about Remote Access Trojans first. Then, we shall move on to some tips that help you identify and remove Remote Access Trojans from an infected device.
About Remote Access Trojans
Technically speaking, Remote Access Trojans is a particular type of Trojan horse malware, intended for providing remote access for hackers and evil hands. Once infected, a RAT can put your whole device and data into risk. Not only that, it's a widely used ways of identity theft and data theft, followed by ransomware attacks.
Also Read:
In short, when your computer has RAT in it, a hacker can access your computer without you knowing. It's just that your computer needs to be connected to the Internet. As long as you are connected, the hacker can access your apps, data or even your screen. Depending on the type of Remote Access Trojans you are infected with, the availability of remote access vary. So, the basic intention of a RAT is the unauthorized access to the target computer.
How It Infects?
The way Remote Access Trojans spread is just like other Trojan horse malware. You may find the malware disguised as the useful tool or extension. In fact, there may be some dummy tool inside the package, meant to fool you. However, as soon as you install the package, a RAT will also be installed in the device. Quite cleverly, a Remote Access Trojans is programmed to include itself into the registry entries and startup options automatically. So, in seconds, the Trojan can have in-depth access to your computer and data. The next time you turn on your computer, the RAT will be the first to run.
How It Works?
Talking of their working process, Remote Access Trojans create an extra connection port. This port will be used by hackers to connect to your computer. Through the connection, a variety of data — from your file to screencast — can be sent to the hacker. At the same time, he or she can have remote access to what's happening in the computer. You may even get a DDoS attack afterwards. The modus operandi of a Remote Access Trojan is simple enough, and very effective.
Tips to Identify Remote Access Trojans in your PC
So, there are several ways you can use to find out whether there's a Remote Access Trojan in your computer. Some of the ways are:
So, it's a fact that Microsoft Windows has an in-built firewall in the OS-level. However, a clever developer of a Remote Access Trojans can easily fool the in-built firewall to give entry to the malware. So, an effective way is to use a third-party firewall for your devices. Nowadays, impressive antivirus solutions like Bitdefender or Kaspersky are coming with an in-built firewall. If you have such a firewall, you will have better protection from unknown connections. It needs to be noted that a firewall is not meant to give you absolute protection either.
As we said earlier, Remote Access Trojans add themselves into startup entries so that they can start when you turn on PC. An effective way to find out the presence of a RAT is to analyze the startup entries. If you happen to find an unknown sort of entry in the list, chances are high that your PC is infected by a Remote Access Trojan.
Analyze Running Processes
When there's a Remote Access Trojan running in your computer, there will be corresponding process too. So, you should be taking a look at the running processes list of Windows. If you see something suspicious there, you can search about the particular process. If you find out that the process is malicious, you may have got a Remote Access Trojan in there.
Heavy Internet Resource Consumption
This cannot be held as the optimal way of finding Remote Access Trojans. But, even then, you can see if your PC is facing an extraordinary consumption of internet resources. If so, the reason may be the RAT. When a hacker is trying to access your files or documents from the PC, internet traffic would be there. So, make sure that there's nothing else that takes up your internet resources. You can use some analysis tools to find out the statistics of internet resource consumption.
Extra Readings:
You can use these four tips to find whether there's a RAT inside your computer. If yes, you should seek ways to remove it and have a clean PC.
How to Remove a Remote Access Trojan?
Well, there are manual methods that allow you to remove a Remote Access Trojan from your computer. This may require a bit of technical knowledge and your valuable time, which isn't so good for every user out there. So, as it turns out, best way is to use a dedicated Trojan removal tool from the huge collection. Alternatively, if you are running an up-to-date tool for antivirus protection, it may have in-built support for Remote Access Trojan removal. And, when compared to manual method, better algorithms are used for detection and removal.
Wrapping Up
Remote Access Trojans are indeed a bigger threat to any PC and data stored in it. When a stranger has remote access to a computer, he may also have complete control over the digital life of the infected user. So, it's better if you can detect the presence of a RAT quickly and take necessary actions to remove them. The best method is to use a premium antivirus suite that comes with in-built Trojan-removal features.