Picking one product from the duo is always a tough task. It becomes way too tougher, when you want to choose one product for the ultimate protection of your devices, data and digital life. That is, when you are told to choose a good, effective antivirus from the big-enough list, you may be putting yourself in a dilemma.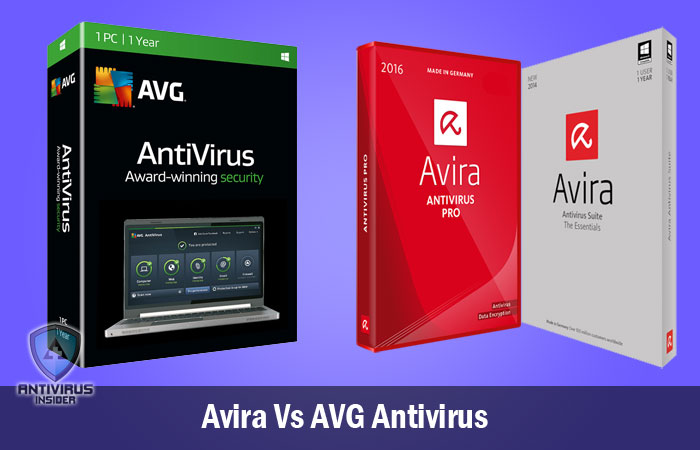 We hope the dilemma is quite a lot big when the selection is to be made between Avira Vs AVG. Since both developers are quite popular, with lots of features, you cannot just go and pick one up. To help you with that, however, we have created a brief comparison of AVG Vs Avira. We can go through the different aspects of each tool, to get an idea and thus to choose well.
An Intro to Avira and AVG
Avira: Avira hails from Germany, and the company had its inception back in 1986! For more than 20 years, Avira has been a very active developer when it comes to security solutions.
A trusted developer since then, Avira has been developing security tools for home and business needs, and the solutions are deployed as traditional programs and cloud-based services. This is all about Avira as a company. With more than 500 employees in the company, Avira has been able to increase the number of antivirus installs in a shorter time period.
AVG: Developed by AVG Technologies, AVG Antivirus has a range of products to offer, for personal and commercial uses. It needs to be noted that the products of AVG Antivirus are available for a wide variety of platforms, including Mac OS, Windows, Linux, iOS, Android and FreeBSD.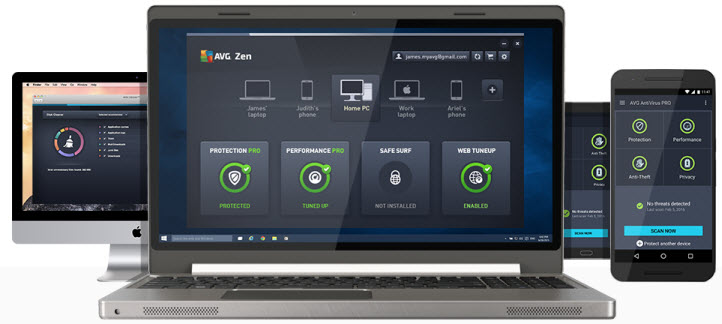 In the previous years, AVG has been able to attract attention of users by providing free antivirus software for different platforms. The company is based on Czech Republic but now has the headquarters in Amsterdam, Netherlands.
Now, it's time to compare the different aspects of Avira vs AVG. We will be taking into account elements such as the affordability factor, availability of features, pricing, plans etc. So, shall we start with the war between AVG and Avira?
Avira and AVG — How they are Priced?
Talking of the home product range for Windows PCs, Avira offers three different suite — Antivirus Pro, Avira Internet Security and Avira System Speedup. While the first two are fully-fledged antivirus suites, the third one is a solution to improve performance and speed of your system. When you want to have basic yet covering-all protection for the PC of yours, you can go with Avira Antivirus Pro, which costs you $44.99 per year. However, if you spend a lot of time in web and want to get protection from web-based threats such as phishing, identity theft etc, you should choose to go with Avira Internet Security, which wants you to pay a yearly fee of $57.99. Just as we said, Avira System Speedup is not meant for threat control or protection, but for boosting the performance. you can get this utility software for an amount of $31.99. It needs to be noted that Avira also offers some additional tools as well, such as Phantom VPN, its Android Pro suite etc. We have coupon code deals for Avira in our coupons section.
As we come to the case of AVG Antivirus, there's the same structure of plans you'd find. That is, there are two fully-fledged antivirus solutions along with the performance boosting suite, namely AVG PC TuneUp. The first plan is AVG AntiVirus, which is priced at $39.99 per year, giving most of the features required by common users out there. If that does not seem enough for you, you can go with AVG Internet Security, which has all the features to make your web-based life easier and safer. For this suite, however, you have to pay an amount of $54.99 each year. The features you get include eCommerce protection, phishing protection etc. By the way, when you don't really need protection, but want to boost the speed of your system, you can go with AVG PC TuneUp. Altogether, the pricing plan of AVG seems quite reasonable. We have coupon codes deals for AVG in our coupons section.
Performance of Antivirus Solutions
Choosing one antivirus solution from the duo in terms of performance is an easy task. According to the test that are conducted by AV Test, it's pretty much clear that Avira antivirus has an upper hand in terms of performance. It needs to be noted that we are talking about the performance factor, and not the level of protection. So, if you are going to need an antivirus solution that works pretty well in your Windows PC, you can just go for Avira and thus avoid AVG.
Recommended Reading:
What needs to be read along with the factor of performance is the use of resources and the impact on PC Speed. In case of Avira, there is not much impact on PC speed, at least in terms of comparison. However, installation of AVG is said to affect the PC speed in the negative manner. It does not matter whether a Windows PC or Android device that you're installing it in, you can expect lagging soon.
Level of Protection Offered by AVG vs Avira
Quite sadly, you cannot pick one from the list if you're going to depend solely upon the level of protection offered! it is so, because both Avira and AVG offers the same level of protection. This has been proven via the tests AV Test has conducted in many devices that run on Microsoft Windows 10. So, level of protection isn't a decision point and we'd leave that there.
Read:
Availability of Features
Well, this is going to be a determining factor, depending upon what kind of protection you need. If you want to have a lot of features (most of them, for the namesake), you can continue with AVG.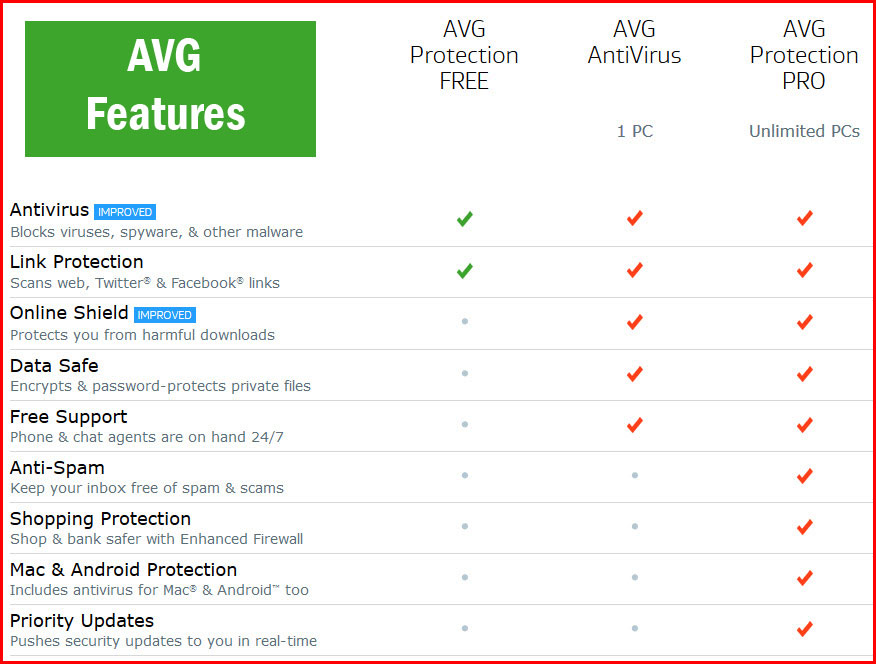 However, if you want to get features that are really useful, you better go with Avira. There are not many features to be talked about. But the features are arranged in the best manner, thanks to the cleanly-arranged User Interface Avira has. So, there's your take on that.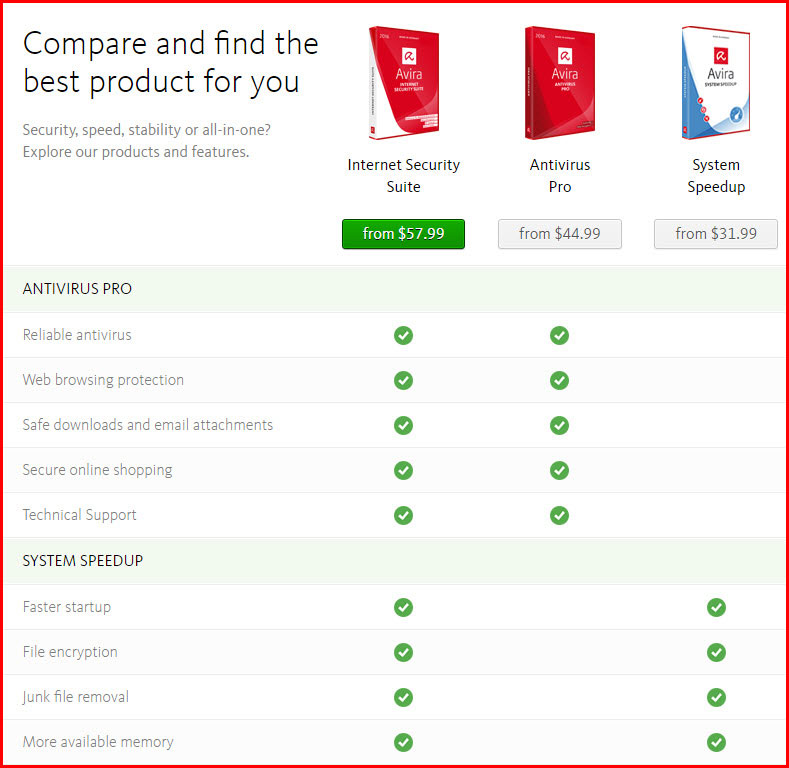 The Final Words on Avira vs AVG
So, we have seen different aspects of both Avira and AVG. In light of what we have found there, we can say Avira is a lot better than AVG. Of course, in the first look, AVG may seem affordable, but the features aren't that useful. So, if seen from a common user's point of view, there are many areas that Avira steals the show. For instance, we can take the case of performance and speed impact. Even when providing the best speed, the tool makes least impact on the speed of your PC. All in all, it makes sense to go with Avira Antivirus products.