If you use a fully-fledged antivirus solution in your PC or Mac, you would be familiar with the word 'Quarantine'. You would have seen that often if your antivirus finds malicious stuff in the PC often. Quarantine is actually a place where the antivirus keeps the affected stuff in.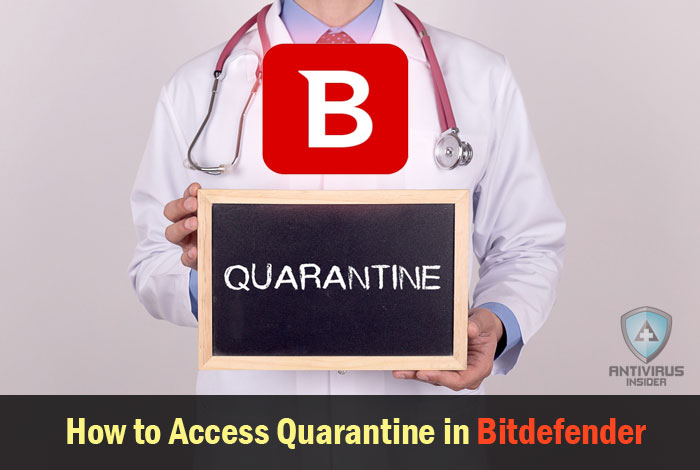 Usually, you do not have to do anything with the antivirus quarantine as it is not really required from a user point of view. That having said, in some instances, you will have to access quarantine of the antivirus suite in use. If you are using Bitdefender antivirus in your device, you have found the solace here. We have brought you an in-detail tutorial to access quarantine in Bitdefender 2016.
Read:
Before that, however, we will pass on some general information on antivirus quarantine and why you need to access it in some situations.
What is Quarantine?
As we mentioned earlier, Quarantine is an essential part of a fully-fledged antivirus security package. When antivirus tools detect some issues with some particular files, they put those files in a particular place. Once these files are in a quarantine place, the files can no longer make changes to the PC. Instead of the standard working process of an antivirus tool, the infected file would be deleted in no time. However, thanks to the use of Quarantine, a suspected file is available in your PC — in case if you wanted that file badly.
Why to Access Antivirus Quarantine?
There are different instances you need to access quarantine of your antivirus suite. The major ones are as follows.
When you want to get back the infected file, you have to access the quarantine. The file will be available in a non-effective manner, but you can regain it. However, it's a risky process, because once out of quarantine, it can be as dangerous as it was. Nevertheless, when you desperately need that file back, this is worth-going. Sometimes antivirus put harmless file in quarantine, that time it is required to get it back.
Accessing Bitdefender Quarantine is required when you want to make sure that the infected file is out of PC. You can open the quarantine sector and delete all the suspected files.
So, there may be some more cases, such as when you want to do some experiments with some viruses or so ;). Now, it is time to move on to the tutorial, we hope.
How to Access Quarantine in Bitdefender 2016
Step #1
Open Bitdefender Antivirus dashboard. Here, we are using Bitdefender Total Security 2016, and the interface may be subject to change according to the version you have.
On the right-bottom portion, you can see a button named 'Modules'. Click on that button.
Step #2
In the Antivirus Tab, you can see a 'Settings' icon on the right side. Click on that button to move further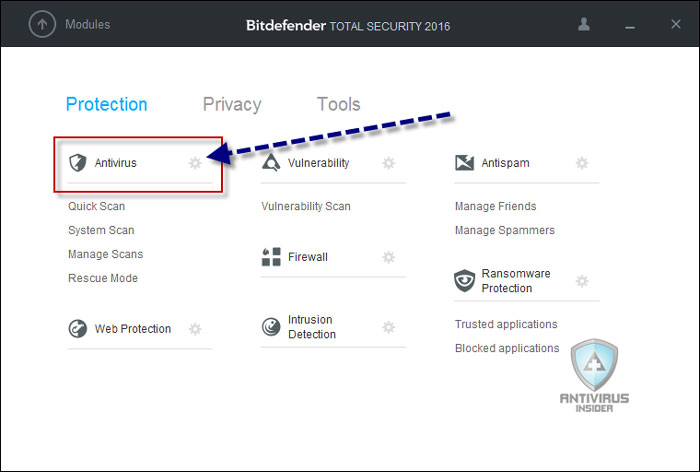 Step #3
In the upcoming window, you can see a tab named 'Quarantine'. Click that section to open Bitdefender quarantine!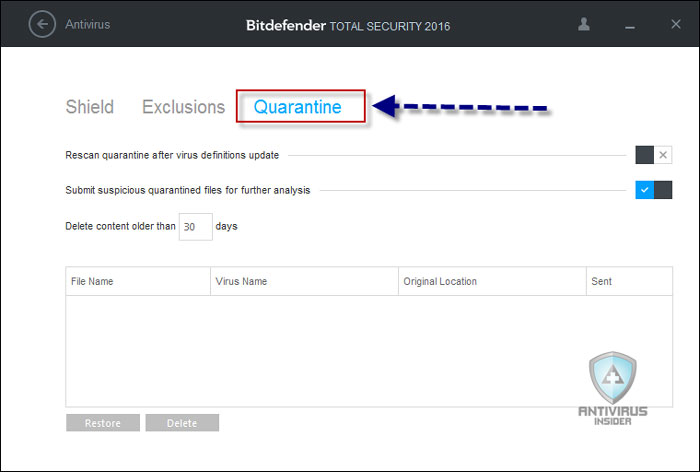 Now that you are in the Bitdefender Quarantine, you can do anything you want, such as the retrieval of a file that has been infected (at your own risk).
To Conclude
How often do you access the antivirus quarantine? What do you use it for? We would love to hear from you.