Earlier, we used to think that deleting files was enough to remove them from your devices! We were very confident that the deleted files could not be recovered anymore. That was why we deleted the confidential stuff after use and threw away old HDDs. Now, however, with the rise of user-friendly file recovery tools, recovering deleted files is an easy task. It requires no prior experience or knowledge about the concept. You just have to select the drive and run the scan to find recoverable files. In a few seconds or minutes, you can have the deleted file in the normal state.
File recovery works by regaining minute information that is left on your hard disk drive. Right after that, this data will be united to create the original file that was deleted. Both simple and complex algorithms are used for recovery. We can keep that aside and talk about data security. It's pretty obvious that deleting files is not enough to remove it. For instance, if you don't want others from accessing the file in any way, deleting the file isn't enough. Don't worry; we have a solution there — Bitdefender File Shredder.
What is Bitdefender File Shredder?
Before we talk about Bitdefender File Shredder, you should know about File Shredding. As opposed to deleting a file, file shredding is about completing removing a file or folder. In addition to deleting the file, it is being overwritten by a shredding software algorithm. So, chances are little that the deleted file can be recovered. Overall, file shredder is an assurance that a file or folder has been deleted permanently.
Extra Readings:
Now, coming to the tool, Bitdefender File Shredder is included in Bitdefender Security products for home. You'll get this tool when you purchase and install Bitdefender Total Security in your computer. The file shredder tool has been noted for the simplicity, performance-rich algorithms and the lower resource consumption. And the best part is that you get it along with a quite-affordable antivirus package.
However, you may not know how to use Bitdefender File Shredder to delete files permanently from your PC. It needs to be noted that you can use the tool to shred entire folders too. In this article, we have a step-by-step tutorial that will help you to remove a file or folder permanently with File Shredder from Bitdefender.
Deleting Files/Folders Permanently using Bitdefender File Shredder
As we mentioned earlier, this file shredder utility has been integrated to Bitdefender Security products. It means that if you have installed Bitdefender Total Security, there's no kind of setup or installation followed. You just need to be sure of the file to be shredded. If that's the case, you can follow the given-below steps.
Step 1:
Find the file or folder you need to delete permanently. Now, right click on the file to reach the context menu. There, you will see an option named 'Bitdefender', which would lead you to three options. From the three options you have seen there, you need to select 'File Shredder'.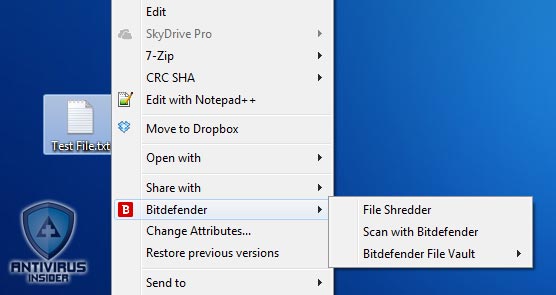 Step 2:
Now, you will see a warning from Bitdefender File Shredder utility. It says that the shredded files cannot be retrieved back in any manner. Just as we said earlier, file shredding is using complex algorithms for the removal process. So, its intensity is way too high. Therefore, you need to be sure about the file you're about to delete. Right after shredding, it becomes irrecoverable. If you are sure about the file, just select 'Yes'.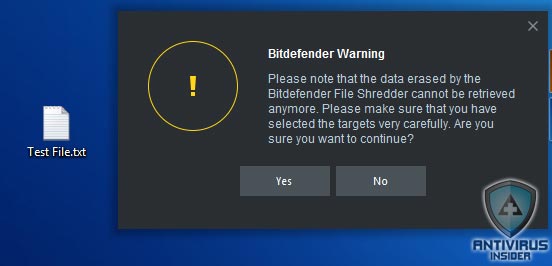 Step 3:

Depending on the size of the file, it may take a few seconds or minutes to finish the shredding process! Of course, it's going to be lengthier than the typical file deletion. Once the shredding is done, you can see the results page from the tool. Here, you can see how many files and folders have been deleted permanently using the file shredder utility.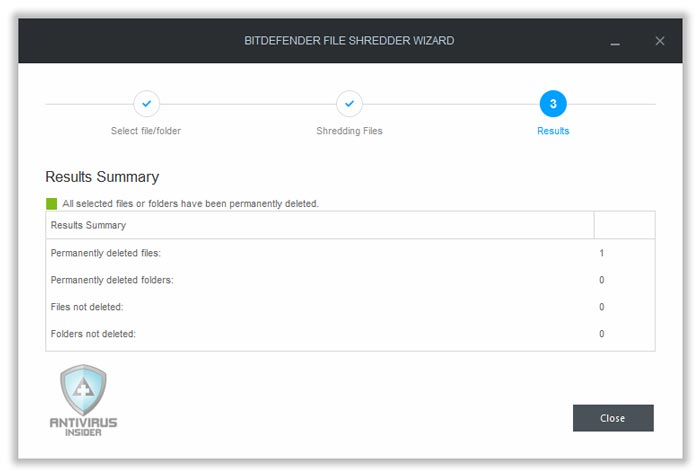 Concluding
Tada, you have successfully removed desired files/folders from your computers via this file shredder of Bitdefender. It is not available as a standalone file shredder application, but the in-built scenario is very good, actually. If you have Bitdefender Total Security with you, you have the easiest way to get rid of files in an irrecoverable manner. If you are dealing with professional stuff and confidential files, this utility is going to be very useful. Let that be a construction plan or account details, nothing can be recovered — as simple as that. If you like the concept and not having Bitdefender installed, you can buy it from our discount page with 50% off on all Bitdefender products.