A few decades back, Internet was quite a privilege for people. And, not many people had internet connection for their personal uses either. Now, almost everyone has some way to connect to the world of web. Such an awesome growth was seen in the spreading of internet connectivity – so in the case of web-based threats. Now, no matter why you are connected to the Internet, there are several things to be afraid of. This is exactly why you need to have a dedicated Internet Security Suite in your device. As it goes without saying, Kaspersky Internet Security is one of the popular choices in the market.
But, is it really worth what you pay? We will find that out in our full review of Kaspersky Internet Security. In this review, we will take a look at the features, usability, performance and protection aspects of the internet security suite. In the end, you would why you should – or should not — go for Kaspersky Internet Security.
Kaspersky Internet Security – an Introduction
As you might know, Kaspersky offers three different security suites in the premium sector. And, Kaspersky Internet Security is the second option, right after Kaspersky Anti-Virus. Kaspersky Anti-Virus is offering some basic protection features against the prevalent threats like viruses, rookits and other malware. So, Kaspersky Internet Security is for those who need an extra layer of protection from internet-based threats like phishing, hacking and ransomware attacks.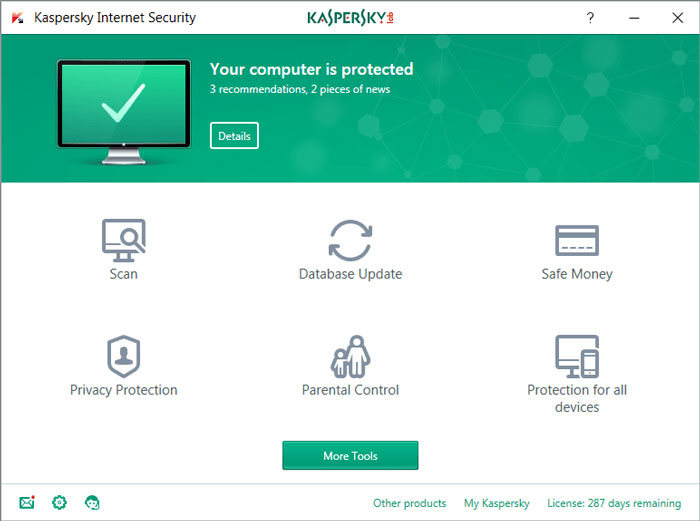 Also, Kaspersky Internet Security gives value to privacy protection. Once installed, it will be a complete protection suite when you are on the internet. Be it simple browsing, financial transactions or some downloads, you don't have to worry about the threats out there. One thing to be noted here is that you get the same features that you have seen in Kaspersky Anti-Virus. You don't lose anything, but can have some better security options.
Read More:
Installation and Getting Started
Being in line with our expectations, Kaspersky Internet Security had a simple installation process. When we say simple, we are meaning that relatively. When compared to the time required by other internet security suites to install, Kaspersky Internet Security did the job very quick. In a few minutes, we were up and running with the security suite. Because we had used Kaspersky products before, we needed no introduction to UI. During the installation, you have to provide your preferences as well as other details such as license codes. Don't worry here; it won't take more than a few minutes.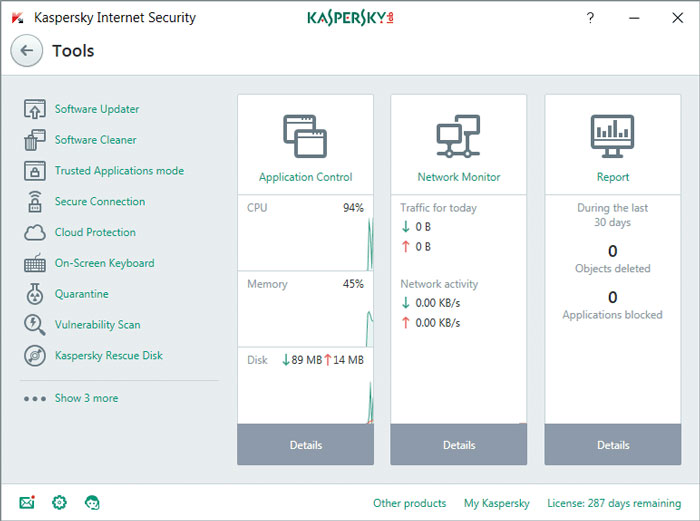 User Interface
That having said, Kaspersky developers have done a great job in blending utility and minimal design. Even if you are using an antivirus program for the first time, you would deal with Kaspersky Internet Security simply. There is nothing really to learn about it. In terms of review, we will give 4.5/5.0 for intuitive User Interface of the security suite. For those who don't know; Kaspersky Internet Security follows the modular structure. As opposed to the concept of bringing all elements into one page, you can check various modules according to your needs. In addition to the simplicity, we found the features quite accessible.
Impact on System Performance and Speed
There is one thing you should understand before moving on. Every antivirus program will reduce your system speed in one way or another. The only thing that varies is impact and intensity of the reduction. Also, you've to consider the amount of protection features that you receive. For instance, suppose you are looking for an online transaction protection system. Then, the security suite will have to be active during browsing sessions.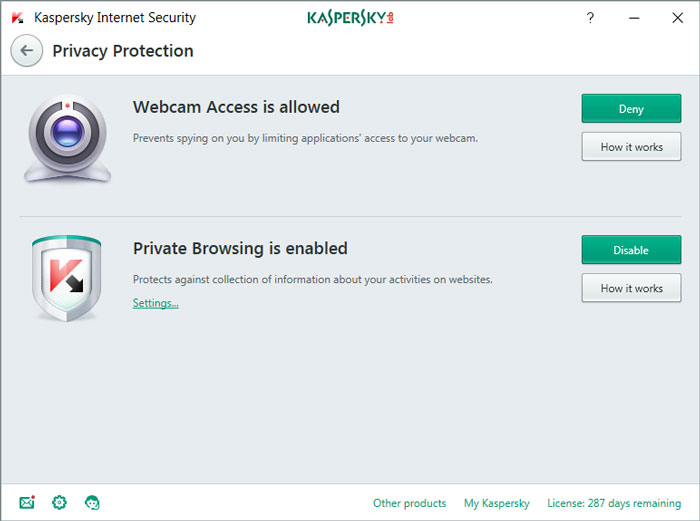 Considering these points, we'd say that Kaspersky Internet Security has just a reasonable impact on system performance and speed. That's only when you have enabled all the top features of the program. So, we do believe, it's somewhat okay.
Availability and Pricing
Kaspersky Internet Security is a multi-platform security suite and it's available for PC, Mac and Android. It's meaning that you can have the same, high-quality internet security features in your smartphone as well as computers. That having said, you always have an option to go for the single-device version of the same tool. However, we recommend going for the multi-device variant, due to two reasons. First, it's not going to cost you much. Second and more importantly, you need internet security suite for Android devices as well. They are as vulnerable as PC and Mac.
Check Kaspersky Discount Deals
The 3-device plan of Kaspersky Internet Security is available for a price of just $54.99, thanks to some superb discount campaigns going on. As we said, you can save some money by compromising the number of devices that can be protected. At the same time, if you purchase the software for a longer period of time, you have a better chance of discount.
A Take on Features
Let's have a look on the exclusive features of Kaspersky Internet Security. These are available apart from the standard antivirus features you'll find in Kaspersky Anti-Virus 2017.
Privacy Protection Modules: Kaspersky Internet Security has a bunch of solutions for protecting your identity and privacy. These will be active during your browsing sessions and will take the right action on right time.
Kaspersky Safe Money: It's the safest way to carry out online transactions. No matter what method you are using — Credit Card or Internet Banking or PayPal — it will make sure that your credentials are ultra-secure.
Parental Control: For parents who want to know what their kids are doing on the web, there is power of Parental Controls. This is easier to set up and more easy to use every day. At least, you would know if he/she is making the right choices to all those questions.
Features comparison with other versions:
The Bottom Line on Kaspersky Internet Security
After this detailed Kaspersky Internet Security review, we are really impressed by the features and the total working of the security suite. When compared to the features, we believe the impact on performance is very reasonable. That is, a security suite won't work if you cannot dedicate that much resources. Also, thanks to those promotions and discount codes, you can have the product at a reasonable rate too. Altogether, it is a sure-shot choice for those who need additional web-based protection.