There is no question over whether you need additional Security for an Android device. We agree, there was a time when Android was more or less immune to viruses. That was during the budding state of Android – with a comparatively lower user-base. Now that the user-base of Android is on top, we have seen a notable rise on the threat possibility as well. That is why we always recommend the use of a premium-quality as well as trustworthy Security suite for your Android. In this article, we have come with a brief review of Kaspersky Internet Security for Android.
Kaspersky Internet Security for Android happens to be one of the most popular security suites for Android, if you are ready to pay for what you get. Here, we will discuss the different aspects of this tool, such as the User Interface, Features and Performance.
Kaspersky Internet Security for Android – an Introduction
As you should probably know, Kaspersky is one of the trusted names in the world of Digital Security. It has a fully-fledged lab that is dedicated to detecting and removing major threats and a range of products that you can use for protecting your devices and data. The same developers have launched a premium version of anti-virus and overall protection suite named Kaspersky Internet Security for devices running Android. It offers a lot more than anti-virus protection, because, you are getting privacy protection, data encryption and a lot more. It needs to be noted that we are talking about the premium version of the tool.
>>Check Kaspersky 50% OFF Coupon Codes<<
In case if you just want to try out the product, you can check the free version of Kaspersky Internet Security for Android, in Google Play Store. But, we must say, the premium version has something amazing to offer. It is time to check out the major features.
Major Features Offered in Kaspersky Internet Security for Android
We'll have a quick-look on what you can using the Internet Security suite for Android devices.
Security is the first reason, here. When compared to other free and paid antivirus programs you can get for Android, Kaspersky Internet Security makes use of an ultra-effective algorithm. It scans device constantly for threats and possible vulnerabilities.
Manual Scanning is a useful feature when you become suspicious about a particular app or the whole device, for that matter. Just hit a button and KIS for Android will take a deep look in your device, for finding the possible issues.
Privacy & Data Protection features of Kaspersky Internet Security make sense when your device has been stolen or lost. This way, you will be able to prevent others from accessing your data even when the device isn't with you.
Anti-Phishing is included in the premium version of Kaspersky Internet Security and it's a noteworthy feature. It does not matter you are getting a phishing link from SMS Message or an email, KIS knows how to deal with them.
Call & Text Filtering are two of the most productive features we found in this security package. When you want to get rid of calls from particular numbers — you know, the commercial stuff —, you have an option to set it up via this security program. The same feature can be used for blocking SMSs also.
Data Encryption is also a part of the Kaspersky Internet Security for Android package. When you are concerned about prying eyes, you have an option to lock confidential information such as Contacts, Calls, Text messages etc.
In short, Kaspersky Internet Security for Android does offer a lot of features than antivirus protection. Even though, there is no doubt on the performance and effectiveness of the protection engine.
Security and Performance
Another great thing we loved in Kaspersky Internet Security for Android is that it does not affect the overall performance and speed of your Android phone. Everything was pretty much same and quick, despite having an extra layer of protection on top. However, because we had used the free version earlier, we had spotted an extra speed in the premium version of the same security app.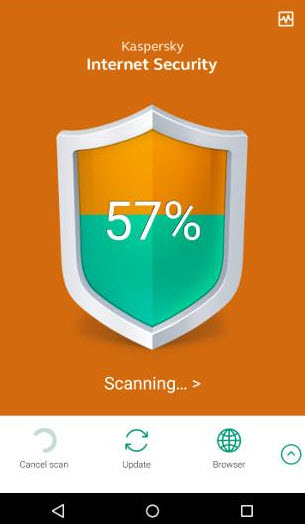 Coming to the security aspect, we had exposed our device to some common Android threats. Quite notably, the app was able to detect most of the threats, including possible phishing links and malicious apps. It was enough for us to recommend this simple Android app for your security needs. Plus, you can take our word for its effectiveness.
UI and Usability
We have used many Android security programs, from different developers, and Kaspersky Internet Security for Android has perhaps the best User Interface we have ever seen.
It's simple, minimalistic and requires no previous knowledge from the user-side. That's what we consider awesome from a security program like this. Moreover, the steps required to get started with the app is so simple that you can do that in seconds. That is, in seconds, you will be up and running with the KIS for Android app.
[wp-review id="1745″]