You know how necessary it is to have an antivirus security suite for your Windows-powered PC. Let's also admit that we've had enough trouble in choosing an effective package from the huge list. But, wait, what do you do when you have to select one antivirus suite from two powerful programs? It would be difficult, right? Then, you will have the same difficulty while choosing between Bitdefender Security and McAfee Security.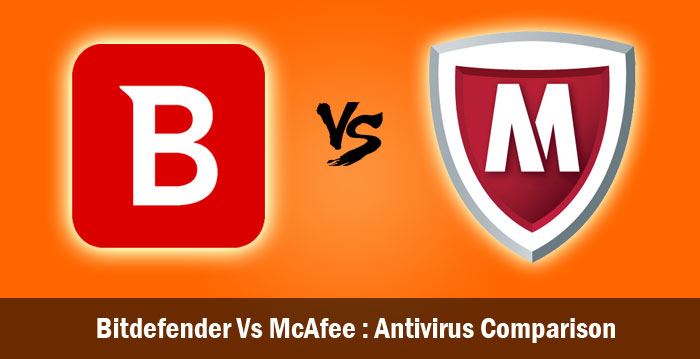 We're sure that both names are familiar for common users, especially if you have thought of antivirus protection for your devices. Due to obvious reasons, you cannot simply go and select one from the duo. To help you with that, we have created an in-depth comparison of Bitdefender vs McAfee, discussing many aspects you want to know.
Bitdefender and McAfee – an Introduction to both Companies
A company hailing from Romania, Bitdefender's vision is to protect digital devices as effectively as possible. With a long-enough experience record of 15 years, Bitdefender is one of the most trusted names in the security industry. As we said, Bitdefender is headquartered in Bucharest, Romania but the services are available worldwide. Bitdefender is noted for its combination of state-of-the-art technologies and easy-to-use UI. In addition, Bitdefender happens to be the first antivirus developer to come up with innovative features — almost every single time. According to what a 2014 survey says, the firm has been able to protect more than 500 million devices in total. That's something huge we expect from antivirus suites.
McAfee is perhaps one of the foremost security companies in the history of computing. It started the journey back in 1987, and has maintained the top position after more than 29 years. However, in February 2011, McAfee was sold to Intel and it is now known as Intel Security Group. That having said, antivirus and other security products are shipped with the name McAfee in the label. Just like the case of Bitdefender Security, McAfee is also offering security products for business and personal needs. Being a product from Intel, there should be no doubt about authenticity or protection level. However, we will see other important parts of both companies, later in this article.
Pricing and Plans from Bitdefender and McAfee
To get an idea about how it costs to equip your computer with both these antivirus tools, we will have a look on pricing in the first place. Although both McAfee and Bitdefender are offering business-based products, we are considering only the personal security solutions.
In case of Bitdefender, there are only three suites for protecting your Windows PC. The basic details and pricing are given below. Here, we are not considering the free antivirus for Windows. It's all premium tools for enhanced protection.
Bitdefender Antivirus Plus offers basic yet industry-standard protection for your Windows devices. You can have all the promised features from Bitdefender, such as ransomware protection and Wi-Fi Security, along with its basic line of antivirus security. You can have this package for $69.99.
Bitdefender Internet Security is for advanced protection against internet-based digital threats. It also has features for privacy protection and additional firewall. In addition, you can use the Parental Advisor for controlling activities of your children. This solution costs $84.99.
Bitdefender Total Security Multi-Device is available for not only Windows PCs but also your Android and Mac. So, you get first-class protection for three platforms, using a single license. In each tool, you get premium features of Bitdefender. This total suite costs you $74.99, thanks to special offers.
Check Bitdefender Discount Deals
McAfee too offers multi-platform protection through three different packages — McAfee Antivirus Plus, Internet Security and Total Protection.
McAfee AntiVirus Plus is available for just $59.99 per year, offering protection for your PC, Mac and Android. Apart from anti-virus and anti-malware protection, you get features like file shredding and online transaction safety.
McAfee Internet Security can be purchased by paying $79.99 per year. Here, along with the mentioned features, you get Parental Control, Anti-Spam and True Key Password Manager from McAfee.
McAfee Total Protection should be your choice when you need all the features of Antivirus Plus and IS. You can get this package for an amazing price of $49.99, because there's a special offer going on. It also brings encryption to keep your sensitive files safer.
All these packages ensure multi-device support. That is, you can install McAfee security software in your PC, Mac, Android and iOS in a single subscription. However, not all features will be available on all devices.
Protection & Security
Now, we need to compare McAfee and Bitdefender in terms of protection and security that they offer. To do that, we will take reference from the AV Test, which is a trusted way to analyse antivirus software performance. Let's keep this short.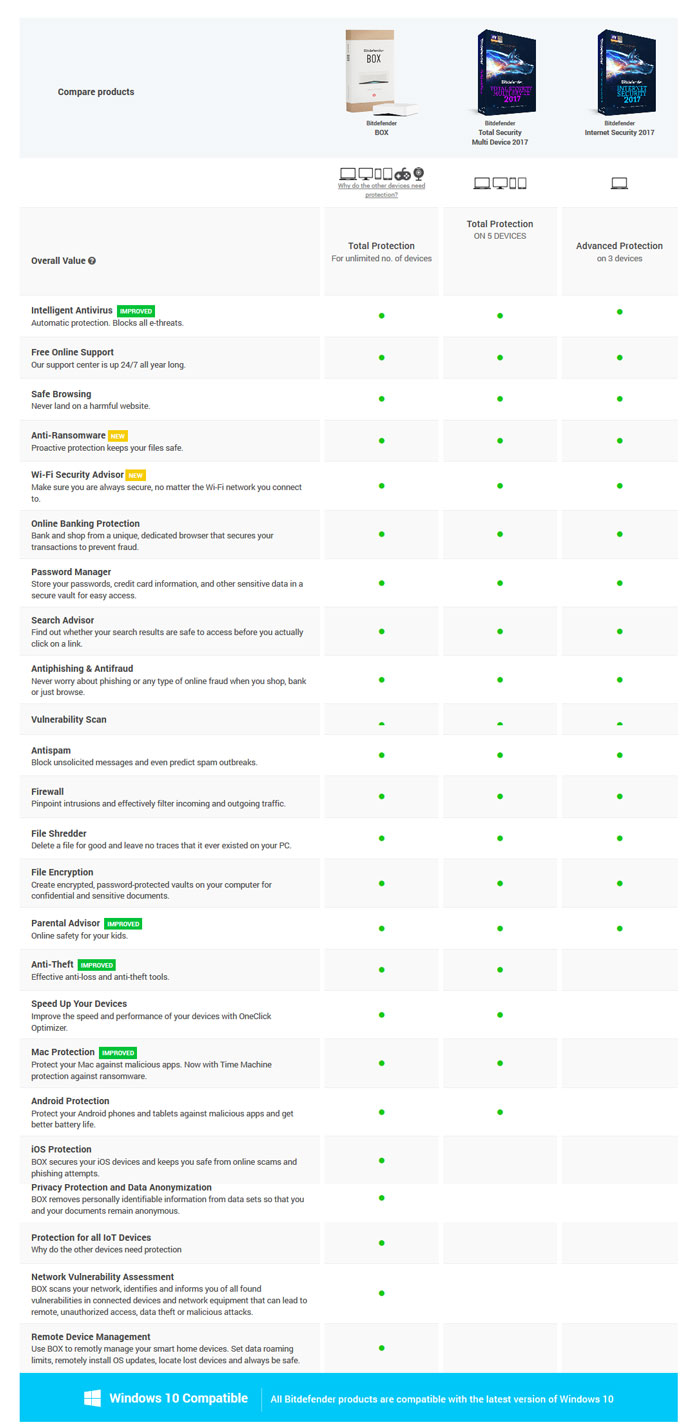 When it comes to zero-day threats, McAfee (that is, Intel Security) has a lower detection rate of 95% on an average. That having said, in the same area, Bitdefender excels with 100% detection rate. The detection rate of Bitdefender is actually more than the industry average. So, it's clear that Bitdefender can detect not-so-common threats in a quicker, better way. There is no bigger difference in the case of prevalent malware detection. While Bitdefender maintains the detection rate of 100%, McAfee is there with 99.7%.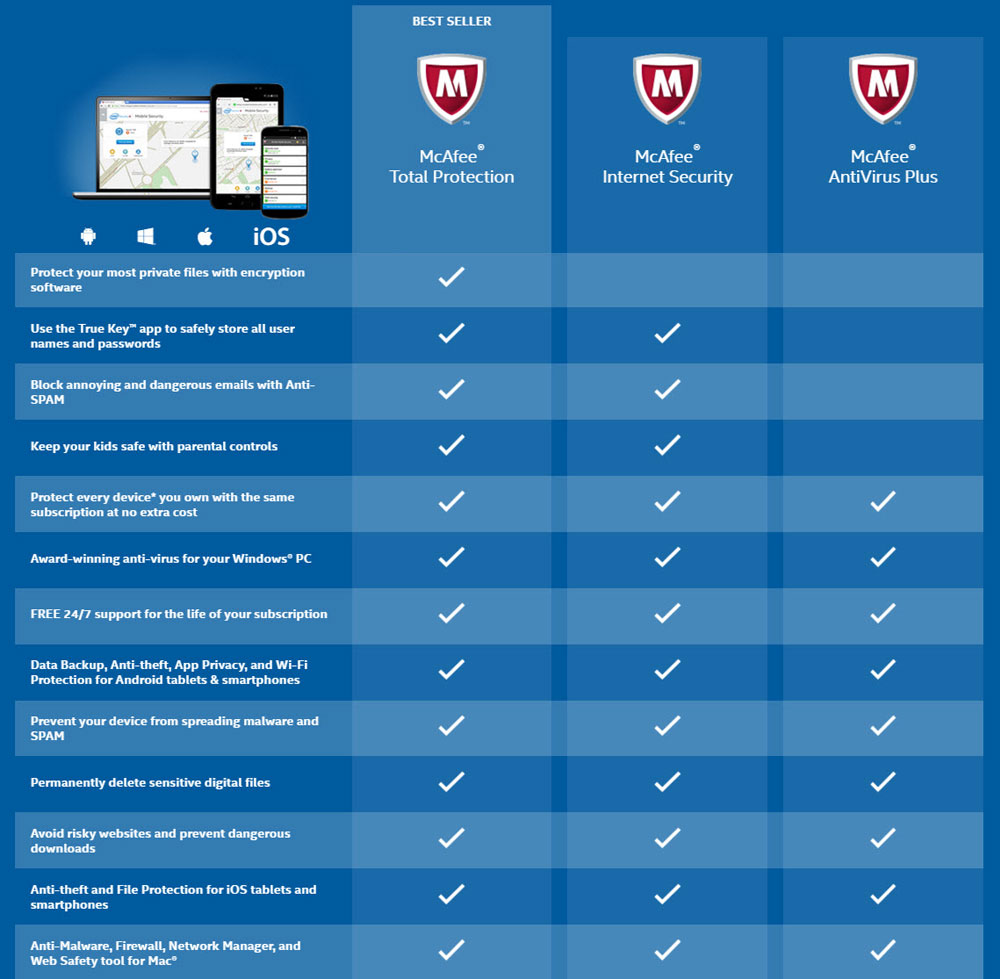 To sum up, it's clear that Bitdefender has an upper-hand for malware detection. It's a great fact that Bitdefender is able to detect even the newer threats.
Usability & Resource Consumption
In terms of usability, we've a tie in Bitdefender vs McAfee comparison. Both the security suites come with an impressive, intuitive User Interface that people love to use. These UI don't require previous knowledge or experience with anti-virus tools. So, there's no way we can pick one from the duo in a quick-look.
Read: Can Bitdefender Antivirus Slow your PC?
However, we can spot some differences if we compare the performance of Bitdefender Security and Intel Security. As per the experiments done, McAfee has a notable impact on slowing down computers, from web browsing to file copying. On a standard PC, McAfee can slow down file copying up to 26%. On Bitdefender, the number is just 9% and you can sense the difference. So, basically speaking, McAfee will slow down your PC while Bitdefender won't.
The Final Word
Now that we have compared some pivotal aspects of Bitdefender Security and McAfee Security, we will take decisions. In terms of pricing, McAfee seems to be the better choice. On a single license, you can protect your PC, Mac, Android & iOS. At the same time, two suites from Bitdefender are Windows-only. This could have been a good reason, but McAfee has proven itself to be pathetic in terms of malware detection.
As you saw, detection rate of zero-day threats is way too lower than the industry standards. Also, the system impact and resource consumption is high with McAfee. And you will see an intolerable slowdown of your computer after installation. Keeping all these in mind, we suggest going with Bitdefender Security — as simple as that. It needs to be noted that Bitdefender is also offering advanced features like Wi-Fi Protection, Bitdefender Central and Photon.