You may have seen several shortcuts being created in removable media such as SD Cards, Pen Drives or your smartphones! In most cases, this is caused by a particular virus called Shortcut Virus. It's a serious issue if you have some important kind of data in those media, such as some photographs or important files.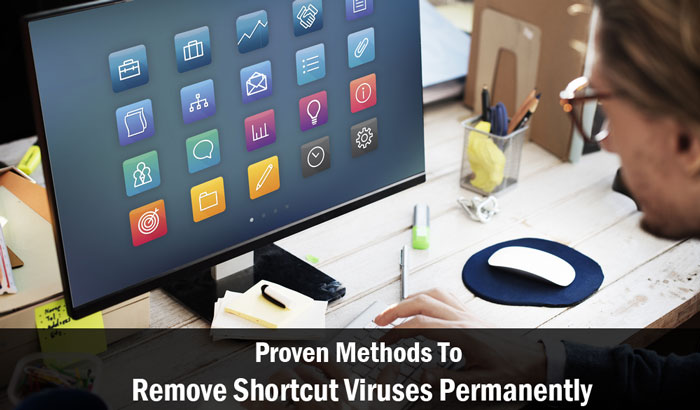 More about Shortcut Viruses
There are three types of shortcut viruses seen in the computing world — Drive Shortcut Virus, Folder Shortcut Virus and File Shortcut Virus.
Drive Shortcut Virus can affect your internal hard drives, external hard drives etc along with USB Drives.
Folder Shortcut Virus wraps the contents of one folder and creates shortcuts in your storage spaces.
File Shortcut Virus creates multiple shortcuts of the same file in different spaces.
Another issue with these viruses is that they corrupt your information stored in removable media as well as internal hard disks. What's more, these shortcuts are powered by high-replication rates. If you have an infected PC, the virus will replicate itself into any other removable media you plug in to the PC — and it works vice versa.
In this article, we have a systematic tutorial on how to remove shortcuts viruses permanently from your devices. In fact, we have come up with 7 different methods to remove this particular kind of virus, right away. So, if one method does not work, you can try the other. We will move on to the different methods for removing it.
Method #1 Using USBFix
Before you try the manual methods in the list, you can use USBFix to find and remove shortcut viruses found in your USB Drives. You can download this tool from the official website of USBFix, free of cost. It's an easy-to-use software that can be used in plug-and-play manner. You can open the tool after downloading and you can see the USBFix interface.
As you can see, it comes with different options such as Repair, Vaccinate and Backup. However, you can follow these easy steps to remove shortcut viruses from your PC.
Make sure that you have connected the USB Drive or other removable media to your PC
Click on the Vaccinate button and USBFix will find the shortcut error if there's any in the drive.
Now, you will have the results; from the list, you can hit the 'Delete' button to move on.
You have successfully removed the shortcut virus from the infected device.
This method is pretty straightforward and works simple for almost all users.
Method #2 Use a Premium Antivirus Software
Well, this is the best method you can use for removing shortcut viruses and other viruses. Instead of using free tools that allow malware removal, you can rely on some premium antivirus software. There's a bunch of tools you can go for, such as Bitdefender, Kaspersky, Norton etc.
Most of these tools come with top-notch scanning algorithms that can detect and remove shortcut viruses instantly. The best part is that you won't lose your files either. That is, in a few clicks or so, you can regain access to your files. Most free antivirus tools claim to offer virus removal, but not many of them are enough. The step is simple – perform a thorough scan of your PC and removable drive.
Method #3 By Using WinRAR
This is an effective method if you are trying to retrieve files without being lost. Of course, you cannot remove the shortcut virus using WinRAR. On the other hand, to keep the files in someplace safe, you can retrieve them using WinRAR. You can follow these steps to protect the files and then remove the shortcut.
Open WinRAR Interface in your PC
Now, you have to navigate to the infected USB Drive or other removable media
Because WinRAR does not allow execution, you can access those files without letting them harm your PC.
Once you have found those files, select the desired files,
Right Click => Add Files to Archive. You have to provide a name and save it someplace safe.
Now that you have stored the files in a safe place, you can simply go to 'Computer' and format your USB Drive.
This is a cool method if the shortcut virus hasn't been spread to your PC yet. In a few clicks, you can get rid of the shortcut virus even while protecting your files.
Method #4 Using Windows Command Prompt
This is a cool method if you want to remove shortcut viruses from your removable drive, external drive or internal drive. And we are going to use the Windows Command Prompt for that purpose. Just follow these steps to do remove shortcut viruses via CMD.
Make sure you have connected the infected device to your computer
Launch Windows Command Prompt. You can search for CMD in Start Menu. Or, go to Run à Type 'cmd'
In the command prompt window, you have to enter the following command
ATTRIB -H -R -S /S /D G:\*.*
Here, you have to change the letter 'G' with the drive you want to clean.
This CMD Command works so smoothly that you get all your files back in no time. It un-hides the files first and creates files again, so that you can access them.
Method #5 Using a .BAT File
This one is pretty much simple for common users. It is done via some Visual Basic Script that does the job of shortcut virus removal. You can follow these simple steps to move forward.
Open Notepad or any other text editor in the PC.
You have to paste the code given below into that file
@echo off
 attrib -h -s -r -a /s /d G:*.*
 @echo complete
Now, you can save the file with .bat extension. By the way, make sure that you have changed the letter 'G' with the letter for infected removable media.
Now, run the .BAT file to finish the removal process.
It's simple and works like breeze
Method #6 Via Fix Folder and Trojorm Removal Tool
Fix Folder and Trojorm Removal Tool is perhaps the most minimal tool you can use for removing shortcut viruses. In case if you are still wondering, the tool weighs just 5KB. You can download and run this Visual Basic Program. In seconds, it will help you find and remove existing shortcut errors. It works by deleting shortcuts and then replacing the original files there.
You can download Fix Folder and Trojorm Removal Tool from Here, from Mediafire. Now, follow these steps:
You have to copy the downloaded file to the infected removable drive. Now, click on the executable file.
If you are trying to remove it from a folder, you can copy the FixFolder Script to the corresponding folder. Then, it is necessary to change the drive letter and proceed further.
Method #7 via Windows Registry
Last but not least, you can use Windows Registry to get rid of the shortcut virus that has infected your computer. It may not be able to deal with the unopened USB Drive or so. But if you think your PC is infected, you can follow these steps to remove the virus.
You have to open the Windows Task Manage. You can Right Click on Taskbar à Task Manager. Alternatively, you can press Ctrl+Shift+Esc to launch it.
Go to the Processes Tab and find the .exe process
Right Click à End Process
Now, you have to open Windows Registry Screen. To do that, press Windows + R and type 'Regedit'
Go to the following directory.
HKEY_CURRENT_USER / Software / Microsoft / Windows / CurrentVersion / Run
In the list, you should be able to find a key with the name 'odwcamszas'.
Find the key and delete it right away.
This should help you to get rid of the shortcut virus, if it leaves a registry entry. It may not work all time, but worth a try if other methods don't help you.
Summing Up
So, these are the six different methods you can rely for removing shortcut viruses permanently. If one does not work, you can try the other. In most cases, it makes sense to use a premium antivirus tool or USBFix than the other methods. But, if you are not able to remove the issue even after the use of antivirus tools, you can go with any of these methods.