When you have something valuable with you, won't you try to protect it? It's the same logic that makes us use an antivirus as it comes to the case of digital security. Just like other digital needs, most people try to believe that a free antivirus is an impressive solution for the need. However, as it turns out, free antivirus solutions can do more harm than good, at least in some situations. So, for those who are concerned about data security and confidentiality, it's necessary to pick a useful, effective antivirus suite.
Avira and Bitdefender are the two names that may confuse you during the selection. In this article, we are going to have a comprehensive comparison of Bitdefender vs Avira Security products. It may not give you an absolute answer, but can help you choose the most appropriate security utility from the duo. We can also get a look on the pricing package, features offered by both, reliability of security etc.
Extra Readings:
We think we should start a shorter introduction to both Bitdefender and Avira — so that you know about the companies well.
Avira and Bitdefender — About the Companies
Founded in 1986, Avira has been a prominent developer of security products for home and business needs. It is currently headquartered at Tettnang, Germany. However, the protection network of Avira is spread across the globe, with office in various parts of Europe. According to a statistical survey of 2012, Avira was protecting more than 100 million customers, and it was selected as the sixth largest antivirus developer in the world. As of now, the vendor is offering dedicated safety solutions for Home, Business and Mobile needs. So, it's a fact that you can protect your data and device, regardless its OS, type, configuration or anything else.
Bitdefender is, in terms of comparison, a fresh vendor in the Security industry. It was started in 2001 and is currently one of the most trusted developers of security products. Bitdefender, headquartered at Bucharest, Romania, is providing an extensive range of products for Home and Business needs. Something that attracted people to Bitdefender is the fruitful combination of multi-device protection. For a Windows PC, Mac or Android device, Bitdefender can provide a united and streamlined protection. According to the claims in 2014, Bitdefender products are used to protect more than 500 million devices in total. Apart from fully-fledged antivirus products, Bitdefender has other utilities too.
Pricing Structure of Different Plans
Next, in this Avira vs Bitdefender comparison, we shall have an overview of different packages of Avira and Bitdefender. It needs to be noted that we are considering the premium range of products only. It's up to you if you prefer to use free antivirus products from both vendors.
Avira
Avira has three packages for home users. Features do vary depending on the package you opt in for. Avira has discount offers for users all the time. The available plans are:
Avira Antivirus Pro is priced at $44.99 per year. By the way, if you purchase multi-device licenses, you can protect your Mac or Windows PC. Noticeable features of Antivirus Pro include the identity protection utilities, options for getting rid of digital finance-based threats and AI-based cloud scanning technologies in use.
Avira Internet Security Suite is the next step of protection from Avira, costing you $57.99 per year per license. Just along with anti-malware protection, web security and identity protection, Avira Internet Security provides options for System speedup too.
Avira Total Security Suite has all the options for identity protection, optimal PC performance and an included VPN. For $109.99 per year, you can protect your device with this security package. It's actually a package of Pro anti-virus protection and Avira's Phantom VPN Solution.
Bitdefender
Bitdefender too has three versatile tools in its inventory of Home Security. Quite notably, all the three products are priced reasonably, making the selection easier. Same as Avira, Bitdefender is having great discounts offers.
Bitdefender Antivirus Plus is the basic protection suite in Bitdefender's Premium range of products. With a single license worth $34.95 per year, you can protect up to three Windows PCs. Apart from Bitdefender-only features, it gives you Ransomware Protection, Password Manager and Remote Management etc.
Bitdefender Internet Security 2016 includes many features that the previous package lacks. The yearly price of the package is $44.99 and you can protect up to 3 devices using a single license. Here, you get Parental Advisor, Anti-Spam and a dedicated Firewall utility.
Bitdefender Total Security Multi-Device takes care of security and performance at the same time. You have all the good protection features and One-Click System TuneUp for just $49.95. You can protect a maximum of five devices using the single license, and it has tools for PC, Mac and Android.
Check Bitdefender Coupons NOW!
Performance & Impact
There's a tie between Bitdefender and Avira if we consider the aspect of performance. According to the results of AV-Test, both the security suites do well if we talk about the performance factor. The scanning processes are real quick, and it's all managed by the powerful algorithms. In short, you are going to have a quick antivirus experience with both Bitdefender and Avira.
Once again, let's talk about the antivirus tools' impact on system resource consumption and all. Here, Bitdefender seems to have an upper hand, for sure. Bitdefender has included several technology to bring the lowest performance impact. It uses Bitdefender Photon and Bitdefender Autopilot for the best results. So, when compared to Avira Antivirus products, it has a lower impact on system resource consumption.
Offered Protection
The intensity of protection should be a matter of concern in the Avira vs Bitdefender selection. Quite unfortunately, you'd not reach a decision so quickly. According to the AV-Test results, both the antivirus tools are in tie when it comes to the level of protection from commonly-found and not-so-common threats around. In actuality, Bitdefender is a bit better than Avira, especially in the case of prevalent threats around. So, as we are talking about the protection offered by both, we've another tie in the Avira vs Bitdefender comparison.
Availability of Features and User Interface
Both Avira and Bitdefender are offering a bunch of features in their packages. As we move to the higher packages, there are more features. For instance, in Bitdefender Total Security 2016, we have dedicated options for one-click System Tune-Up and performance boosting. Likewise, there are cool features in Avira too. In fact, Avira Total Security Suite comes with a VPN Service that's useful in obvious situations.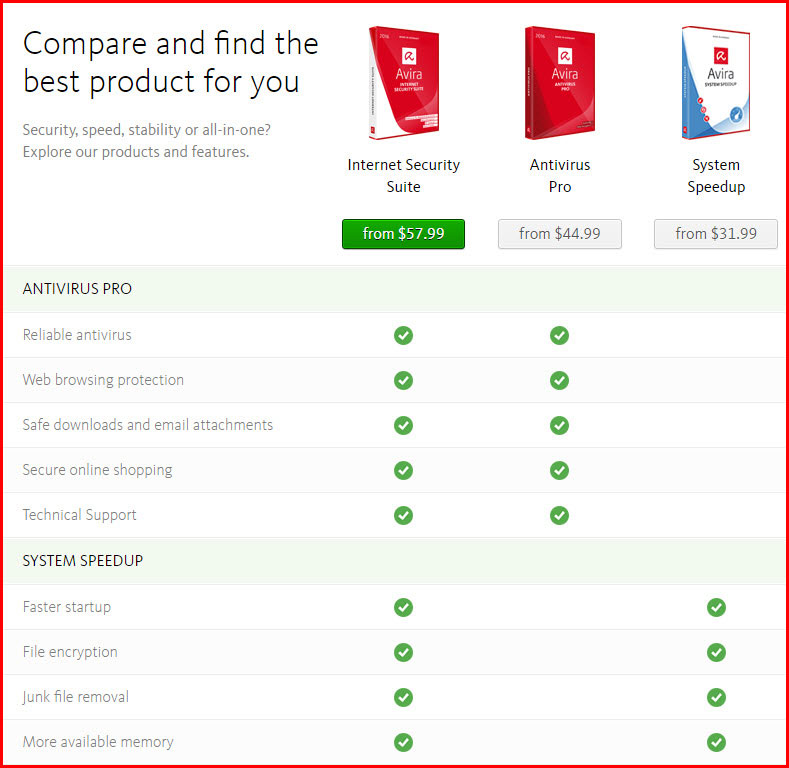 However, when it comes to the User Interface, Bitdefender gets the job done neatly. You won't need any introduction to start using Bitdefender Antivirus. When compared to this, Avira may take some time from your side. And, Bitdefender has all the features arranged in a quite-accessible form.
The Final Verdict on Bitdefender vs Avira
So, summing up, we see a real situation between Bitdefender vs Avira. Except one aspect — that is, Usability — Avira and Bitdefender are competing inch for inch. There is no way you can get down that confusion. However, there's something you should be concerned. It's that Bitdefender Security products are much affordable than that of Avira. So, if you have a lower budget and prefer having a simplified UI, you should go with Bitdefender products. Otherwise, if you prefer having an additional VPN or something, Avira is effective for you, surely.