Avast and Bitdefender has been quite popular as free antivirus solutions for those who don't pay. On the other hand, for those who pay, both the companies offer compelling security products too. With a huge customer-base, it's really tough to pick one from the duo. In this detailed comparison of Bitdefender vs Avast, we can compare what they offer in plans, affordability, pricing, features and usability. For those who are not familiar with the companies, we can grab an idea about Bitdefender and Avast first.
About Avast
A well-established Czech Republic-based security developer, Avast has been in security industry for 28+ years! It was formerly known as ALWIL software and was renamed later. Avast has a major market share when it comes anti-virus products and other security stuff. Talking of user-base, Avast users are utilized by more than 230 million in the world — giving the company a global share of 21.4%. With offices spread in US, Germany, South Korea and all, Avast serves global customers. As we mentioned, Avast became quite popular by providing free-to-use antivirus suites. it needs to be noted that, at the same time, there were major complaints about the firm.
About Bitdefender
Bitdefender is headquartered in Bucharest, Romania and had its inception in 2001. Although the time-span seems so short, it was enough for Bitdefender to establish a global identity. Currently a major developer of security products, Bitdefender protects more than 500 million devices — which is quite huge too. Bitdefender was not just limited to a few free tools. Instead, its products managed to attract users through the lower resource consumption and best-in-class performance. Of course, products are available for different platform, with dedicated versions for business use as well.
Avast vs Bitdefender — Offered Products & Pricing Structure
Avast Products
As we said, Avast security products are available for various platforms such as Windows, Mac, Android and iPhone or iPad. That having said, dedicated antivirus suite is available only for Windows PC. For other platforms, you would get a free antivirus suite — along with additional apps such as SecureLine VPN and SecureMe. So, we can take a look on the pricing plan of Avast products for Microsoft Windows. We have discount coupons for Avast products that you can surely use.
Avast Pro Antivirus is priced at $34.99 per year and you'd get protection in one device. The package gives you anti-virus protection, sandboxing, SecureDNS, SafeZone and one password manager. It's a kind of basic-yet-effective protection layer.
Avast Internet Security is the second advanced plan in the inventory of Avast. Costing you $39.99 each year, you can protect one Windows PC. In addition to the protection got in its previous version, you get additional features like an extra Firewall, enhanced Anti-Spam and extra protection from DNS Hijacking.
Avast Premier offers complete protection for your Windows PC, just by paying $49.99! With superb features such as Data Shredder and Automatic Software Updater, you can get top-notch security and performance for your PC.
Check Avast Coupon Codes and Deals NOW!
Bitdefender Products
In the case of Bitdefender, its security products are available for Windows, Mac and Android. Disappointingly, iOS is not supported by the company. Here too, major product focus is for Microsoft Windows. So, to get a clearer idea on pricing, we can check out Bitdefender products for Windows. The following pricing is for the plans that allow you to protect up to three devices. We also have discount coupons for Bitdefender products.
Bitdefender Antivirus Plus gives you basic yet impressive protection for your PC, priced at $38.97. it gives full protection from different malware, included password manager and Bitdefender Safepay for safe payments.
Bitdefender Internet Security can be bought by paying $51.97 and the package gives extra protection from a lot of web-based threats. In addition to malware fighting, you get options such as parental advisor, firewall and anti-spam protection.
Bitdefender Total Security is the most advanced package in list, costing you $58.47. Combining protection for web-based and offline threats, it has cool features too. You get options such as file encryption, anti-theft and all the features of previous plans.
Check Bitdefender Coupon Codes and Deals NOW!
About Features — Bitdefender vs Avast
In this aspect too, Bitdefender has an upper hand. Obviously, we are not judging based on the number of features. In opposition to that, we do consider the practical use of the features offered. In that point of view, however, we find a lot of reasons to recommend Bitdefender. For instance, even in the basic version, we find anti-ransomware and USB Immunizer options. It also gives Social Network Protection and Basic Anti-Spam. All these features are useful for any user out there.
Bitdefender Features
On contrary, in Avast, few of the features are for showing-off. There are exceptions like Sandboxing, but it does not feel good altogether. In this aspect, we find Bitdefender as the unquestionable winner.
Avast Features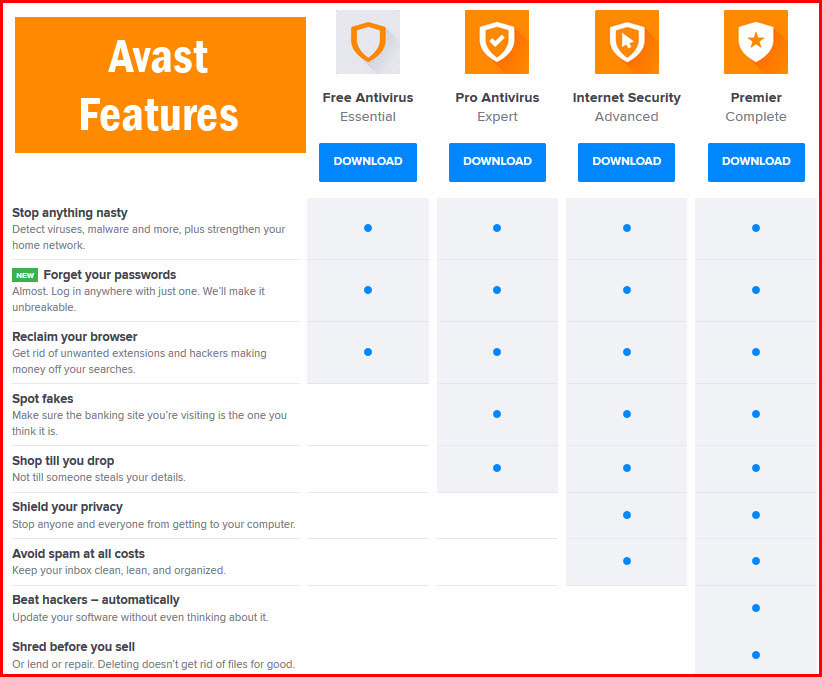 Compatibility with Mobile Devices
In case of Avast antivirus, protection is available for both Android and iOS. That having said, fully-fledged antivirus is not that impressive. Though the package is free to use, it is reported to be resource-consuming and quite bad for the performance aspect of your Android or iOS device. In case of Bitdefender products, however, Mobile Security is very promising for your security and privacy. With the premium package, you can get stunning features such as anti-theft and Android Wear support. Considering all these, we'd find an upper hand of Bitdefender in terms of mobile devices' support.
Performance, Resource Consumption & Speed
Avast may be good in terms of looks and features. But, when it comes to the performance part, Avast is a big deal of disappointment, we'd say. According to the AV-Test results, the performance aspect of Avast is pretty low. In scene of practical use, installation of Avast may bring slowdown to your computer. In light of experience, we can also say that Avast is not that good in terms of scanning speed and optimization. Even with the whole thing of optimization in active state, the speed of your PC isn't that good.
Bitdefender Antivirus is a rockstar when it comes to performance and resource consumption. Quite surprisingly, with the lowest resource consumption footprint, Bitdefender gives best-in-class protection. Let that be Windows version or Mobile Security — Bitdefender is never going to affect your performance or speed. AV-Test Results have put this developer on the top list — for performance and speed, which is a quite credible reason to count on Bitdefender. It's an extra deal of protection, we bet. The UI of Bitdefender Products is equally simple, to be noted. Thanks is due to a set of Bitdefender features such as Bitdefender Photon and Machine Learning.
The Bottom Line
So, we have taken the different aspects of Avast and Bitdefender Antivirus products into account. One thing to be noted here is the sense of affordability. In case of Bitdefender, there are awesome discount that allow you to save amounts of 50% or more. And, even in the traditional pricing, Bitdefender plans allow you to protect up to 3 devices at maximum. Similarly, in the case of performance and protection algorithms, Bitdefender is having an upper hand. To know the simplicity of antivirus and the performance upgrades, you can check what other users and official tests say. Considering all these factors, Bitdefender is the best choice in the duo of Bitdefender vs Avast. We hope it is all good to go!