Adware is undoubtedly one of the most common ways hackers follow to annoy users and get money. In our previous article, we had talked about Adware and some effective ways to prevent it. For instance, if you see a lot of ads when you open your browser or deal with files, you should suspect the presence of adware. Quite ironically, despite all the precautions you take, adware may get into your PC accidentally.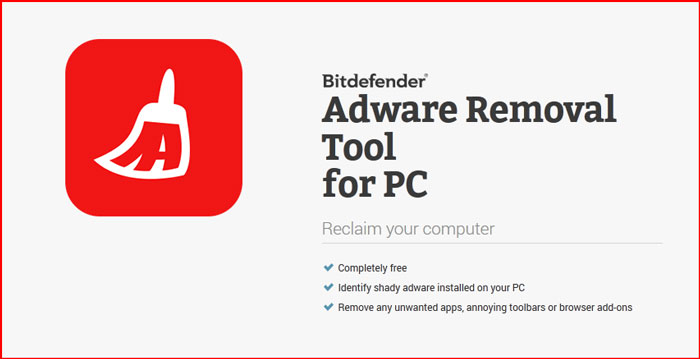 Chances of getting infected by Adware are high if you spend a lot of time online to browse and download stuff. If you have confirmed the presence of adware, however, the only way is to remove such adware from your computer. That way, you can keep your PC clean and away from related threats. Thankfully, we've a quite impressive utility to do that — Bitdefender Adware Removal Tool.
In this article, we shall have a brief review of this free Adware Removal Tool, an effective way to remove adware from your computer. We will discuss the different aspects of the tool such as usability, the way it works, ways to use it etc.
About Free Adware Removal Tool from Bitdefender
As we said, Bitdefender Adware Removal Tool is a completely free solution that allows you to remove adware from a PC of yours. It needs to be noted that Bitdefender Antivirus suites — such as Total Security or Internet Security – do have an in-built anti-adware protection. This tool is for those who haven't installed Bitdefender antivirus. So, it does work as a standalone tool in your Windows PC. It needs to be noted that adware is not just about annoying ads. It is also about losing your privacy and database security. In that respect, this easy-to-use utility becomes a must-have tool for everyone who cares about privacy and security. You can use this tool in any computer that is based on Windows XP and later versions.
Installing and Getting Started
Installation of Bitdefender Adware Removal Tool is quite simple. You can get the free setup from here for PC and Here for Mac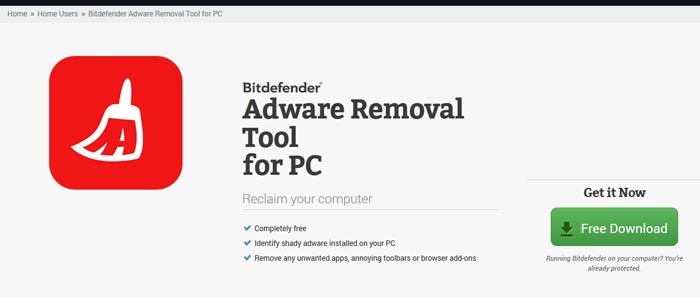 The setup file weighs just around 50MB and you can get it downloaded it in a few seconds or minutes.
Please note that if you already have any one of Bitdefender security products installed, you will get this error shown below. Because this tool is already integrated with Bitdefender antivirus products.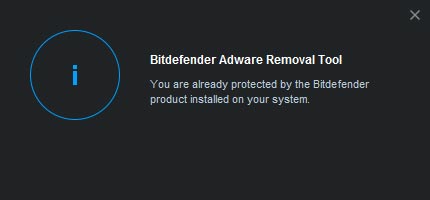 If you have no Bitdefender security product installed, you can install the tool in your device. Accept the terms.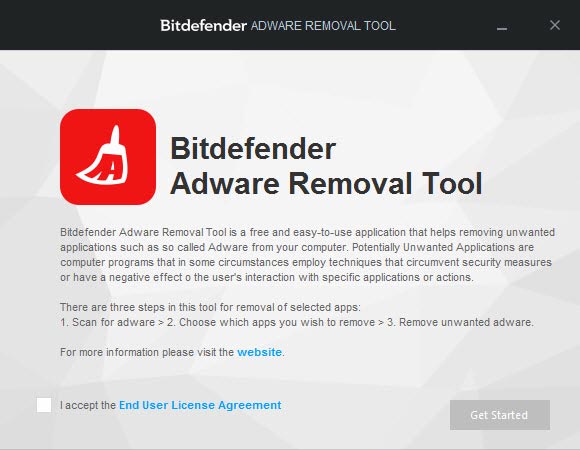 The process too won't take more than a few minutes to complete — given that your PC has a mediocre configuration. Now that it is all finished with the installation, you can start using this Adware Removal Tool to clean your computer. If we talk of its UI, we really loved the way the tool works and it does not require any previous experience.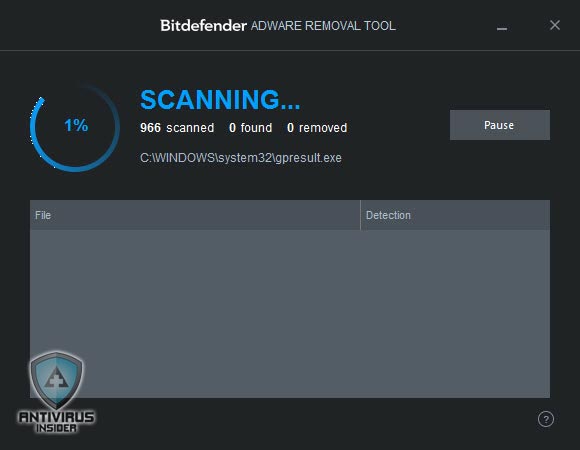 We repeat, once you have finished the installation, this security utility is all set to scan your device. It works in the out-of-the-box scenario. However, we would like to remind you of something. This tool is never going to be a fully-fledged alternative to antivirus packages. On the other hand, you can use it only for the purpose of removing an annoying adware or related stuff.
How Does Bitdefender Adware Removal Tool Work?
Thorough scanning of your computer is the basic principle of this anti-adware solution! For that matter, we'll have to thank the state-of-the-art scanning and detection algorithms developed by Bitdefender. Once you are done with the installation part of Bitdefender Adware Removal Tool, you can launch the tool. Upon clicking the 'Start' button, it will start scanning your computer for all types of adware. In addition to common adware, some other things are also into scanning. For instance, you can use the tool to find those unwanted extensions, add-ons and other seemingly-simple threats in your computer. It can also find hijacker programs and those nasty toolbars. I scan my system and guess what? No Adware.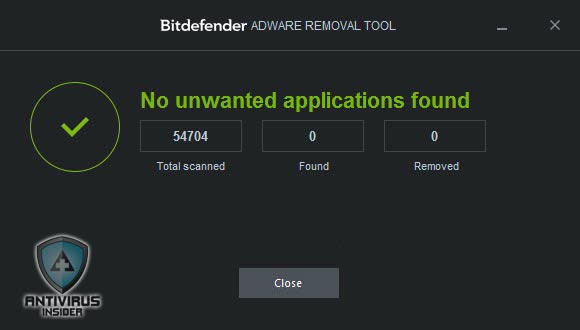 After the complete scanning of device, Adware Removal Tool of Bitdefender will show you a list of programs that it did find malicious. The best part of this feature is that you can use your sense to review the list. If there's a safe program in the malicious list, you can just remove it. While doing so, however, you should be sure about its authenticity. If we use some other words, you can get a list of unwanted programs. Then, it's up to you to removing or keeping them.
About Scanning & Protection
When compared to other anti-adware solutions, Bitdefender Adware Removal Tool seems to be a bit lagging. In lots of tests done by experts, the tool couldn't detect adware even when they were detected by other tools. Competition was actually between Malwarebytes Anti-Malware and this tool.
So, in terms of comparison, you may not find it to be the best. Similarly, at some point, Adware Removal Tool may clash with the antivirus suite in use. In one of the many cases, the tool triggered an antivirus to start scanning automatically. However, these are just some rare occasions and you don't need to worry.
Extra Reading:
By the way, if we are to talk about the UI, it just steals the show! It doesn't get any kind of customization, and there's no need to. Once you have installed, Bitdefender Adware Removal Tool does a complete, thorough scanning of your PC for adware — and that's it, you know.
The Verdict
From the above sections, it's clear that Bitdefender Adware Removal Tool is a free yet satisfactory tool for getting rid of annoying adware. At some point, though, the tool becomes ineffective to find all types of issues. Despite all these, given that you have another antivirus installed in the PC, you can use this tool to completely remove adware from a PC — with nothing left whatsoever. Not but least, if you have Bitdefender Total security or any other version (Antivirus or Internet Security) installed you don't have to worry about the Adware. You can buy Bitdefender from here with great deals.