Even in the early times, you would have heard about Ransomware, probably in an antivirus security product website. Most antivirus products used to include anti-ransomware protection in their feature-list. It was very common, though people didn't really give a darn about its presence. However, all things changed when one ransomware named WannaCry started its attack in the cyber world. Thousands of devices and servers were severely compromised, and some of the users started paying the ransom to get their device and data back.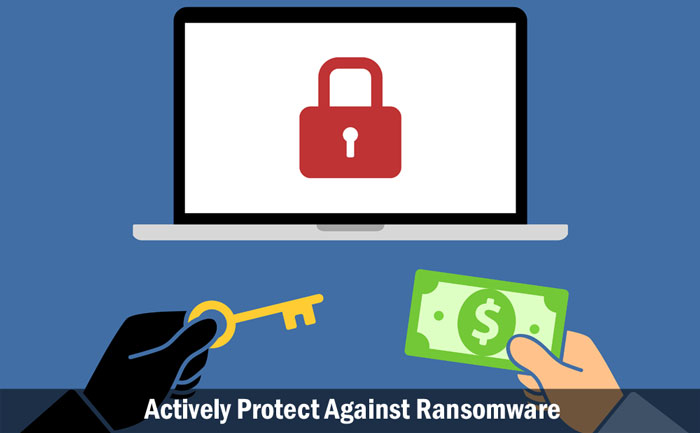 It had made enough damage to the total digital sphere before the threat was calmed down. Since then, we have been quite conscious about the term ransomware, right?
The Current World and Ransomware
It has become essential that you should protect your data and device from almost every type of ransomware attack out there. While absolute security is still a myth, there are a few steps you can take towards your own security and privacy. Obviously, the primary step here is to make sure that your computer is protected by an effective and solid-built anti-ransomware protection suite. Most of the best antivirus programs have in-built option for ransomware protection as well. Still, you need to be super-strict about the selection. One thing to be noted here is that an antivirus doesn't offer end-to-end, complete security. There are some other steps required too.
Read More:
Why You Need This Guide Now?
This guide about Ransomware has to do with protecting your device from possible attacks. We have created a list of tips on how to actively protect against ransomware attacks. Just keep these in mind and practice the several security steps in the list. By doing so, you can reduce the chances of getting infected by a ransomware attack in the near-future. We don't want you to take this step for granted, and we highly recommend taking timely data backups. Just in case, you don't have to worry about these least-expected catastrophes. If that's the case, we can move forward to the process of actively protecting your device from ransomware. Our tips are practical and would make sense to you, if you have been listening to the news about ransomware threats.
#1 Use Antivirus and Anti-Malware Protection for Your Device
As said earlier, standard protection from ransomware is quite a necessity here. If your device isn't protected from the common threats like viruses and spyware, your rates of infection is way too high. That is why we'd recommend the use of antivirus and antimalware protection suites at the same time. There are many antivirus programs like Bitdefender, Kaspersky, Norton and many more. This won't be essential if you are using one of the popular & trusted antivirus programs, though. So, you have two options. First, you can use a not-so-popular antivirus program along with dedicated anti-malware protection suite. Second, you can use one of the best antivirus protection suites that offer all-the-round protection. Even with this step taken, the following practices will help you to reduce the impact and infection of ransomware.
#2 Keep a Tab on High-Risk Folder
Every Windows PC has a bunch of high-risk folders. These are the folders commonly infected by threats such as ransomware. It needs to be noted that such folders will start showing some anomalies if any kind of digital infection. So, the best way to stay updated about a possible ransomware infection is to keep an eye on high risk folders. The common high-risk folders in Microsoft Windows are My Documents, Downloads and surely the Desktop. If you are looking for active ransomware protection, you should pay attention to these folders. First and foremost, make sure that no new files are added without your intervention and knowledge. If you see something fishy, scan the file/folder with the right antivirus suite.
#3 Use and Triggering of Honeypot Files
Honeypot Files are another useful method used for active ransomware protection. It's used by the best and trusted anti-ransomware protection suites out there. The sole objective of this step is to make sure that the growing process. For this purposes, a huge number of decoy files will be added to the common high-risk areas of your computer. As you may know, ransomware will be doing its negative job with the help of some processes. The honeypot files are likely to be infected first by the processes, and there will be certain changes as well. The idea is to track such changes and upon a single alteration of a file/folder in the honeypot bunch, action will be taken and the process will be quarantined. This technique has been quite effective so far.
#4 Slowing Down the Ransomware Attack
This is another method that is used by anti-ransomware tools to reduce the impacts of an attack. Of course, the result will be the recognition of such an attack. Before a ransomware encrypts your files, it would have to scan all the possible files. Using one technique, you can slow down this entire process, thus reducing total impact of a ransomware attack. The technique here will create a huge number of random files at a particular location of your Windows PC. As a result, the ransomware will end up spending a lot more time than it would normally take for creating a list of to-be-encrypted list.
#5 Essential Security Tips
There are a few essential security tips that you can follow for your healthy digital life. For instance, it's highly advised that you keep your software up-to-date. If combined with timely OS updates, this would make the perfect safety combination for your device as well as data. Also, unless you are sure about the authenticity of its developer, it's not a good decision to install software, especially bundleware. In most cases, you can spot some ransomware-like stuff in such bundles. At the same time, keep an eye on what you are browsing on the World Wide Web and see if it has impact on your system and data. In some cases, we had seen the presence of Remote Access Trojans before the systems were taken down by ransomware attacks.
Wrapping Up
What we have seen above are some of the effective techniques and tips for Active Ransomware Protection. As said, the easy option is to get one of the best antimalware and all-round security software out there. On the other hand, if you are looking for advanced protection, you can do some manual steps too. Either way, the idea is to stay safe and away from hackers. We hope you have got an idea about Active Protection and that you'd use it properly.