We had talked about Computer Firewalls and their importance in one of the previous articles. We had told you how to get the best protection from these utilities, through proper care and setup. If you remember the things we told, you have two options – Windows Firewall and third-party Firewalls. And, in case if you didn't know, Kaspersky Total Security comes with an in-built Firewall utility. Yes, once you have purchased this cool security suite, you don't have to stick onto the Windows Firewall option. On the other hand, for the sake of advanced protection and control, you can shift to Kaspersky.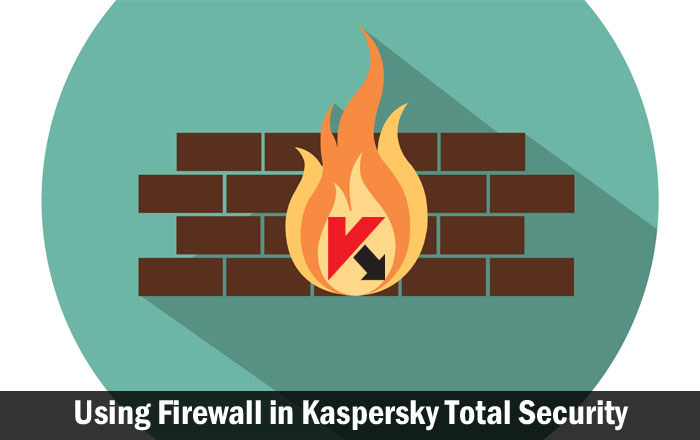 That having said, there are some things to do if you need to use Kaspersky Total Security effectively. Do not worry if you are new to the world of third-party firewall programs. In this article, we will talk about Kaspersky Firewall and how to use it effectively via Kaspersky Total Security 2017. Shall we start it, then?
About Kaspersky Firewall
As said earlier, a Firewall is included in the Kaspersky Total Security 2017 package. It is supposed to protect you from a wide variety of network-based threats. For instance, you can use the feature to escape from lots of malicious incoming connection requests. At the same time, Firewall lets you do things like blocking net access or restricting a particular network connection. In short, when you're connected to a network, Firewall is the complete protector in practice. Because of these, we believe, you would be interested in giving a try to these.
Now that you have an idea about how the Kaspersky Firewall works, we will move onto the setup. We would also show you some basic protection-based actions you can perform using this program. We hope they help you in the long run.
Enabling Firewall in Kaspersky Total Security
If the utility has not been enabled by default, you won't be protected. So, in that case, you'll have to manually enable it in your system. To do that,
Open the main interface of Kaspersky Total Security
Go to Settings and choose Protection from the sidebar menu.
In the coming window, search for the option named Firewall
Check if the option slider is to the ON
If not, turn the slider into the ON position.
That is how you can enable the firewall option in Kaspersky Total Security 2017. The steps will be the same in other variants like Internet Security too.
Block Internet Access using Kaspersky Firewall
This is a commonly-seen scenario where your third-party firewall can come in handy. For instance, suppose there is a particular program that eats up your internet resources and slows down your PC. Or, there might be another utility that is malicious. In that case, you will have to prevent those apps from accessing internet in your PC. And, you have some simple steps to follow to block internet access via Kaspersky Total Security.
From the main interface of Kaspersky Total Security, go to Settings
In the sidebar, there will be many options; choose Protection from the list.
Clicking on the button will show you a bunch of options; scroll down until you find Click on the Firewall button to move forward.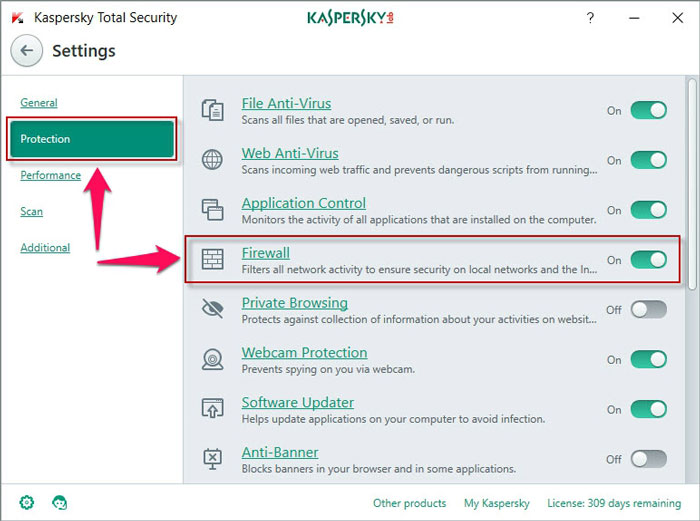 In the next page, you can see some Firewall settings. From the bottom part of page, choose Configure Application Rules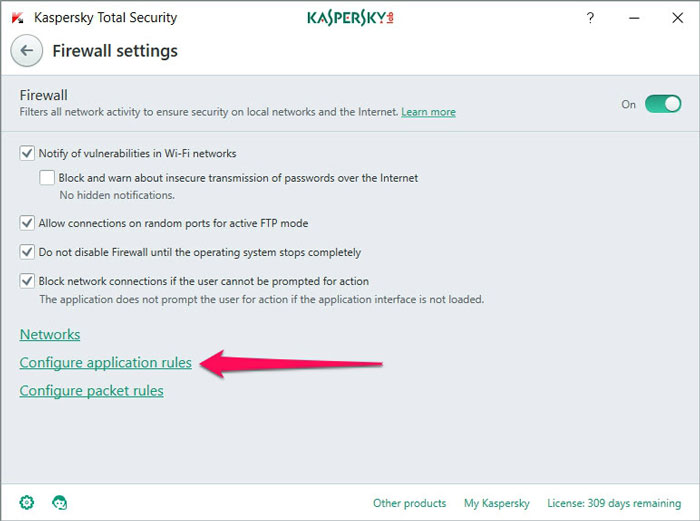 Upcoming page will show you a list of programs that require internet access. Click on the drop-down menu from Network tab and select Deny.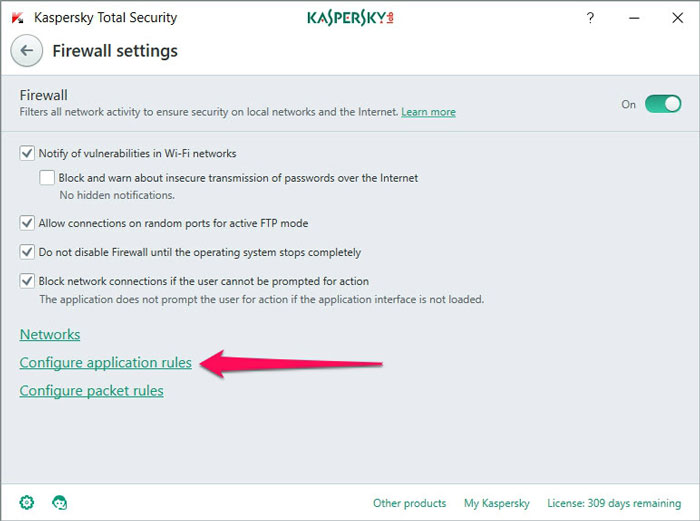 That's it. You have prevented the particular app from accessing Internet. This is so effective and you cannot find this feature in the default Windows firewall; nor will they be so intuitive to use.
Changing the Network Status
Do you know that there are different kinds of networks you can connect your computer to? depending on a specific connection, the PC may take unique care and security options. While a Public Network won't others let you access your PC/Files, that's not the case with others. Major network statuses you can choose are:
Public Network: A Public Wi-Fi hotspot and connected devices can be an example for this. In this way, your Firewall does not give the connection access to your files, connected devices or the Desktop.
Local Network: It's made to be suitable for file sharing and networking. Used in home and office type of environments, connected devices may have access to your shared folders and others.
Trusted Network: This type of network allows complete access from the other side. This is the option only if you are completely confident about the security of the network/internet connection you are using.
Depending on the security, you should choose the corresponding network status. Now, we will tell you how you can change the status
Go to Settings, choose Protection and click on Firewall
From the Firewall Settings menu, choose Networks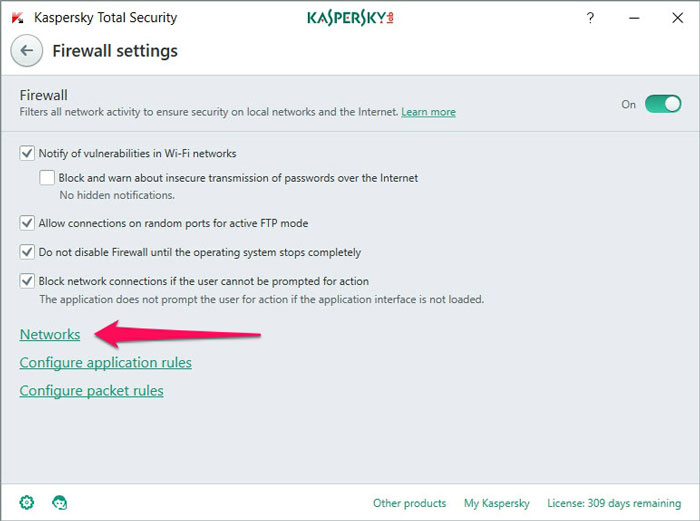 Now, you will be able to see the list of available networks. Right click on the network and choose the right option from Public Network, Local Network and Trusted Network
Close the window and your settings will be saved
Wrapping Up
So, these are the basic steps to follow if you want to get started with the Firewall feature in Kaspersky Total Security. Nevertheless, these methods are not enough if you are looking for complete protection. You'll have to, for instance, enable almost all the options in the antivirus. In that sense, we recommend having Kaspersky installed in the computer – because Kaspersky is one of the best choices you have. Anyway, we hope our tutorial helps you ensure the basic safety.