Everyone will have their own reasons to prefer Bitdefender Security programs to others in industry! That said, there are a few features loved by almost every user of Bitdefender. Bitdefender Autopilot is definitely one of those options. This feature allows you to focus on your work while Bitdefender can take care of your device safety. For instance, it can manage if your device faces some security attacks or the execution of some malicious stuff. In addition, Bitdefender Autopilot can manage scans and updates as well.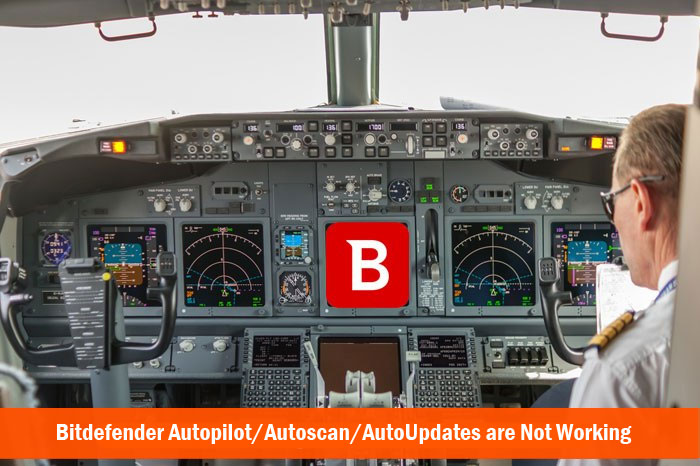 However, at certain times, you may find that Autopilot feature of Bitdefender isn't working fine anymore. In this tutorial, we shall discover what is behind the random disabling of Bitdefender Autopilot/Autoscan/Autoupdate. We can also show you how you can re-enable Bitdefender Autopilot for better safety.
The Reason
You may be wondering why Bitdefender Autopilot isn't working all of a sudden. Actually, it's because another feature that is included in premium range of Bitdefender Security Products. These are called Bitdefender Profiles and there are 2 major profiles that can impact the normal working scenario of Bitdefender Autopilot.
This mode, as you can guess from its name, is made for Gaming purposes. It is not good to receive those pop-ups and all when you are playing your favorite game. In addition, most games do require a big amount of resources for clutter-free rendering. So, when Bitdefender finds out that you are running a video game in the device, it will switch your device into the Game Mode. In this mode, features such as Auto-Scan, Auto-Update, Automated Sync, Alerts etc won't work. It's also disabling the browser toolbars for enhanced resource leverage.
Made for Laptop users out there, Laptop Mode of Bitdefender is aimed towards power management and device lasting. If you are running on a lower level of battery, Bitdefender will switch you into the Laptop Mode. In this mode, all features of Bitdefender Autopilot are stopped until you turn back to AC Power Supply. In addition, Bitdefender follows many other methods to minimize Bitdefender's impact on your system performance. So, when enabled, the automated features of Bitdefender won't work during the low-battery periods.
How to Fix It?
Now, we will see how we can fix this issue. So, in short, you need to enable Bitdefender Autopilot all the time. Or, we can say, nothing should impact the security and performance offered by Bitdefender Automated Scans, Updates and Sync. To do that, you can follow these steps.
Step 1:
As the first step, you need to make sure that Bitdefender Autopilot Mode is enabled in the package. To do that, you have to open the main interface of Bitdefender Security Suite you have. In our case, it's Bitdefender Total Security 2016. On the top-right portion of the interface, you can find a section named 'Autopilot. Make sure that the option is turned on. If not, you should turn that on.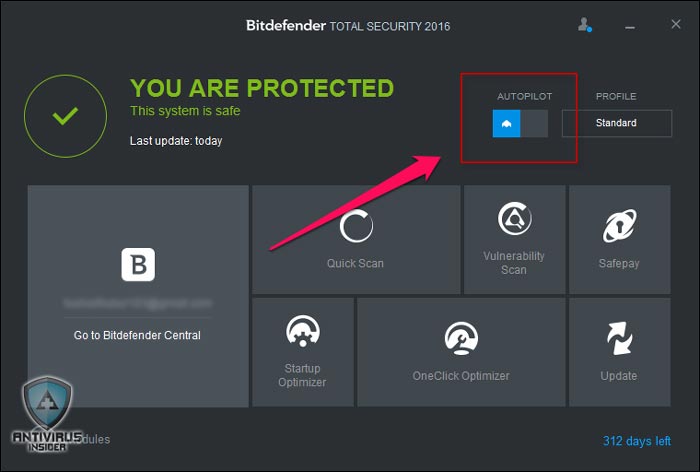 Step 2:
Now, you have to open the Link to find Bitdefender Modules. In the Modules section, there are three different tabs. From the interface, you need to open 'Tools' tab.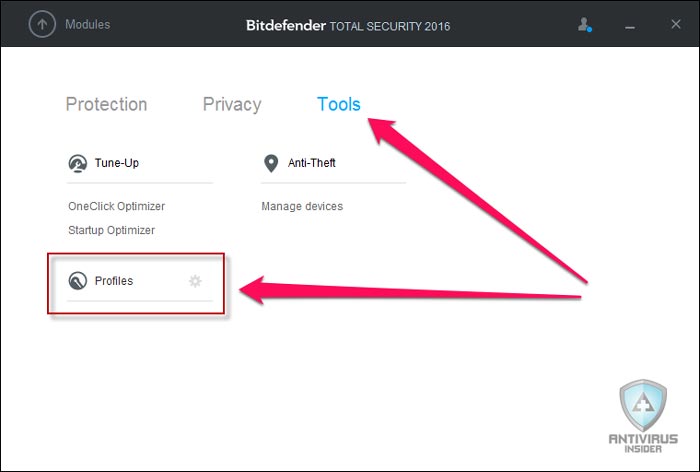 In the upcoming page, there is a link named 'Profiles'. Click on that link and you can see a pop-up instantly.
Step 3:
This is where we are going to give the complete control to Bitdefender Autopilot. As you can see, there are two sections in the page — Profile Settings and Battery Mode. And you need to open the 'Profile Settings' tab.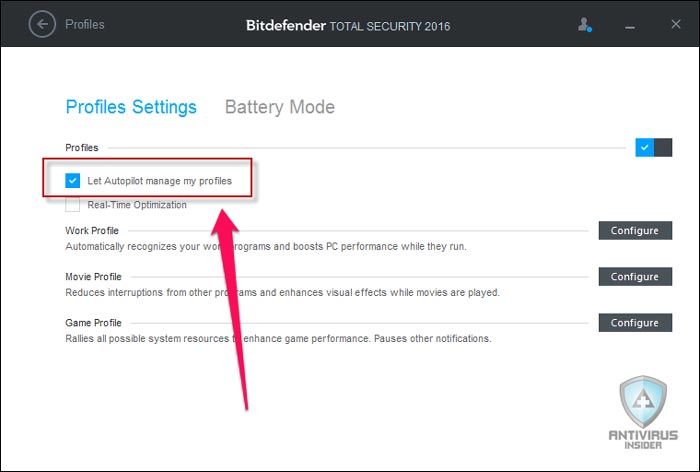 In the menu, there's a checkbox named 'Let Autopilot manage my profiles'. Once you have selected the option. From now on, Bitdefender Autopilot will have complete control on the working of your antivirus suite. In short, you won't have to worry about getting the automated features disabled.
The Final Word
So, the reason for this issue is the conflict between Bitdefender Autopilot and other Bitdefender profiles such as the Game Mode and Laptop Mode. However, using the steps we have mentioned above, you can clear the conflict. Once you have followed these steps, Autoscan, Autoupdate and Autopilot would be enabled all the time. So, there is no necessity to think about data theft or other safety issues. But, at the same time, you may miss the Profile-based features from Bitdefender.