If you ask for the best protection of your devices, we always recommend using a fully-fledged antivirus suite. When you use that, make sure that you have purchased one of the best premium software as well. It is only then you can have an all-round protection from prevalent and zero-day threats. It should also be noted that most antivirus programs now come with anti-malware protection as well – so that you are protected from a bunch of prevalent threats like ransomware, spyware and adware.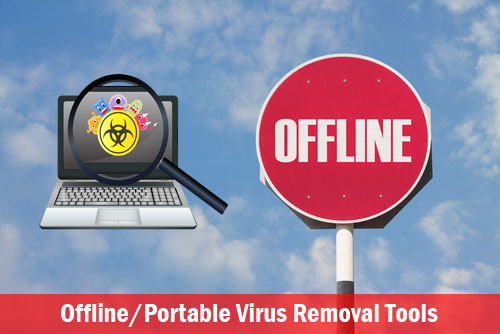 Despite all these good things, there are times when you can't use a complete antivirus product for scanning and virus removal. For instance, most antivirus programs now need an internet connection for downloading virus definitions and scanning them. While the cloud-scanning abilities are commendable, things can go bad when you don't have an active internet connection.
In such instances, you can get the best results from offline and portable virus removal tools and scanners.
What are Offline/Portable Virus Removal Tools?
These tools let you find the possible viruses and other threats that may be present in your computer. You'd not need an internet connection here, which is the best part. Also, some tools are portable – meaning that you can copy the tool into a removable drive and take it anywhere and run it on PCs. When you want to get protection for an infected device, this is a great feature for sure. Similarly, offline virus-removal tools are good when you cannot always have an internet connection. So, no matter whether the infected device has an internet connection, these protection packages will run fine.
8 Best and Offline/Portable Virus Removal Tools and Scanners
| Sr | Portable Scanner Name |
| --- | --- |
| 1 | Kaspersky Virus Removal Tool |
| 2 | Bitdefender Free Virus Removal Tools |
| 3 | Microsoft Malware Removal Tool |
| 4 | Free eScan Anti-Virus Toolkit |
| 5 | VIPRE Rescue |
| 6 | Emisoft Emergency Kit |
| 7 | Spybot - Search & Destroy |
| 8 | ClamWin Portable |
In this article, however, we have created a well-picked list of the best offline and portable virus-removal and scanning tools you can get. Most of these tools are free, meaning that portable protection is no trouble for most.
This is one of the best offline and free solution for scanning, finding and removing different types of threats you would find in your PC. It's pretty simple to use and offers the best virus-detection rates. Because all the virus definitions and databases are from the trusted Kaspersky, you don't have to worry about missing any of Trojans, viruses, adware or other types of malware. One thing about Kaspersky Virus Removal Tool is that you don't have to download a huge file-size. That having said, it is not possible to use this removal tool as a portable solution.
Free Virus Removal Tools from Bitdefender is actually a collection of tools for removing different viruses, of different category. This is the best option if you know which virus has infected your PC. If that is the case, it is possible to go to the Bitdefender Free Virus Removal Tools home page and search for the particular virus. Then, you can download the dedicated removal tool for that particular virus, promising the complete level of protection. One thing we loved in Bitdefender is that it has a regularly-updated book of viruses. So, you'd not have trouble in finding the one that has infected your PC.
This may sound promising, if you are not able to get a smooth-running version of Bitdefender, you can have this dedicated virus-removal tool for the PC. It's available for devices running Windows XP and later. We do understand that you don't need this tool if you have Windows Defender or other popular antivirus programs running on your PC. That having said, when you find a severe infection to be taken care of, you should have a look onto this free utility. Because it's from Microsoft, it should work fine with the Windows OS. Plus, you can scan for almost all types of malware.
If you are looking for a portable yet powerful virus-removal tool, Free eScan Anti-Virus Toolkit is an effective choice for sure. With this tool, you can scan for viruses, spyware, adware and some other types of malware. The best part is that Free eScan Anti-Virus Toolkit has the appropriate engines for the removal of the same. Customization is a reason to use this utility, because you can select the folders or sections to be scanned. If you want to scan the 'Startup' area for threats, you can select that option only. Needless to say, you can run this tool from a USB Drive or a CD Drive, since no installation is required here.
In case if you did not know, VIPRE is a quite popular solution for preventing virus attacks. If you don't want to purchase the premium ones, you can get the portable free version named VIPRE Rescue. It wants you to download around 300MB of files, which can then be used from portable storage devices. One thing about it is that you should run your Windows PC in the 'Safe Mode' for better protection and results. VIPRE always changes the Virus Definitions — so that you will always be downloading the latest algorithms for detection and removal of different malware.
Are you looking for a complete kit of virus-removal tools for protecting an infected PC? In that case, we will love to recommend the Emisoft Emergency Kit, which is free to use. It comes with GUI and command-line options for scanning and removal of threats. We must say the GUI version is pretty easy to use, if you can run it. In another scenario, if you can deal with command-line version, you just need to know a few command options for scanning and removal. Of course, you can install it in a USB Drive and use it device-wide. The next time someone says their PC is infected, head to that place with Emisoft Emergency Kit USB Drive.
This isn't an all-the-round solution for removing viruses — but is dedicated for spyware only. If you think PC is infected by some serious spyware, you can consider getting Spybot – Search & Destroy. Once again, it's a portable solution. So, if you think the PC infection is high, you can download the tool in another PC and get it to a USB drive. This way, you can have the best protection from threats. The GUI of Spybot – Search & Destroy is so simple that you won't have trouble in finding the right options for your needs. Advanced Tools include System Repair and Immunization. The download size is a bit low, though.
Last in our list but not the least, ClamWin Portable is another free solution for scanning and removing various types of viruses. When compared to other portable/offline virus-removal tools, ClamWin Portable has a kind of straightforward User Interface. Once you have loaded it from a USB Drive or installed it, you can get onto the UI and start scanning your PC for threats. Moreover, the developers — being Open Source — are quite concerned about the updated virus definitions. So, you will always be able to detect most of viruses and a few popular malware in seconds.
[wp-review id=""]