Despite being from two different developers, there are a few differences between ESET and Kaspersky. It's to be noted that both have been in the industry for a long while. We have been seeing both Kaspersky and ESET in various computers, for a long period of time. However, in the current scenario, there are some noted differences as well. Because of this, when you are ready to spend for an effective antivirus program, selection would require you to think a bit. So, we thought of comparing some notable aspects of both Kaspersky and ESET, so that you can make the selection.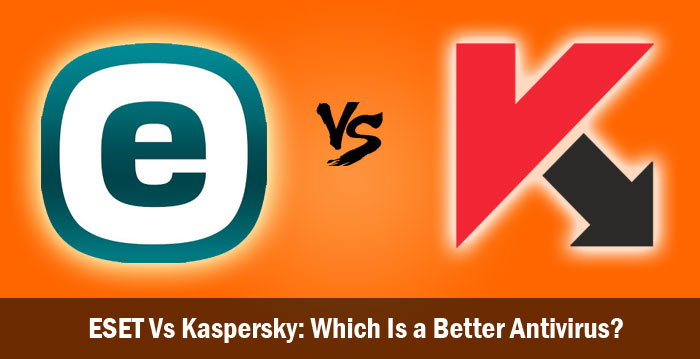 In this article, we have considered different aspects of both antivirus programs, such as the pricing, available options for protection, performance etc. Depending on these factors, we can also decide the package you'd find it worthier in the long run. Before we go to those major aspects, we will have a quick intro to both.
ESET vs Kaspersky – an Intro for Newbies
A security software developer based in Slovakia, ESET was founded in 1992. It gained market attention by its products such as NOD32 Antivirus. However, in the course of time, the company has shifted its category and has started providing top-notch, new-end product range as well. With products available for Windows, Mac and Android, ESET now holds a noticeable user-base as well.
Kaspersky is noted for the long-term research it has in the security industry. With a lot of products for various platforms – including Android, Windows, PC and more, Kaspersky has been noted for the easiness. Also, it has an ever-growing user-base that is world-wide. One thing about Kaspersky is that it offers commercial products for various platforms.
Summing up, both Kaspersky and ESET have had a great path covered in the security industry. Now, we will move on to the aforementioned factors like performance, pricing packages and other features you might be concerned about.
Pricing and Packages offered by ESET and Kaspersky
For a fair selection, we can consider products from ESET and Kaspersky. We are taking into account premium products only; not because free products are bad but because they don't meet up to the digital security need of today.
ESET
In the home-products inventory, there are four products you can purchase. For the selection, you'd consider factors such as the budget and features you are looking for. The packages are:
ESET NOD32 Antivirus offers the basic protection that gets you rid of spyware and other malware. It costs you $39.99.
ESET Internet Security gives you basic-line protection from threats, but also extends protection onto sections like shopping protection and parental controls. You have to pay $59.99 for license.
ESET Multi-Device Security is an advanced package that extends security to different platforms such as Windows, Mac and Android. You also get device-tracking options, just for $84.99
ESET Smart Security Premium goes to another world of Windows security. Although you lose multi-device support, there are options for Secure Data and Password Management, for $79.99.
We believe the packages are impressive from the productivity point of view. You have coupon codes for ESET security programs.
Kaspersky
Kaspersky, on the other hand, is offering a compact range of protection packages. It will be easier to make the selection, no matter what you are looking for.
Kaspersky Anti-Virus is the best choice if you are looking for core protection for your Windows PC. You are going to get the best offline protection, for $34.99 per year.
Kaspersky Internet Security goes to the web security section, offering options like anti-spam, identity protection and many internet security options. It all costs you $39.99 a year.
Kaspersky Total Security is the ultimate version of Kaspersky antivirus program you can purchase. It just costs you $49.99, offering many options like digital asset protection and Safe Kids.
Here, the packages are crisp, but offered features make the distinction clear and easier. You can always check and use our special discount coupon for Kaspersky all versions.
Protection Features Offered
We will do a comparison between ESET Smart Security 9.0 and Kaspersky Internet Security for Windows. We have taken into account our personal experience and the worthwhile words from AV-Test.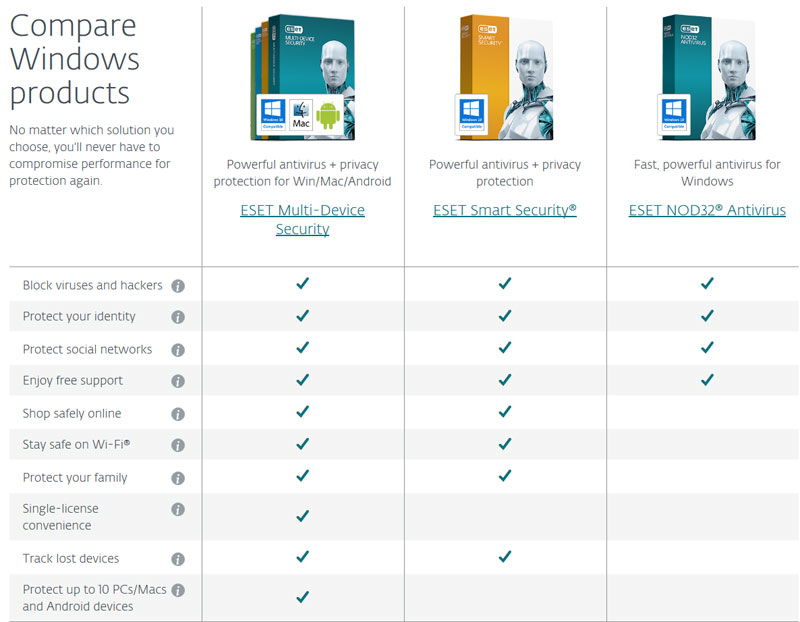 As far as the basic protection from zero-day threats are concerned, ESET Smart Security 9.0 is offering virus-detection rate of around 99%. When it comes to prevalent malware, it has been kept the same. You are not getting the perfect protection, but somewhat the standard.
When it comes to Kaspersky Internet Security, however, you are getting perfect protection, in both common malware and zero-day threats. In both sections, the program was able to show a detection-rate of 100%. It is surely due to the best research and database Kaspersky holds.
Performance and Usability
Talking of the performance, ESET Smart Security 9.0 lags behind for sure. We faced several issues while trying to open popular websites and standard application. Even in the high-end devices, there was a lower speed of copying speed and installation procedure. In short, there was a notable negative impact on performance of installed PCs. In the course of time, however, Kaspersky Internet Security has managed to reduce impact on performance. It did not slow down; nor did the machine slowed down the copying processes or total time taken for installation of programs. So, clearly, Kaspersky is the winner here.
In the usability section as well, Kaspersky has the upper hand. We are talking about the overall User Interface of the program. It feels really easy to use Kaspersky when compared to the other, thanks to minimalistic UI and the proper organization of available options. On the other hand, in the case of ESET Smart Security, the options are vaguely arranged and may seem confusing to many people out there. This was a problem if you are getting to know more about antivirus protection programs.
Read: Can Kaspersky Antivirus Program Slow Your Computer?
The Bottom Line on Kaspersky vs ESET
Now that we have compared the different aspects of ESET Smart Security 9.0 and Kaspersky Internet Security in a broader manner, we can make the decisions about the selection. Judging by the pricing, Kaspersky is far more affordable than ESET counterparts. At the same time, Kaspersky manages to include many features for advanced protection, such as parental controls and web-based protection. Also, we found that the three-product section is easier for the selection. Altogether, considering the fact that you want to have standard-level protection at the lowest price, you should go for Kaspersky Antivirus.