When you need top-notch protection for your personal devices, Kaspersky offers three options – called as Kaspersky Anti-Virus, Internet Security and Total Security. While the first one gives basic functions of an anti-virus protection and other common threats, later two versions are advanced. Because of this, most people get confused when they need to choose between Kaspersky Internet Security Vs Kaspersky Total Security.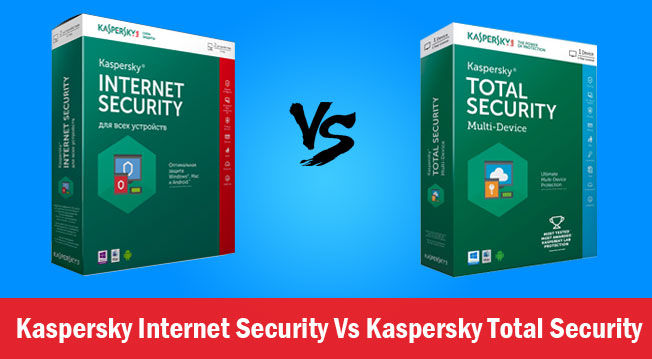 In this article, however, we are going to compare both these products from the common man's view point. So, in the end, you can decide the most suitable variant of Kaspersky Protection for your devices. We will discuss the extra features and similar stuff too.
Check:
Common Things between Kaspersky Internet Security and Total Security
The following features can be found regardless your choice. Some of the following features are available in Kaspersky Anti-Virus as well.
State-of-the-art protection from Kaspersky: You will be able to protect your computer from major threats as well as zero-day malware. It means complete protection from a lot of worries, like viruses, phishing, spam, adware etc. Kaspersky has one of the award-winning protection algorithms, for that matter.
Performance Optimization: When compared to other antiviruses, Kaspersky does not each much of your resources. In fact, you can move on without much memory-related concerns.
Simple UI: Throughout the setup and functioning of Kaspersky Internet Security and Total Security, there is the element of simplicity. All the features are arranged in an easily-accessible and understood manner.
One License for All Need: With a single license of Kaspersky, you can protect your Windows PC, Mac and Android devices.
Privacy Protection Features: These are included in both packages, such as online identity protection and anti-ransomware protection.
Parental Control: it's a great feature for parents who are concerned about their children. Using the simpler interface of KIS or KTS, you can know and control what your kids are doing in the world of internet. It's a new way of effective parenting, you know.
In addition, KIS and KTS can offer Money protection. This can be used during financial transactions. Quite effective they are in the long run.
Well, these are the common features you would find in Kaspersky Internet Security and Total Security. If the above mentioned features are your concern, it isn't necessary to make a selection.
Extra Features in Kaspersky Total Security
Yes, there are some additional features when you upgrade to the Total Security package. They are:
Safe Kids is a way of protecting your kids from the evil aspects of digital world. You can use this cool feature in your PCs and Mac devices. It restricts access and optimizes the internet experience to get your kids only the best.
Mobile Passwords is an innovative feature for managing information and storage. If you are using Kaspersky Security products on your Android device, you should be able to use this feature.
File Protection feature of Kaspersky Total Security is useful for almost all people. You don't have to worry about privacy and security of your photos or documents. There is quality-level encryption and other features.
The Aspect of Pricing
Another area where Kaspersky Internet Security and Total Security are different is the pricing factor. Now, we will have a look on the pricing tables for both variants. You can have 50% discount on Kaspersky with below mentioned discount links.
Kaspersky Internet Security is available for just $39.99 for its one-year protection license. You will be able to use the product in up to 3 devices.
Kaspersky Total Security has a price tag of $49.99 for the same protection for one-year. In this pack, however, you can protect up to 5 devices.
Check Kaspersky Discount Deals
So, by spending just $10, you are having the perks of extra device protection.
The Selection Process – Choosing Between Internet Security and Total Security
Now that we have compared the features and pricing, we will take the decision. In the first look, there are no major difference between Internet Security and Total Security variants. However, for at least some of you in the crowd, the features like Mobile Passwords, Digital Asset Protection are worthier than $10.
Check features comparison.
It needs to be noted that there are other sub-features you get in KTS. The list includes Automatic Backup, Password Sync, File Shredder, End-to-End Encryption, etc. These features are truly gold in this evil world of identity theft and other digital frauds. And, yes, we found the Safe Kids feature to be truly useful. We mean, almost all parents will need their kids to use the best part of web, that too quite securely.
So, if you ask us, we would definitely recommend going for Kaspersky Total Security. Price difference is just $10 and the amount is too low for the awesome features you get. If not for today, the mentioned features will be useful for you another day. At the least, Password Sync and Automated Backups are good for all.