On one hand, you have the in-built security suite, designed and developed by the same people who built an Operating System. On the other, you come across a popular antivirus program, noted for its effective set of features and better security options. So, chances are, you would be confused about picking the better one from the duo. That's exactly what happens when you come across Windows Defender and Avast. Simply put, it's a question whether you should install Avast or not, in your Windows-based PC.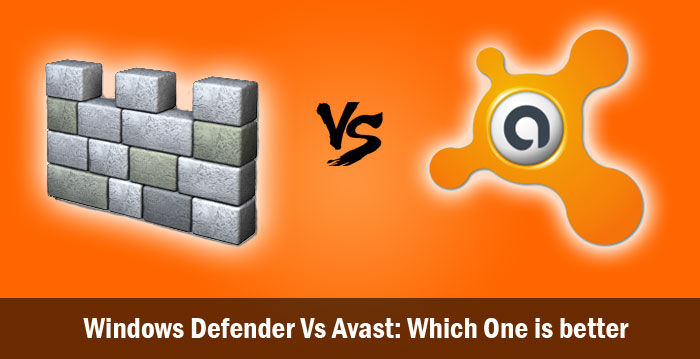 To put an end to this confusion – at least for common users -, we have decided to do a fully-fledged, side-by-side comparison of Windows Defender vs Avast. We think it's essential to have an introduction to both, for the sake of complete newbies.
An Intro to Windows Defender and Avast
You would probably know about Windows Defender, which can be called the default anti-malware and anti-spyware program in Windows PC. It's one of the good stuff that you get by default when you set up a brand new Windows PC, running Windows 8.0 or later. Earlier known as Microsoft Security Essential and available as an optional virus-removal solution, the utility is tightly integrated to Windows OS environments. With the dawn of Windows 10, WD is one of the features that Microsoft boasts about.
Avast, on the other hand, is a third-party antivirus program, available for Windows and other platforms. As of now, the program is available for a wide variety of platforms including Mac, Android, iOS and others. That having said, we will be considering the options we have in Windows category through this comparison. The idea is to get a clear overview on how it protects and impacts your Windows-based PC. Coming to the aspect of reliability, Avast is one of the best antivirus suites in the current market.
Pricing and Packages
Windows Defender
If we take the case of Windows Defender, nothing needs to be talked about pricing. It's completely free to use, given that you have a genuine version of Windows OS installed. It's a fully-fledged program in Windows 10 PC and goes hand in hand with other activities of the PC.
Avast Antivirus
For an easier understanding of the pricing structure, we can have a look at the Avast antivirus products that are available for Windows PCs. These are apart from the completely free Avast Antivirus package.
Avast Pro Antivirus is offering standard features like intelligent antivirus, Smart Scan, Sandboxing and Password Manager. All of these are available for an affordable package of $39.99.
Avast Internet Security is coming with advanced web protection features like Anti-Spam and Firewall. Plus, you get all the standard option. It is priced at $49.99 per year.
Avast Premier is the most advanced plan, available for just $69.99. In addition to all the features that have been mentioned above, you get Automated Software Updates and Data Shredder.
It's clear that Avast is following an effective pattern for pricing and feature allocation. You don't have to pay for features that you don't really want — it's as simple as that.
Protection
In this Avast vs Windows Defender comparison, this is where WD gets lowest points. If we take the case of zero-day threats and other issues, the detection rate is something around 89%. It is far below than industry average of 98%. That having said, Windows Defender showed a detection rate of 99.8% when it faced some widespread malware and other threats.
To be frank, even the free version of Avast Antivirus is better than Windows Defender, in terms of detection. This package would have no trouble in detecting 100% of zero-day threats, thanks to the regularly-updated algorithm. The rates are almost the same if we take the case of widespread malware threats. We think this helps you take the right stand about protection requirements and available choices.
Performance
In this area, however, things get upside down, and we are not surprised, either. Because, we know that we're comparing an in-built antimalware tool and a third-party alternative.
Windows Defender does not have a noticeable impact on the common performance of your PC. When we'd tried to open some popular websites and launch frequently used apps, there was no lagging either. Things were better in higher-end PCs, for that matter. Altogether, we would undeniably give a rating of 4.5/6.0.
Avast, being a third-party protection suite, has its own impacts on speed and performance. If you are running the antivirus program on a standard-configuration PC, you'd find the industry-standard slow-down. And, it's actually lagging down the frequently used apps. In short, the rating has gone down to 3.0/6.0.
Compatibility and UI
Of course, you cannot have the same Windows Defender protection in other platforms. It's exclusively built for Windows PCs and nothing else. On the other hand, if we consider Avast, it has a huge amount of devices that are compatible. As said earlier, you would find dedicated antivirus protection suites for PC, Mac, iOS & Android. Along with these, you can have utility-type software as well.
Windows Defender has over-minimalized its User Interface, as it has done with the feature section. Since it's not offering many worthwhile features, it's kind of senseless to talk about the User Interface. Avast, having a lot of features to offer, has designed all the products with the best UI in town. The results are, you would have a better scene with managing the antivirus program.
Features Availability
This is another area when Avast has an upper-hand in this Avast vs Windows Defender comparison. While it is clear that Windows Defender is offering standard protection, it lacks some standard features. For instance, there are not many scheduling options or modular structure for easier access. Also, some of you would say that the UI of WD is somewhat rudimentary for advanced users.
Avast seems to be the king of not just this comparison but the whole antivirus world if we take into accounts the features offered. From the basic sandboxing to effective password management and from Automated Software Updates to data shredding, a lot of modern security-oriented features are available in the Avast interface, and they're quite accessible for common users.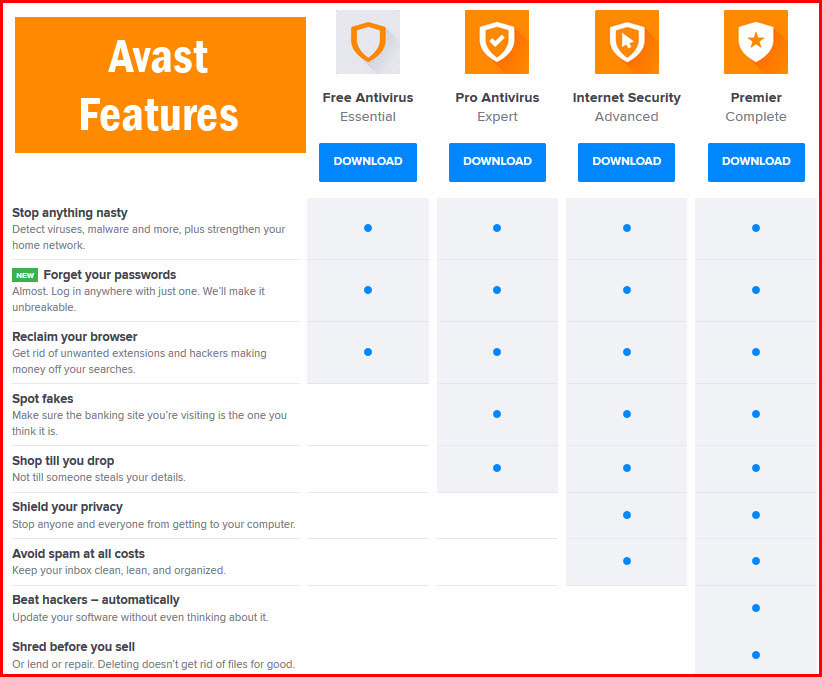 Bottom Line
It's clear that Windows Defender is offering only a standard layer of protection, and there are no advanced features — except for cloud-based scanning. That having said, if you need an antivirus that is deep into the OS, you can go for Windows Defender.
However, we would recommend going for Avast, as far as common users are concerned. There are a number of security features that are now essential for day-to-day digital life. In comparison, Avast would fulfill those requirements in the best way possible, thanks to powerful algorithms and well-designed UIs.