All-time Protection is one of the best features of having a Bitdefender Antivirus product in your device. It's indeed an awesome thing, because you don't have to worry about threats anymore. You may be playing some games, browsing web or doing something else — but there will be no compromise made in terms of performance or protection. If you are one of those people who spend most time online, you are exposed to more threats and frauds.
However, despite all the kinds of importance for Real Time Protection, there are times when you need to disable Bitdefender Temporarily.
When You Need to Disable Bitdefender 2016 Temporarily?
The following instances are when an antivirus suite becomes some kind of annoyance to you. At such times, you will have to disable Bitdefender Security on a temporary basis. It actually does not remove the antivirus suite from the PC. On the other hand, it's a temporary disabling for a particular span of time. So, you may need to disable the antivirus in these situations.
While Installing some Programs
You install a wide variety of programs in your Windows PC. Some of these programs require deep permissions while some of them don't. in case of the heavy programs, you may have to disable antivirus programs. As you know, Bitdefender is an impressive security suite when it comes to in-PC defence. So, chances are high that installation of some programs will not work unless you disable Bitdefender.
Yeah, you head us right. You may have to disable your antivirus product in order to protect some files from deletion. It's a matter of fact that antivirus developers try their best to come up with an impressive scanning algorithm. Algorithms are trying to find out the threats from a bunch of files. However, at certain times, even some legit files may seem as dangerous ones. And, as it happens, these files will be quarantined or deleted by the antivirus. To avoid this situation, you may have to disable the Bitdefender suite in your device. Nevertheless, you should be sure about the credibility of the file if you are opening it without anti-virus protection.
You are Doing Something Not-So-Safe
There are several things that are deemed unsafe by antivirus programs and algorithms. Suppose you are visiting a website that has higher chances of phishing or other frauds. Alternatively, you may be downloading some files from inappropriate sources on the internet. Rooting your Android phone? You won't take a risk of rooting application blocked by antivirus during the process, aren't you? While doing these stuff, you will see those annoying pop-ups from Bitdefender, because the tool is being concerned about your safety. To get rid of those updates, you can disable the antivirus.
How to Turn Off or Disable Bitdefender Temporarily?
Now, we go step-by-step into temporary disabling of Bitdefender.
Step 1:
You need to open the main interface of Bitdefender Security. There, there's a link to open Modules. Go to the link to do further.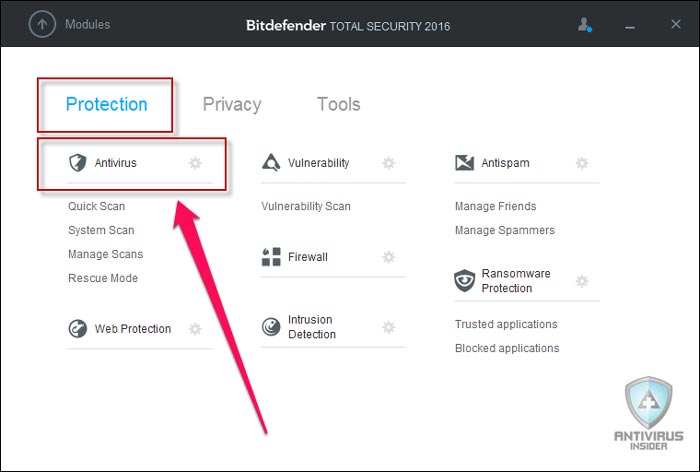 From the Modules menu, you can see a section named 'Antivirus'. And there will be a 'Settings' icon on the right. Click on that icon.
Step 2:
In the coming window, you have options to turn off antivirus features of Bitdefender. So, make sure that you disable the following two options.
On-Access Scanning
Active Threat Control
Step 3:
Now, you can see a pop-up window about time allocation. Here, you need to set the time for which you need to disable the antivirus protection. You can select a few minutes' span or disable the tool until you restart the PC. According to your requirement and purpose, you can select the appropriate span of time.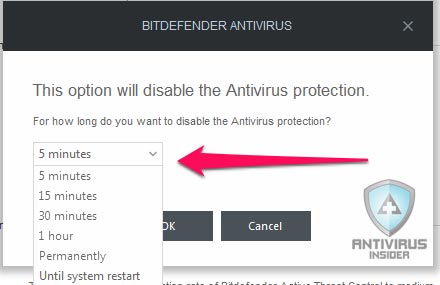 Step 4:
Now that you have disabled Bitdefender 2016, you should see the effect in the main interface of the tool. As you can see in the screenshot, it says you are AT RISK.
However, after you have finished the task, make sure that you turn on the antivirus protection back. When it's time to fix the issue, you can click on the Red button and follow the pop-up to re-enable antivirus protection.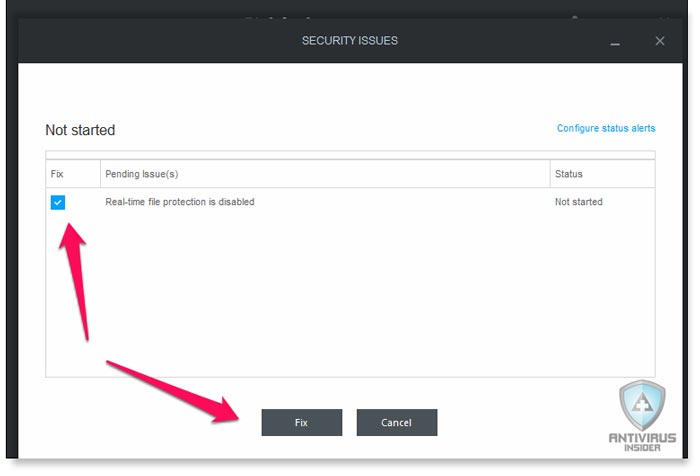 Wrapping Up
So, we have already told you why you need to disable Bitdefender 2016 in the first paragraphs. When you're ready to risk the state of being not secured, you can go and disable the service. That having said, you should not forget to re-enable the same after you have done what you wanted. We have also given the step-by-step tutorial to disable Bitdefender 2016 temporarily. We hope it helps you in the long run. As usual feel free to check out our Bitdefender coupons section, if you are looking to buy the product. 🙂