Despite being one of the best web browsers, Google Chrome isn't really perfect, you know. For instance, we hear about many complaints, such as overuse of resources and over-dependency on Google Services as well as products. While we think those things are common, there's another thing that we consider important: its proneness to adware. When compared to Internet Explorer or Mozilla, Chrome might be less vulnerable but that's still an issue to be talked about. If you are a careless internet user, your Chrome browser can easily be a hub for adware and other annoying stuff. In this post, we'll talk about how to remove adware from Chrome.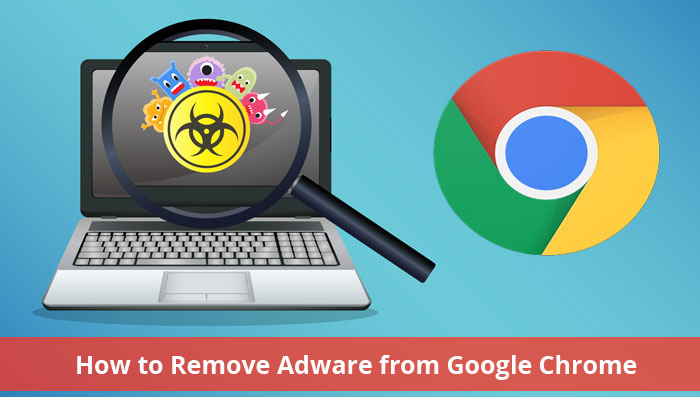 We'll be suggesting you a bunch of removal techniques; you can use them individually or collectively. To put it simply, most malware don't get really removed when you uninstall the corresponding component. There's a bunch of things required for in-depth cleaning of Chrome. What we would recommend is to use at least 2 of those recommended methods, so as to keep things secure. Before we move onto the actual steps to get rid of adware from Chrome, we will tell you about Chrome adware and how you can identify their presence. Shall we start?
Adware Infection in Chrome and Symptoms
We believe you know what an adware is. It's a type of malware that shows annoying advertisements in your computer or a particular application – in return for your privacy and security. In this case, we are talking of the adware that focus on Google Chrome browser. When compared to other browsers, malware infection in Chrome is easier to be identified. It's mostly because Chrome has a simple User Interface, without really giving space for toolbars or anything. If you think your browser is infected with adware, you can easily spot the following symptoms.
One of the common symptoms is the changes made to New Tab page. Instead of the clean New Tab page, you will be seeing a pile of annoying ads. It might even become a new level of tough task when you want to start with another tab. If you didn't install any extension voluntarily – for instance, there is something called DayBoard that transforms your New Tab page into a kind of to-do list -, you can figure that you're in trouble.
When compared to the old times, it will take 5x or 10x time to launch Chrome browser. Even when the window is open, you'll still need around a few minutes to settle down everything. It's because a lot of resources are being used by the adware. This is going to be quite annoying you know. The same loss of speed will be visible while you're browsing the web too. Cut the story short, you'll spend more time waiting than actually doing something on the web.
Your default search engine will not be Google, or Yahoo or Bing for that matter. Everything will have changed, bringing more and more mess to the browsing experience. In fact, we've seen people who'd use the damned search engine, find Google from the result and use Google after that. How bad their life would be, right?
If you have seen these issues, you can almost confirm the presence of adware in your Chrome browser. And, in that case, you can follow the steps we're going to cover below. Shall we start?
The Must-Do Part – Remove Adware Extensions from Chrome
Unless your system is deeply infected, there's only a common way adware gets into Chrome – extensions, add-ons etc. You might have installed some extensions on your own or it might be bundle-ware too. That is, when you installed another so-called free program, an extension would be installed in Chrome. We've seen some precautionary methods in enabling extensions, but there's still chance of infection. So, suppose you've already been infected by some adware. What to do next?
Step One
First, we need to have a look at the list of installed Chrome extensions and remove the malicious ones. There are a few steps involved in the process.
Open Chrome Settings by clicking on the three-dots icon on the right-top side.
From the upcoming menu, you have to choose More Tools.
You can see a sub-menu and you need to pick Extensions from the menu, to move forward.
Soon, you can see the page of Chrome extensions. There'll be the complete list of extensions that are installed in the system. The list includes active and inactive ones as well.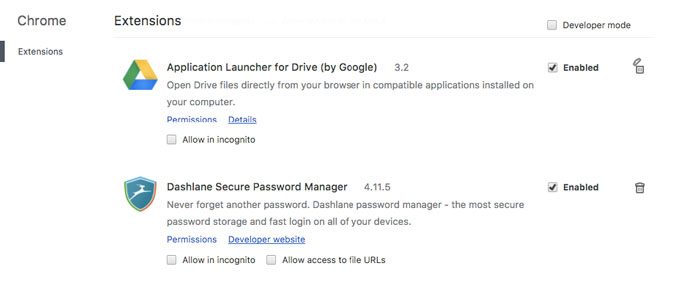 Now that you're in the list, a serious scrutiny is required. Check each extension and see if you could recognize all of them. If there is something fishy, take a look at the Permissions they have from the system. In most of cases, those malicious extensions will have full control on your web browser. Don't worry if you're confused about the credibility of an extension.
We talked about the common symptoms above, didn't we? What you can do is disable the dubious extension and see if the problem persists. If you think everything is back to normal, you've found the culprit. In certain cases, there will be a system-level component too. You can trust your memory to recall when all the issues started. Then, simply remove both of them from your system.
Removing the extension from Chrome is an easy task. In the same page you're in, there will be an icon next to each extension. Click on the Trash icon to remove the extension from your Chrome browser. It's lot simpler than you expected, isn't it?
Step Two
Just because you removed the malicious extension, you haven't become ultimately secure. To make things a bit more secure, you can restore Chrome settings back to normal. To do that, just follow the steps we have covered below.
Open the Settings menu from three-dots
Choose the option named Settings from the list
In the upcoming page, you can see many options. Scroll down and click on the Advanced
There will be a section named Reset and click on the Reset option
You will see a prompt that asks you whether you want to clear all Chrome data and disable all those extensions you have installed as of now.
Click on Reset button and everything will be back to normal, as if you just downloaded and installed Chrome for the first time. This step is done because the malicious extension may have made some system changes in Chrome. For instance, the homepage would have changed. So, instead of resetting all these individually, you can rely on this all-in-one Reset button.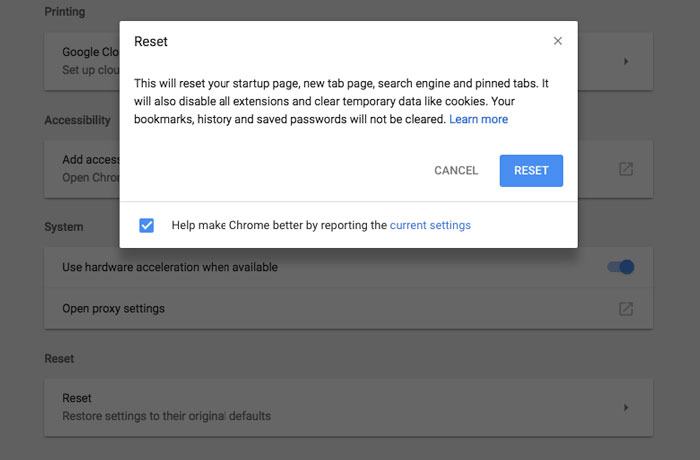 By now, you would have cleared almost every trace of the adware from the Chrome browser. There are also some other complementary methods. We'll cover one, in case if you're interested.
The Complementary Part – Removing Adware from Your PC
As we said earlier, Chrome adware is often accompanied by some components in the system as well. So, it's highly advised to remove those components for your own safety. Here, however, you cannot simply go to the programs list and remove a particular program. Because adware are so good at hiding themselves, you'd need the help of a third-party adware remover program. The program we recommend is something you may be familiar with – Malwarebytes Anti-Malware.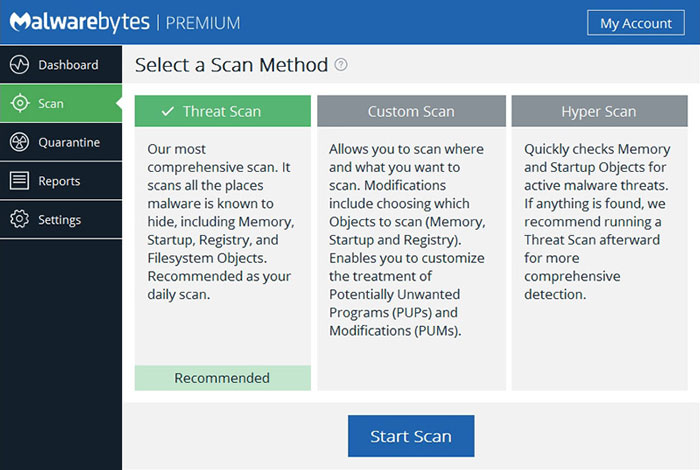 As you might have guessed, Malwarebytes Anti-Malware is an all-in-one solution for malware removal and anti-malware protection. Potentially Unwanted Programs are also included in the category of malware. So, it is possible to run a scan and see if there are some adware in your computer. It's pretty easy to use and takes just a few minutes for complete scanning. Once you are done scanning, you can go ahead and remove the adware from the system, if any.
Just like the title says, it's a complementary step, which you may skip. However, if you're trying to have one smooth and easy working environment, this step is highly recommended.
Let's Wrap Up
So, this is basically how you can remove adware from Google Chrome. As you can see, we haven't used any third-party programs for removing purpose. You need to count on your digital knowledge and observation to understand and remove the malicious extensions, and thus adware. It's up to you to use complementary part of steps, but highly recommended.