Let's get into the game without much introduction stuff. Bitdefender and Panda Security are two trusted as well as popular names in the world of antivirus solutions. Both have a clear track-record of excellence and a huge user-base. So, we won't get you wrong if you are confused in the Bitdefender vs Panda Security for PCs running Windows or other devices. To help you get over that confusion, however, we have created a fully-fledged comparison between both antivirus suites.
We can talk about both antivirus software, their pricing, packages, features and other aspect. So, when it comes to the end, you would know what to choose as well as how to choose the best one for your needs.
Bitdefender and Panda Security
Bitdefender was not an early-name in the world of antivirus software and digital consumer security. It's been in the industry for a few years, with a clear track record and a regularly-growing user-base. You can find both personal solutions and business solutions from the developer – both of which are updated. If we take the case of consumer sector, for instance, we will spot Bitdefender Security 2017 packages. Of course, it's offering the freedom of selection for all, thanks to the variety of products for every platform and need.
When compared to Bitdefender, Panda Security is quite older — having started its journey back in 2000. The fact does not have an impact on the user-name though. In statistics, it's clear that Panda Security has fewer users on a global scale. Despite that, most users of Panda Security products are impressed by its service and features. That is one of the reasons why Panda is compared with Bitdefender. It's also noted for simple UIs, innovative features and the user-friendliness in the whole system.
Bitdefender vs Panda Security – Plans and Pricing
For easiness of comparison, we will consider the different products available for Windows PCs.
Bitdefender
Bitdefender offers three different antivirus security packages in the PC section. These are apart from a free-to-use version. Each of this packages have some newer features when compared to previous one. Its pricing details are as follows.
Bitdefender Antivirus Plus 2017 is the basic version of Bitdefender protection, giving you anti-virus & anti-malware protection. It's available for $59.99 per year.
Bitdefender Internet Security 2017 offers a bit more than previous version. The focus here is on the various web-based threats. You can get it for just $79.99 a year.
Bitdefender Total Security Multi-Device is the most advanced version, with options for high-end security and speed and performance optimization. With this package, you can protect your PC, Mac and Android. It will cost you $99.99 every year.
These are how the pricing plans of Bitdefender are distributed. In addition to these packages, you would find Bitdefender Box and Family Pack. Good news is that we have discount coupons for Bitdefender where you will get all of the above products with 50% discount.
Check Bitdefender Discount Deals
Panda Security
Panda Security also has a three-layer structure for their antivirus protection products. You can follow this simple order, according to the level of protection you need.
Panda Antivirus Pro is the basic version. You can have baseline protection from viruses and other malware. It's available for around $12 every year.
Panda Advanced Protection brings the benefits of additional web safety and support for unlimited number of devices. It's suitable for those who spend a lot of time online. You can buy it for ~$15.
Panda Complete Protection add some ultra-level features like Online Payment Protection, Parental Controls and some other perks. The pricing goes up to around $21.
Check Panda Security Discount Deals
This is how the pricing structure of Panda Security products works. Pricing plans and truly competitive and is suitable comparison for Bitdefender products. We think we are all set with the pricing structure here. Also, it should be noted that Advanced Protection and Complete Protection offer unlimited device support. You can always try our Panda Security coupons. Panda also offers a monthly subscription plan for all these antivirus package – in case if you are interested.
Performance and Security – Compared
We know this is quite essential in the Panda Security Vs Bitdefender Security comparison. We have gathered information from our own experience and the well-known AV-TEST for a bulk result.
Bitdefender does not make a single compromise when it comes to protection and security. It has 100% rates of detection for both prevalent malware and zero-day threats. Also, the usability aspect of Bitdefender is lot more commendable than the other. You will never be confused by the UI or navigation. Last but not least, it is one of the popular antivirus that doesn't slow down your computer, for any reason. Whether it's copying files or opening heavy apps; Bitdefender won't make the process less smooth.
Panda Security also has some strong algorithms for detection. However, the detection rates are low when it comes to the case of zero-day threats. So, if your computer is infected by some new type of malware, Panda may not detect it. Also, when compared to Bitdefender, the performance score is very low. It means that you may see some bigger slowdowns in the course of time. So, we have more reasons to recommend former over latter choice.
A Take on Extra Features
Since both Bitdefender and Panda are offering some extra features, they should be considered collectively.
It's a fact that Panda Security offers some cool features like financial protection and ransomware protection. In the end, however, execution of Panda does not feel well. That is, you may have some trouble in using all these features in a utilitarian manner, if not for the simplicity. So, we weren't really impressed by the extra set of features in Panda Security
Bitdefender gets the job done in this area as well. Every feature that is offered — be it Safepay or something else — has been arranged so well. We had no trouble in accessing these features, either. Another awesome feature we found in Bitdefender Security is the cloud-based Bitdefender Central. It's a superb thing to have access to your PC and Antivirus from any part of the world.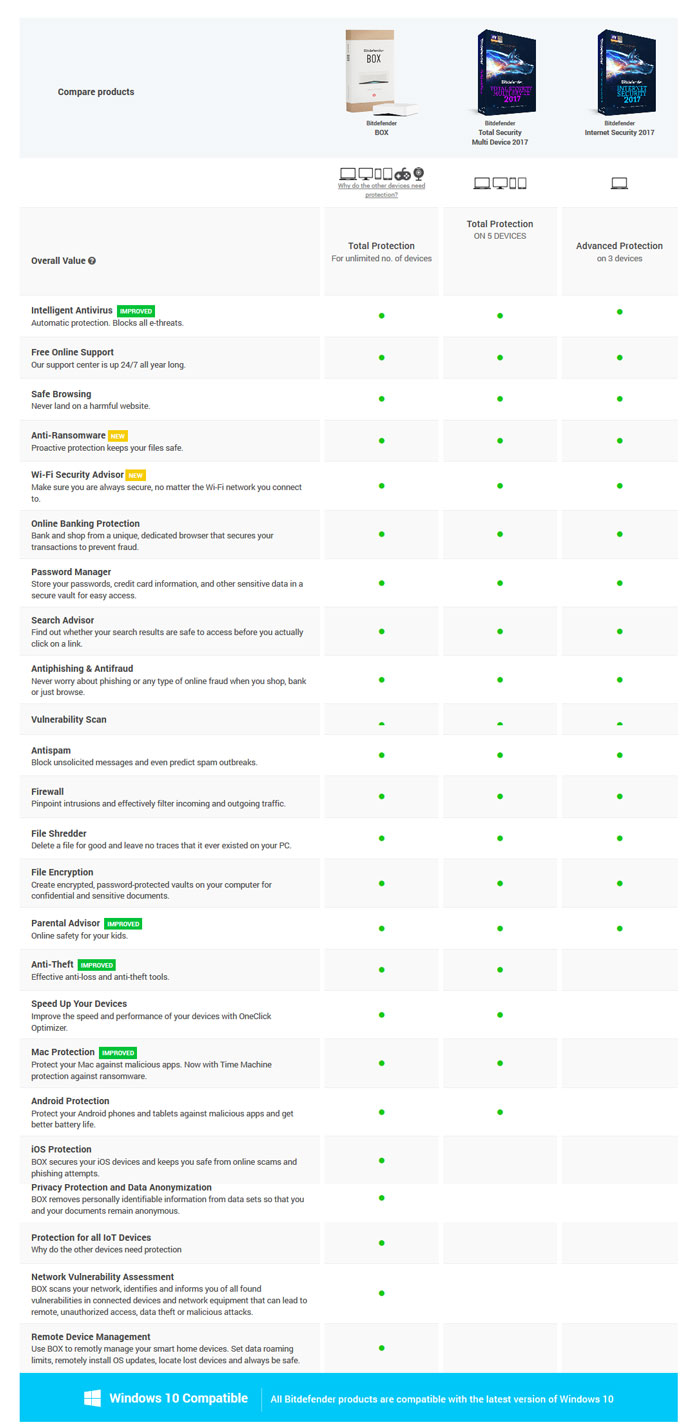 Bitdefender Vs Panda Security – Let's Sum Up
Now that we have compared the different aspects of both Bitdefender and Panda Security, let's take some decisions.
It is a fact that Panda Security products are much affordable than Bitdefender counterparts. However, main objective of getting a premium antivirus is the complete PC protection. And, this is where Panda Security will take you down. It's not good when it comes to malware detection or PC performance. On the other hand, it is possible to find a more stable performance in Bitdefender Security products. It works well against major and zero-day threats alike. And the problem of pricing can be wiped off if you can use one of the Bitdefender coupons from web. So, in the long run, we have more reasons to recommend Bitdefender Security products than those of Panda. It's ultimate security that we always recommend, you know.