We have explained the difference between viruses and malware for more than enough times. By now, you'd be convinced that you need to simultaneously run an antivirus program and anti-malware program for best security of your devices, particularly PCs. If you store or access something important via your PC, it's essential to think about the threats and remedies. Unlike most of you think, malware protection isn't really costly. In fact, you don't necessarily have to pay something if you want to protect your PC from the common malware threats out there.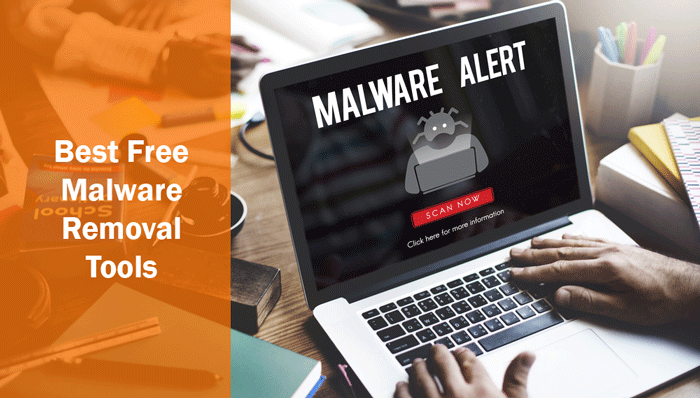 If you have a quick look, you can find many tools that let you remove malware and protect your PC from the further threats on your way. For the time being, let's refocus our attention to malware and their removal. In case if you didn't know, there are a few things that make malware different from the common viruses you've seen. We'd say the main difference has to deal with the Modus Operandi. Unlike virus attacks, malwares are so good at hiding themselves that you can't detect them with your naked eyes. In other words, you cannot simply go and detect the presence of malware, not at least until you're infected.
This is the reason why we need to talk about malware removal and the several techniques that are involved. In this article, we have created a comprehensive guide for dealing with malware and their removal. First, we will tell you how you can detect the presence and remove malware from an infected device. Then, we share a list of the best free malware removal tools you can grab in 2017. It's highly recommended that you have a clear idea about the working methods of malware before you try to remove it. Although we are suggesting some manual malware removal techniques, the easy option is to go for malware removal tools.
It's your call, but anyway, we can start with a short introduction to malware, their detection and removal.
Malware Attacks and How to Detect the Signs of Infection
Compared to the old days, malware and malware attackers have become so smart. Today, they have their focus on making the attacks undetectable until the point of ultimate infection. Suppose we are talking about a ransomware attack. The user would not know a thing until the system has been encrypted and the attacker has complete control over the device. The same case goes for other types of malware as well. To accomplish such a silent kill, malware will disguise itself as something useful. For instance, your existing antivirus might see the malware as an anti-malware program itself. At the least, the malware prevents itself from being seen by the naked eyes of the user. That having said, any malware would be performing some tasks in background. And, that is why you need to look out for symptoms if you want to detect the presence of malware attacks in your PC or Mac.
We have listed below the common symptoms of malware attacks. You can see if your system is showing any of these issues. If it is, it's high-time that you should try to find out and remove the malware and stay safe. So, the possible symptoms are:
Once you are infected, you will be able to see a bunch of pop-ups and security-based warnings from unknown programs. They look really scary and want you to install some security suites or something else.
Most malware attacks can mess up with your web browser, depending on the default one you would be using. The least changes include changing of Home Page, customized New Tab page and a lot of ads that appear on each sides of the page.
If you have been seeing a lot of toolbars and features that you did not install, you can almost confirm that you have been infected. In most cases, these toolbars are seen in web browser interfaces and file explorer utilities.
Continuous Crashing of your system is another symptom of malware attacks in your computer. It has been a common symptom, because the malware is working in background, thus consuming a lot of resources and messing up with system files.
If you are active on the Internet and social media, you can always see the symptoms in your digital wall as well. Malwares try to take control of your accounts and share updates with links and all.
This is a multi-browser system, but you will be constantly redirected to some particular websites any time you try to access something. It's simply because the hacker has a kind of complete control over your system and he/she can make the right changes to trick you into doing almost anything.
It needs to be noted that the abovementioned symptoms are seen in computers only. If we take the case of mobile devices that have cellular connectivity, the chances of loss are way too high. Most of the malware try to take control of the SMS and Calling apps so that the attackers can earn money by making certain calls and sending messages.
So, if your system is showing many of these symptoms, you have enough reasons to check for malware and remove them if you find anything. You can read along if you think your system is infected. We can tell you a few effective methods to remove them from your system and start afresh.
How to Remove Malware from an Infected System – Malware Removal Tools
Yes, as we said, we are using malware removal tools for rescuing an infected computer from malware and a few other threats. You might be wondering how these programs work. So, before we begin the list of best malware removal tools in the market, we will give you a short intro to this type of programs.
Malware Removal Tools – an Intro
To get the proper idea, you should know that malware removal tools are different from anti-malware suites. Of course, you might find some common features and options in both. Malware Removal Tools are used to detect and remove malware infections from an existing device. It comes with deeper scanning technologies and algorithms to find even the most hidden malware from different parts of the device. They are dedicated solutions for rescuing your computer from ransomware, spyware, adware and a lot more. So, if you think a system has been thoroughly infected with some serious malware, these tools are the best way to remove.
You should never confuse these programs with anti-malware suites, which are almost like antivirus programs — in a sense that they are made to protect you from malware, and not just viruses. Now that you are clear about these programs, we will tell you about the best free malware removal tools.
Best Free Malware Removal Tools in 2017
Now that you have an idea about malware removal tools, it's time to pick the right ones from the huge list. Just like the case of antivirus programs, there are many malware removal tools you can get for Windows and Mac. For using these programs, you don't have to uninstall or disable your existing antivirus. They are made to work alongside, because their main objective is to clean the existing system from possible malware threats including spyware and ransomware. However, you cannot expect many high-end features in the package. To take an example, there won't be any scheduled scanning feature to boast about. If you are okay with all these restrictions, malware removal tools are a better way to rescue your computer — rather than doing an all-new Windows installation or system reset.
Then, shall we move onto the list of the top free malware removal tools?
Malwarebytes Anti-Malware is one of the most effective solutions that you can use for malware removal as well as anti-malware protection. It's been projected as an effective alternative for the major antivirus suites out there.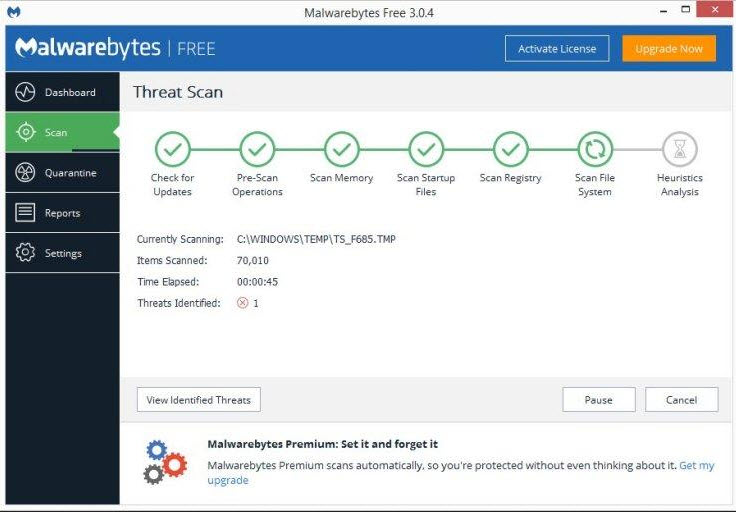 Apart from cleaning existing malware, Malwarebytes Anti-Malware works as a real-time system protection program as well. You can get web security, which is the protection from phishing and all. However, the real power of Malwarebytes Anti-Malware comes with dedicated anti-ransomware protection.
In a nutshell, Malwarebytes Anti-Malware will work as an additional security suite for your system — going fine along with the existing antivirus program. Malwarebytes is available as a free trial, but you can always do the upgrade and get all the features.
At least some of you would be interested in detecting malware from your system, without having to install a third-party program. if that's the case, you can go for this online scanner from Trend Micro Housecall. It's a webpage that can scan your Windows PC or Mac for a wide variety of malware and get you reports.
All you need to do is to visit the official website of Trend Micro Housecall. Despite being a simple tool, you've options for customized scans and for restoring files. Being a standalone system, you don't have to worry of compatibility either.
Trend Micro Housecall claims that it can take care of even the serious threats out there, including rootkits. By the way, if you are interested, you can check out the other tools from Trend Micro, some of which online and other, offline.
Zemana Antimalware is another freemium solution to keep your system safe from malware. You can either download the software for free or purchase the premium version. Apart from dedicated malware removal, a bunch of security features are also offered by this suite.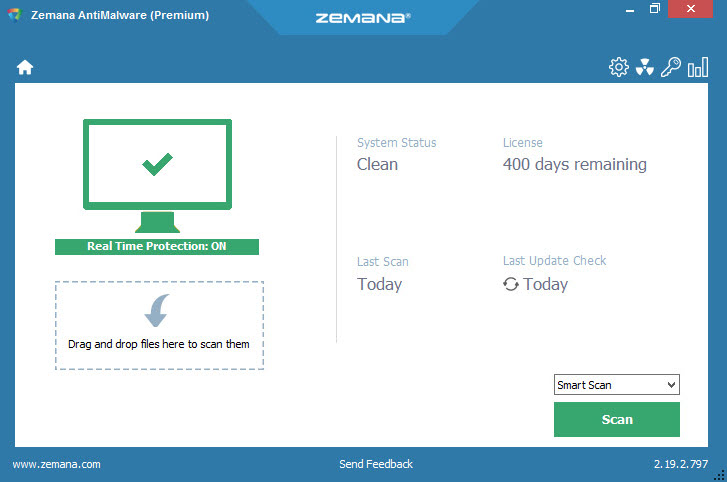 On top of everything, Zemana Antimalware offers an incredible scanning speed that is multiple times faster than common antivirus programs. To this, we can add the benefits of real-time protection as well as browser cleanup.
Another pronounced feature you'll love in Zemana Antimalware is named Ransomware Protection, which is undoubtedly today's need. Considering all these points, this lightweight antimalware solution is just-right to ensure the best safety for your data and devices.
Technically speaking, HitmanPro isn't a free malware removal tool. However, at times of necessity, you can use the free trial of HitmanPro for detecting and removing a wide bunch of malware from the system. Once you install the program, you can have the fully-fledged free trial for 30 days.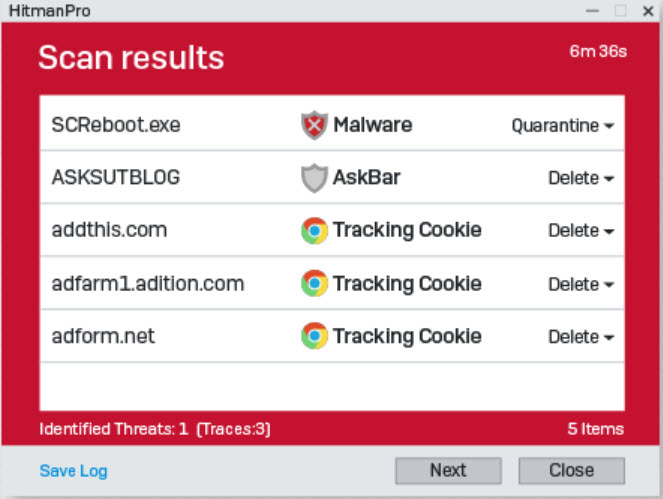 Talking about HitmanPro, you should give the first priority to the performance aspect. It makes use of AI and behavioral detections to offer the best layer of security for the protected devices. You should also keep in your mind that HitmanPro comes from Sophos Labs.
So, when HitmanPro comes across a malware-based threat, it will be compared with the huge database from Sophos Labs. And, we must say that the program is too cunning in removing the malware without making a single damage to your data, software or hardware.
Panda Cloud Cleaner is actually a multipurpose toolkit for cleaning your PC from a wide variety of threats. It should be noted that Panda lets you choose the convenient version according to your requirements. The list includes Standard version, Portable version, USB Scanner utility and Cloud Rescue Risk.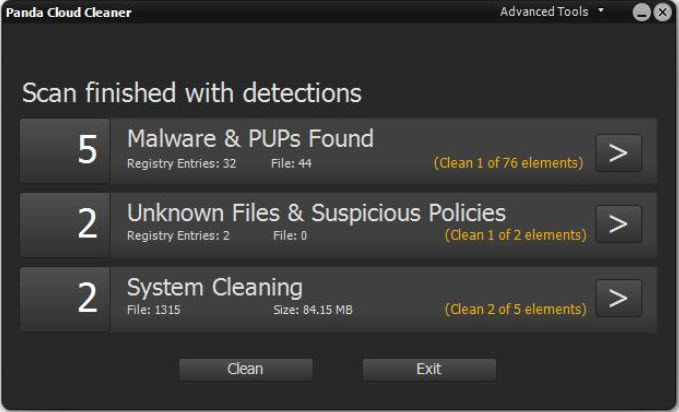 As far as common users are concerned, you can use the standard version of Panda Cloud Cleaner, which uses powerful algorithms for threat detection and removal process. For those who are not familiar, Panda is one of the best choices in the world of antivirus security.
If you just want to scan your system in a thorough manner and get rid of the common malware out there, it is highly recommended. The software does not come with any bells or whistles, but the simple UI makes all things easier than you expect.
Wrapping Things Up
We believe we have covered everything you should know about malware attacks, symptoms and some truly effective ways to remove such threats from your device. If you think we missed something, make sure that you let us know through your comments. Also, make sure that you choose one of the best malware removal and anti-malware programs for your own safety and privacy.