Everyone hates virus infections. They cause loss of data, time and effort. But, most of the viruses are curable if you have a good anti-malware software installed. At the least, you can use some manual methods to get rid of the viruses from your PC in the end. Nevertheless, there are some particular malware that affects the booting process of your computer. Shortly, you won't be able to access your computer properly and that's the nastiest thing a virus can do.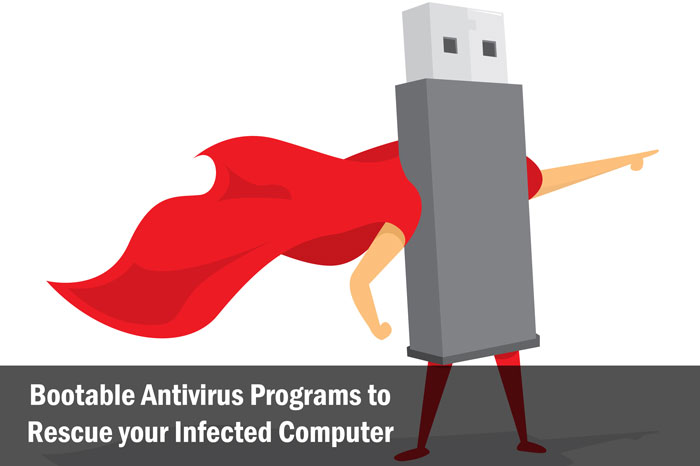 But, don't worry, there is an effective solution to get you out — Bootable Antivirus Programs. As the name says, bootable antivirus can be booted up and used even before the OS is loaded. That is, if there are some virus that impacts your booting process, you can clear those malwares from your PC.
Using these rescue discs are pretty easy. These files are available in .ISO format and you can easily write them into a CD / DVD. Alternatively, if you prefer that, you can create a bootable USB Drive and load it while booting. Either way, you will be able to remove the causing malware from your infected PC.
In this article, we have a list of the best bootable antivirus programs you can use to rescue your infected computer. Shall we get into the list?
Bitdefender Rescue CD is undoubtedly one of the best bootable antivirus programs. It's a completely free rescue CD you'd find in web and there aren't much limitations either. The most important aspect of the Bitdefender Rescue CD is the size of package. You need to download around 700MB to get the ISO file to get the job done. That having said, Bitdefender is bringing the best anti-malware and malware-removal algorithms to the rescue disk. It's powered by a Graphical Interface and you can remove malware easily. Also, when compared to the other bootable antivirus tools out there, Bitdefender is offering better customizability as well. For instance, you can use the Advanced Scan options to control what the bootable utility is scanning.
AVG, as you know one of the major developers of popular antivirus solution, is offering a minimal yet impressive solution to have access and repair your infected computer. One thing to be noted here is that AVG Rescue CD does not come with a Graphical User Interface. On the other hand, it's more of a traditional dialogue box that does things. However, with file size of just 170MB, anyone can get this bootable drive ready in a few minutes. That having said, AVG Rescue CD has a cool set of features as well. First of all, you can update the virus definition either using Internet or via offline files. Similarly, it has customized scanning options. If you want to exclude or include certain areas, you can set that up in AVG Rescue CD. Still, the lack of GUI can be an issue for most.
In our previous articles, we had talked about ransomware and how they destroy your data and make your PC inaccessible. So, there are times when you are not able to boot up your PC due to the ransomware attacks. At such times, you can use the HitmanPro Kickstart for fixing the errors and re-accessing the device. In fact, it isn't fully-fledged bootable antimalware program to use. However, if you are not able to boot up your Windows PC due to ransomware attack, you can load the HitmanPro Kickstart from a USB drive and deal with it. You can download this easy-to-use utility from the official website and the file size is just 10MB. We repeat, HitmanPro Kickstart isn't for virus removal, but for ransomware removal.
You may be familiar with the Comodo Antivirus solutions, and they are offering a Rescue Disk as well. Using this disk, you can repair and clean malware-infected PC. It is meant to clean viruses, problem-causing registry keys and rootkits etc even before the actual boot-up of the device. Despite having to create a bootable device and boot the software, looks and feel of Comodo Rescue Disk is similar to the actual software. So, you won't have any problem when it comes to protecting the infected PCs from further damages. Indeed, it comes with a bunch of features, such as different scanning types, automated updates, support for online and offline updates, smaller download size etc. nevertheless, some people find it to use the tool for scanning particular folders or files.
Yet another virus scanner, this bootable utility comes with a bunch of cool tools for better protection of your infected PC. the best part of Dr. Web LiveDisk is the advanced level of customizability it offers. When it comes to finding & removing the infected stuff, there are a lot of options you can select. For instance, if you want to detect some adware stuff only, it can be set as the preference via Dr. Web LiveDisk interface. Thanks to the simplified User Interface, you won't have any issue in setting up the bootable setup ad moving on. In addition to these features, Dr. Web LiveDisk comes with a bunch of additional utilities too. Though you have to download around 600MB to create a bootable Dr. Web LiveDisk, it's worth the effort.
Last but not in the list, we have Trend Micro Rescue Disk, which is another user-friendly bootable antivirus program you can count on. It is meant to thoroughly examine your computer even before the boot-up of Windows OS. So, if there are some viruses, Trojans, ransomware etc that impact your computer booting, Trend Micro Rescue Disk will help you detect them in no time. When compared to the other bootable antivirus programs, the size and setup of Trend Micro Rescue Disk is pretty low. You can use almost all drives to get the most out of the utility. Also, it needs to be noted that the UI is equally awesome for common users.
Concluding
So, these are six best bootable antivirus programs you can use to regain your infected computers. Some of these will help you in dealing with a variety of malware, such as viruses, Trojans, rootkits etc. On the other hand, if you go with something like HitmanPro Kickstart, it's a dedicated solution to protect your device from the impacts of ransomware. Although there is no absolute surety, these tools may help you in the time of crisis. In case if you didn't notice, all these are free to use.