Today, thanks to globalisation, global media and the right investments, sports culture in India is booming. But, let us for a moment go into the past of the country to find out how deep roots does sport have in Indian society.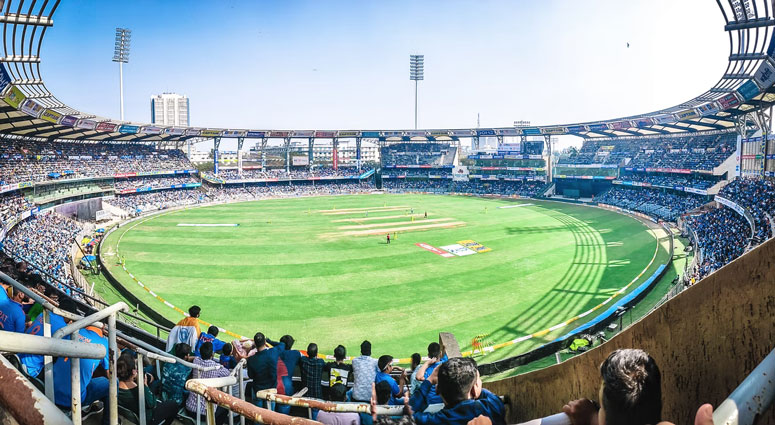 Historians estimate that Indians started practising sports activities around 8000 years ago when the Indus Valley civilization appeared. During this period social games like chess and dice were played.
Origins
We can find the first signs of sporting activities all the way back in the Vedic age. Somewhere from 1900 BC and 7000 BC, also known as the Ramayana and Mahabharata era, noblemen were expected to have certain sports skills. Activities like hunting, horsemanship and archery were a part of everyday activities.
In this age, there are written documents like the Mahabharata, that mention games like dice. And of course, it is believed that the world-famous chess originated from the Indian region. Another written text about sports in India comes from two Chinese travellers. Fa Hien and Hiuen Tsang have made notes about popular sporting activities of Indian students. They mentioned sports like running, swimming and even ball games.
British Influence
Fast forward to 1721 AD, when British sailors introduced most of the sports in India that we know today. The process started with British sailors and continued with British soldiers. The first sport that the British brought to India was cricket.
Cricket
The rise of cricket as a sport in India started when British soldiers organised the first cricket game on the country's soil back in the 1700s. Little did they know that this match played in Cambay would be a culturally defining moment for Indian people.
The sport has such an impact on the Indian population that it was even used to affirm British supposed superiority and help them strengthen their rule. With this said, there were some pioneers that were doing everything to make cricket India's sport. A couple of decades later, Indian elites were practising cricket in schools and in 1792 the first Cricket team on Indian soil was formed.
As we see today, those pioneers we mentioned achieved more than they ever hoped for, as India has become the biggest cricket nation in the world.
Football
Football came to India some hundred years after cricket, when British soldiers introduced it to the sub-continent. The first recorded football matches in India were played between army teams and after some time a number of football clubs were formed. Some of these clubs are even older than FIFA.
It is not that well-known in the rest of the world, but India had a golden period when it came to football. In the 1950s and the 1960s, India managed to compete in a number of international competitions. The pinnacle of this period were wins at the 1951 and 1962 Asian games. In 1956 India also became the first Asian nation to make it to the top four teams in the Olympic competition.
It had to pass 40 years after this success for the first official Indian football league to be created in 1996. And ten years after this the Indian Super League was formed, a competition that has had a huge impact on the popularity of the sport in India.
Modern times
In the last couple of decades, sports like football have been gaining popularity. This has resulted in positive gains for the Indian sports economy. The country authorities have seen the impact of the Indian Premier League on the country's economy and decided to replicate this formula to other major sports like football (the mentioned Indian Super League), volleyball, hockey, and kabaddi.
With the approach of private leagues, they made a positive impact on the popularity of these sports and the numbers back it up. For example, the Pro Kabaddi League had over 1.2 billion impressions. It all points out that these leagues will play a vital role in the rise of popularity of these sports.
Betting on cricket
In every other country in the world, with the rise of sports inevitably comes the rise in sports betting, and India is no different. In the last couple of years, more and more Indians are participating in betting activities. And with the country's strange betting laws, more and more players are going online to place their wagers.
This is mostly true for cricket bettors, as the Indian government and most of the provinces have a strict "not allowed" policy when it comes to placing bets on cricket in gaming houses. On the other hand, the rules are not so clear when it comes to sports betting via the internet.
Aside from being the only way to bet on cricket, online betting is more convenient and more accessible. To place a bet on a cricket match Indians only need two things: a solid connection to the Internet, and a cricket online betting app. If they have these two things, they can place a wager on a cricket match wherever they are.
In regards to land-based gaming houses, online bookmakers also offer other advantages to bettors like:
Speed – bettors can place a wager on a sporting event in a matter of minutes without standing inline
Promotions – there are promotions constantly running on online betting apps
Security – online betting sites offer secure, safe and verified payment methods
In-play betting – online bookmakers offer in-play markets sporting matches
Fast bet settlement – bets placed on online sites are settled only minutes after the match has finished
Cashouts – if players think a match will end unfavourably for them, they can cash out their bet
Conclusion
One look into the country's past and you can immediately notice that India has a long sporting tradition. From the early mind games like chess and more physical competitions like archery, swimming and wrestling to modern sports like football and cricket, Indians have practised it all.
In recent times, one thing goes hand in hand with sports in India, and that is sports betting. Indians are moving from more traditional ways of gambling and betting to the more modern ones and with good reason. There are almost no advantages to the traditional way of betting and Indians are starting to realise that.