It's no doubtful thing that Bitdefender offers best security solutions for both Microsoft Windows and Macintosh! Even as we say that Mac needs no extra protection, an extra layer of protection is always worth the effort. That's why people love to have Link Protection, Shopping Protection etc in your Mac, by using Bitdefender Security Suites for Mac. With the launch of Multi-Device packages, Bitdefender has kept things simpler. According to the current scenario, you can have protection for multiple devices in a single package. Practically speaking, you are spending the same amount you needed to spend for single-device package. Nevertheless, you will be able to get security suites for Windows, Mac and Android. Don't you think it's awesome?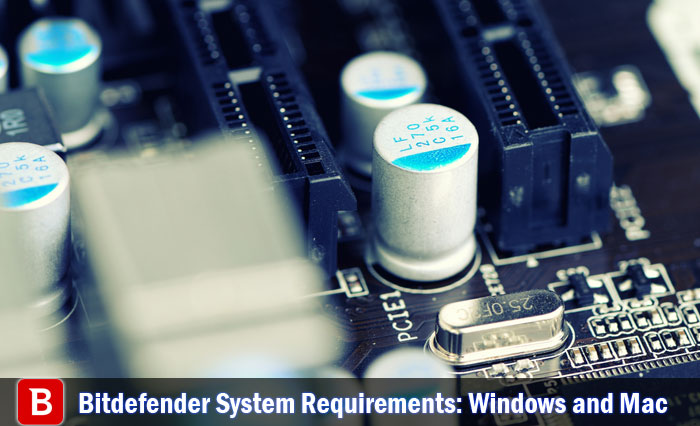 Apart from the affordability factor, there are many reasons why people opt in for Bitdefender products. One of them is its clear use of stunning technologies. For instance, there's Bitdefender Photon that analyzes your system configurations and takes necessary security decisions. At the same time, for those who don't know much about security, the Autopilot feature of Bitdefender is worth what you pay. Despite the richness of feature, Bitdefender has succeeded in maintaining a touch of minimalism throughout. If you take a look at the UI of Bitdefender Security Suites, you can understand how simple and classy it is. So, it's indeed a worthwhile reason why you should prefer Bitdefender to others.
The Scene of System Requirements
Well, there's a common issue we find in antivirus software out there. Either, they consume a lot of resources from your PC and cause slow down. Or, these solutions have very huge system requirements. In case of system requirements, this is the star. You won't have the issue of over resource consumption while using Bitdefender products. And, as it can be seen, Bitdefender has taken care of the System Requirements too.
Of course, Bitdefender products have minimal system requirements when compared to other antivirus tools. Now, we will have a look on Bitdefender 2016 system requirements for Windows and Mac devices.
System Requirements for Windows
Minimum Requirements
If your PC meets up with following specifications, Bitdefender 2016 will be installed and working.
Operating System: Bitdefender 2016 supports Windows 7 Service Pack 1, Windows 8, Windows 8.1 and Windows 10.
Minimum Processing Speed: 1.6GHz
RAM: 1 GB
Storage Space: 1GB (Out of these, 800MB should be available in the System drive)
Recommended Requirements
For the fully-fledged, uninterrupted and seamless functioning of Bitdefender 2016, your Windows PC must have following specifications.
2GB of Free Storage space in the device.
Intel Core Duo Processor. You can also have an equivalent processor with 2GHz speed
2GB of RAM
In addition to these, you should have the following software installed in order to get all features of Bitdefender 2016. It's required for making use of services like Anti-Phishing and Social Networking Protection etc.
Internet Explorer 10 or later versions
Google Chrome v34 or later
Mozilla Firefox v30 or later
System Requirements for Mac
There isn't a Minimum-vs-Recommended distinction in the case of Mac system requirements. The specifications are:
You should have a Macintosh device running on OS X Lion, OS X Mountain Lion, OS X Mavericks or Yosemite.
The Mac should have a minimum RAM of 1GB
400MB of disk space should be available for installation
Additional features of Bitdefender 2016 can be used via extensions and other utilities. In short, the system requirements for Mac is way too minimal in Bitdefender. Practically speaking, you can install Bitdefender 2016 solutions in almost every Macintosh device available there.
Concluding
So, it's clear that Bitdefender 2016 has some truly minimal system requirements for both Mac and Windows. It's so easy that you can install the desired tool in almost every device you stumble upon. Especially in the case of Mac, we've seen its minimal power. Altogether, you have another reason to go for Bitdefender Security 2016 — it works in almost every system environment.